Issa Fires Spokesman After Complaint That He Shared Reporter E-Mails With Times Journalist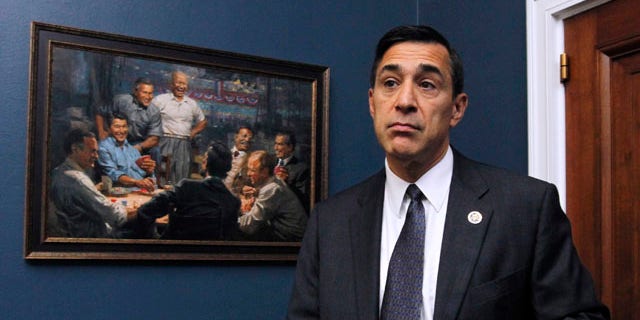 NEWYou can now listen to Fox News articles!
Rep. Darrell Issa, chairman of the House Oversight and Government Reform Committee, fired his spokesman, Kurt Bardella, on Tuesday after reviewing a complaint from Politico that Bardella shared e-mails from reporters with a New York Times journalist writing a book on the culture of Washington.
While Bardella, the deputy communications director, had obtained permission from his supervisors in November to participate in Mark Leibovich's book project, Issa said he fired Bardella because his actions were "a basic breach of trust with reporters it was his job to assist."
Bardella's request never mentioned that he would be sharing reporter e-mails with Leibovich and his supervisors did not learn about it until they were contacted by Politico last Friday, Issa said.
"He had a mistake in judgment," Issa told reporters on Tuesday. "His cooperation with a book didn't follow the same standards (as put forth by the committee).
"Had we known about this in advance, it wouldn't have happened," he said.
Politico Editor-in-Chief John Harris wrote to Issa Sunday night, raising concerns about the allegations.
"The practice of sharing reporter e-mails with another journalist on a clandestine basis would be egregiously unprofessional under any circumstances," Harris wrote. "As the editor-in-chief of Politico, my concern is heightened by information suggesting that Politico journalists may have had their reporting compromised by this activity."
Issa immediately launched a probe into the complaint and told Politico on Monday that he would "get to the bottom" of exactly what Bardella shared with Leibovich.
Issa said in his statement on Tuesday that after speaking with Bardella and Leibovich, and an initial review of e-mail correspondence, "There is no evidence to support speculation that internal committee or congressional documents or conversations were inappropriately shared, that Mark Leibovich ever inappropriately heard or recorded any phone conversation, or that any official rule violations occurred.
"The inappropriate information shared with Mark Leibovich appears to have been limited to Kurt's own correspondence with reporters," he said.
Fox News' Chad Pergram contributed to this report.