Israeli president snubs Obama to meet with Bronx borough president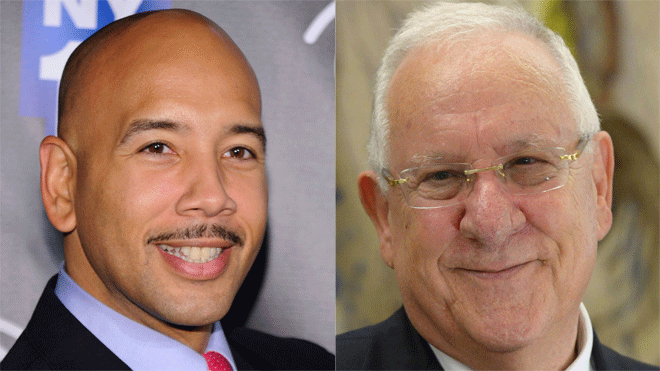 NEWYou can now listen to Fox News articles!
Forgoing a meeting with U.S. President Barack Obama, the Israeli President, Reuven Rivlin, instead opted to spend part of his U.S. visit in the Bronx, where he talked about Jewish-Latino relations with the New York City borough's president, Ruben Diaz Jr.
Rivlin, who was in New York for the United Nation's Holocaust Memorial Commemorations, met with Diaz at the Bronx Museum of the Arts, where the two talked about Jewish history in the Bronx, the roots of the state of Israel, Israel's role in the fight against terrorism and ways to strengthen bonds between the Latino and Jewish communities in the Bronx and across the globe.
"The Latinos in the Bronx are going to become the majority, not as Latinos but as Americans. And we would like that both friends, American and Israeli, be together because we symbolize the way of how to fulfill and act according to the rules of democrats," Rivlin said during the event, according to the Israeli newspaper Haaretz.
The meeting between Rivlin and Diaz comes on the heels of Diaz's trip to Israel as part of a delegation of Latino business and civic leaders from across the New York tri-state area. While in Israel, Diaz and other Latino leaders met with Israeli political leaders and toured religious, historic and tactical sites across the country, including the Western Wall in Jerusalem.
"The Latino and Jewish communities of this city have demonstrated a deep commitment to one another for decades, and this event will help strengthen and expand on those connections," Diaz said.
Following the discussion, Diaz presented Rivlin with a Bronx quilt and made him an honorary "Bronxite."
During his address earlier in the day at the U.N., Rivlin lashed out at the international body for leveling accusations of genocide and war crimes against Israel while ignoring other atrocities around the globe.
Rivlin added that the "setting of red lines" for U.N. intervention on alleged genocide "requires us to stop diluting and cynically exploiting them in the name of pseudo-objectivity, as is done in the rhetoric of human rights with the use of terms such as 'genocide' for political purposes."
The Israeli president's avoidance of a meeting with Obama comes amid diplomatic tensions between the U.S. leader and Israeli Prime Minister Benjamin Netanyahu over Israeli actions in the Gaza Strip.
Like us on Facebook
Follow us on Twitter & Instagram