ISIS expanding 'international footprint' with affiliates in more countries, officials warn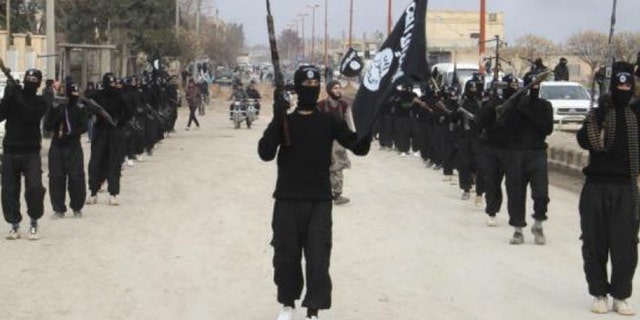 NEWYou can now listen to Fox News articles!
The Islamic State, despite being driven by Kurdish fighters from its one-time Syrian stronghold in Kobani last week, nevertheless is extending its reach well beyond Iraq and Syria, military officials and analysts warn -- represented, by some estimates, in nearly a dozen countries.
Lt. Gen. Vincent Stewart, director of the Defense Intelligence Agency, delivered a grim assessment earlier this week in testimony to the House Armed Services Committee, as he described how the group was surfacing in North Africa.
"With affiliates in Algeria, Egypt, Libya, the group is beginning to assemble a growing international footprint that includes ungoverned and under governed areas," Stewart said.
ISIS continues to hold a wide swath of territory, bigger than the state of Pennsylvania, in its home base spanning parts of Iraq and Syria, propped up by more than 20,000 foreign fighters from at least three dozen countries. But the terror network's tentacles, as Stewart indicated, are creeping into other nations; largely those with fragile governments.
"ISIS, like Al Qaeda, has thrived in the failed states where there is a vacuum of power," said James Phillips, Middle East senior research fellow with the Heritage Foundation.
A key worry is the group's potential ambitions in Afghanistan, where the U.S. combat mission just ended and Afghan security forces are in control.
Defense secretary nominee Ashton Carter, who had his confirmation hearing Wednesday, told Congress he is aware of reports that ISIS may try to expand into Afghanistan, and vowed to work with coalition partners to stop the group. He said he would consider changing plans for withdrawing the remaining 10,600 U.S. troops from Afghanistan by the end of 2016 if security conditions further deteriorate.
The Islamic State's ambitions do not stop at Afghanistan, the so-called Graveyard of Empires. Militant groups in Pakistan, the Philippines, Israel and the Gaza Strip, Lebanon, Indonesia and Jordan, among other areas, reportedly have pledged formal support for ISIS. New York Magazine, in a recent report, wrote, "Think of them as ISIS's self-appointed foreign bases."
It's impossible to know precisely how many members are involved in these groups, but analysts say the biggest groups generally are still affiliated with Al Qaeda, while others are starting to stand with ISIS – and execute attacks.
An ISIS-tied group in Egypt, for instance, claimed responsibility for a series of coordinated attacks on Jan. 30 that killed at least two dozen security officers in restive Sinai.
The Caliphate Soldiers Group in Algeria, which pledged loyalty to ISIS in September, kidnapped and beheaded a French tourist the same month. Terrorists posted a video of the beheading, saying it was in response to French airstrikes in Iraq. Algerian Special Forces killed the terror leader late last year, which analysts say dealt a morale blow to the small group.
In Libya, the Islamic State's Tripoli Province took credit for a hotel attack on Feb. 1 which killed nine people, including an American.
Published reports tie other groups to ISIS including The Jundallah militant group and the Tehreek-e-Khilafat groups in Pakistan; the Philippines' Abu Sayyaf group; Sinai Province in Egypt; Lebanon's The Free Sunnis of Baalbek Brigade; Indonesia's Jama'ah Ansharut Tauhid; and Sons of the Call for Tawhid and Jihad in Jordan.
The Heritage Foundation's Phillips said it's not just groups like these that have declared loyalty. "There are an unknown number of self-radicalized militants in many different countries that may self-identify with ISIS and carry out 'lone wolf' terrorist attacks in its name, without necessarily being members of the group," he said. He cited the hostage crisis in Sydney, Australia, last December as an example.
ISIS continues to get pounded by coalition airstrikes in Iraq and Syria, where Kurdish forces recently took back the vital city of Kobani. Those strikes are likely to increase following the brutal execution of a captured Jordanian pilot (though the coalition is down a member, with the United Arab Emirates having suspended airstrikes after the pilot's capture in December.)
Phillips said the purpose of the group's grisly propaganda videos – including of the Jordanian pilot being burned alive in a cage -- is to change the subject, from recent setbacks in Kobani as well as some areas in Iraq, through "jihadist pornography." He said the point is to show the group as an "invincible army," psychologically attractive to European teenagers who might join the fight.
Raymond Stock, a Shillman-Ginsburg writing fellow at the Middle East Forum, argued the message carries more weight with Muslims worldwide than most realize. He told Fox News the propaganda videos are "so well-produced and so well-targeted -- extremely effective. We have nothing counteracting that."
Stock, who spent 20 years living in Egypt, sees the group's ambitions as limitless and argues it is a mistake to believe the Islamic State is an organization seeking to control limited territory.
He also suggested Al Qaeda and ISIS are not necessarily direct competitors. He cited an Arabic proverb, which he translates as: "Me and my brother against my cousin; me and my cousin against the outsider."
In Wednesday's Senate Armed Services Committee confirmation hearing for defense secretary, Sen. John McCain, R-Ariz., pressed Carter on the need to have a strategy against ISIS.
"I believe I understand our strategy at this time," Carter explained. "I also have the intention, again if confirmed, to make it my first priority to go there, to talk to our military leaders there, to confer with you … I think a strategy connects ends and means, and our ends with respect to ISIL needs to be its lasting defeat."
McCain retorted: "Well, it doesn't sound like a strategy to me, but maybe we can flesh out your goals."
The Associated Press contributed to this report