Indictment reveals Russians also organized anti-Trump rallies after election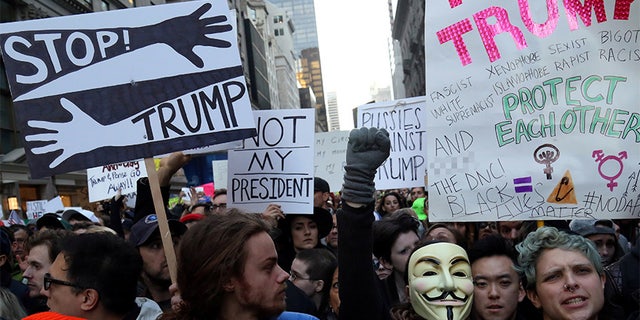 The Russians indicted for meddling in the 2016 presidential contest were also behind anti-Trump rallies after the election, prosecutors said Friday, revealing another aspect of Russia's alleged interference as it worked to sow discord in the United States.
"After the election, the defendants allegedly staged rallies to support the president-elect while simultaneously staging rallies to protest his election," Deputy Attorney General Rod Rosenstein said in a Friday press conference.
"For example, the defendants organized one rally to support the president-elect and another rally to oppose him, both in New York on the same day," he said.
Friday's indictment filing – signed by Special Counsel Robert Mueller – says the defendants organized a Nov. 12 "Trump is NOT my President" rally in New York.
Photos from that day show protesters in Manhattan holding signs that say "stop Trump" and "not my president."
13 RUSSIAN NATIONALS INDICTED FOR INTERFERING IN US ELECTIONS
On that same day, according to indictment, they also organized a "show your support for President-elect Donald Trump" rally in New York.
The indictment also revealed that the Russians organized a "Charlotte Against Trump" rally in North Carolina on Nov. 19.
The November rallies are the only anti-Trump events that the indictment links to these Russian actors. It does not draw any connections to the widespread anti-Trump protests that were organized after his inauguration.
Thirteen Russian nationals were charged Friday. During the election, according to the filing, the Russians supported Trump and worked to spread derogatory information on Democratic nominee Hillary Clinton.
Their "strategic goal" was to "sow discord in the U.S. political system," the indictment said.
The indictment – the first filed against Russian nationals as part of Mueller's probe – effectively returns focus to the meddling activities out of Russia in the run-up to the 2016 election, following a string of charges relating to the actions of Trump associates.
The indictment says that starting around June 2016, the Russians began organizing and coordinating political rallies in the United States.
It says that in order to conceal that they were based in Russia, the Russians would pretend to be American grassroots activists who were located in the U.S. but unable to meet in person.
It says that in order to build attendance for rallies, these Russians would promote the gatherings through public posts on fake social media accounts designed to look like they were made by Americans.
In a statement released by the White House, Trump said Friday: "We cannot allow those seeking to sow confusion, discord, and rancor to be successful."
He also seized on Rosenstein's comment that the election results were not impacted by the Russians' activity.
"Russia started their anti-US campaign in 2014, long before I announced that I would run for President," Trump tweeted. "The results of the election were not impacted. The Trump campaign did nothing wrong - no collusion!"
Democrats on Capitol Hill, though, are still suggesting that people associated with Trump or his campaign could have been involved in Russia's meddling.
"The American people deserve to know the full extent of Russia's interference in our election and the involvement of Trump officials," House Minority Leader Nancy Pelosi, D-Calif., said.
The three Russian entities charged in the indictment are Internet Research Agency LLC, Concord Management and Consulting LLC and Concord Catering.
The 13 Russians charged are: Yevgeniy Viktorovich Prigozhin; Mikhail Ivanovich Bystrov; Mikhail Leonidovich Burchik; Aleksandra Yuryevna Krylova; Anna Vladislavovna Bogacheva; Sergey Pavlovich Polozov; Maria Anatolyrvna Bovda; Robert Sergetevich Bovda; Dzheykhun Nasimi Ogly; Vadim Vladimirovich Podkopaev; Gleb Igorevich Vasilchenko; Irina Viktorovna Kaverzina and Vladimir Venkov.
Fox News' Judson Berger contributed to this report.