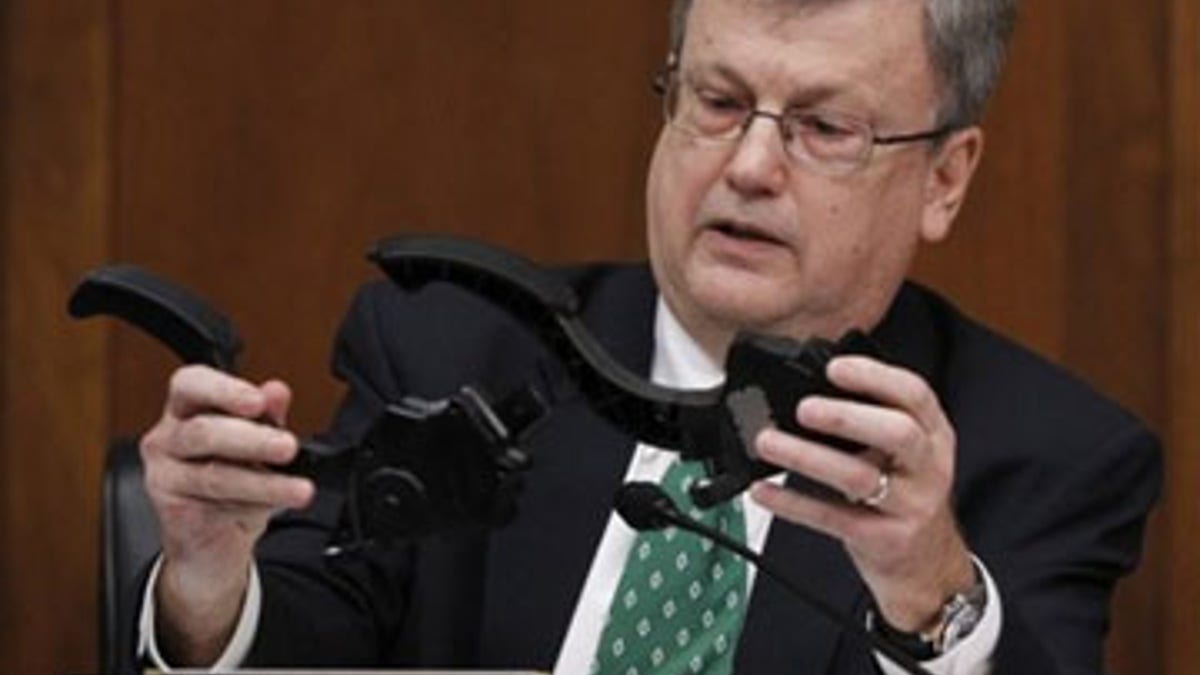 Eight-term Indiana Rep. Mark Souder announced his resignation Tuesday after admitting to an affair with a female aide who worked in his district office.
Souder, a Republican, will will step down on Friday. He said in remarks obtained by Fox News that he "sinned against God, my wife and my family by having a mutual relationship with a part-time member of my staff."
"I wish I could have been a better example," he said. "In this poisonous environment of Washington, D.C., any personal failing is seized upon, often twisted, for political gain. I am resigning rather than to put my family through that painful, drawn-out process. ... We are a committed family but the error is mine and I should bear the responsibility. Not only am I thankful for a loving family but for a loving God."
Multiple senior House sources indicated that the extent of Souder's affair with the staffer would have landed him before the House Ethics Committee. Sources told Fox News that the aide, identified as Tracy Jackson, a woman in her mid-40s, would accompany the congressman to events and to record ads at a Christian radio broadcast station.
Elected as a family values conservative as part of the Republican revolution in 1994, Souder survived a tough re-election challenge in 2008 and survived a contested primary two weeks ago.
All the way through his election, Souder tried to knock down the affair story, calling it revenge politics at play. But the backroom chatter in Indiana and among the GOP on Capitol Hill became too much to survive. Indiana Gov. Mitch Daniels was informed as late as Monday night that Souder would give up his post.
Souder, 59, was absent from Washington most of last week, missing multiple votes and voting only on Thursday. While the rumors had been flying, Souder claimed that he was at home tending to his ill wife.
In his statement, he added that by stepping down, his "mistake cannot be used as a political football" to undermine the causes he supports.
"As I leave public office, my plans are focused on repairing my marriage, earning back the trust of my family and my community and renewing my walk with my Lord," his statement reads.
Souder and his wife, Diane, have three grown children and two grandchildren.
Jackson, a part-time aide who worked in Souder's northern Indiana district office, handled communications for the congressman in the district and periodically travelled with him. According to Legistorm.com, Jackson earned $12,541.70 from Souder's office last year. She is still on the staff.
Jackson began working for Souder in December 2004 as a "special assistant/communications" aide who earned $533.33 that year.
Fox has learned that Souder initially discussed retiring at the end of this term and not standing for re-election. But after talking with his family over the weekend, he decided to resign.
Souder and senior House leaders discussed his exit over the weekend.
The congressman said Tuesday that while it has been "a privilege to be part of the battle for freedom and the values we share," the cost of public service has taken a toll on him.
"It has been all consuming for me to do this job well. ... I do not have any sort of 'normal' life -- for family, for friends, for church, for community. ... But I am so ashamed to have hurt those I love. I am so sorry to have let so many friends down."
Souder's resignation makes him the second lawmaker to step down in less than two months. In March, Rep. Eric Massa, D-N.Y., resigned amid allegations that he sexually harassed male staffers. Massa's case is now before the House Ethics Committee.
Click here to read Fox News' Chad Pergram discuss previous efforts to track down scandal.