Indiana attorney general to address call for resignation over grope allegations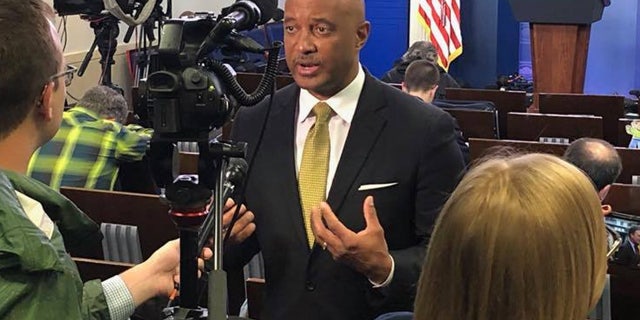 Indiana Attorney General Curtis Hill plans to address calls for him to resign amid allegations that he inappropriately touched a state lawmaker and several other women.
The Republican is scheduled to make his comments during a news conference Monday morning at his Statehouse office in Indianapolis. Republican Gov. Eric Holcomb and Statehouse GOP leaders last week called on Hill to resign. Dozens of protesters rallied for his resignation Saturday outside the Statehouse.
An internal legislative memo leaked to The Indianapolis Star saying a lawmaker and three legislative staffers allege Hill drunkenly groped them during a March party. Democratic state Rep. Mara Candelaria Reardon and Gabrielle McLemore, the Indiana Senate Democrats' communications director, say they were among the victims.
Hill has called the allegations "vicious and false" and has rebuffed calls to resign.
"I now stand falsely accused of some of the same crimes I spent 28 years prosecuting," Hill said, according to the paper. "Yet without a thorough investigation — without the right to face my accusers and review the evidence against me — I am convicted by public officials demanding my resignation."
The paper reported that the allegations were first brought to legislative leaders in May and Hill was not informed about the allegations until June 29. The paper reported that some questioned the investigation since Hill was not contacted during the process.
"How can you possibly do a thorough investigation on a fact-finding mission if you don't talk to the perpetrator? It makes no sense," said Jennifer Drobac, a law professor at Indiana University Robert H. McKinney School of Law.
The Associated Press contributed to this report