Indian diplomat's lawyer asks judge to toss federal charges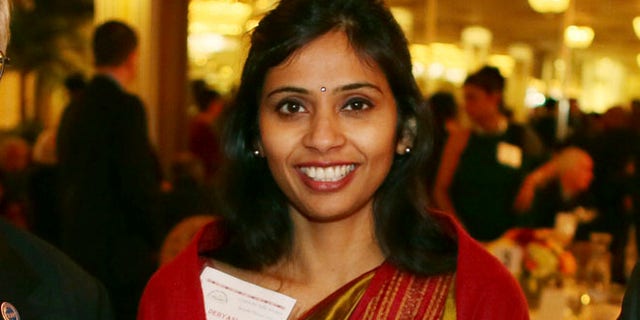 A lawyer for an Indian diplomat who was charged with visa fraud last month after allegedly lying about what she paid her housekeeper has asked the trial judge to dismiss her case.
Daniel Arshack, the attorney for Devyani Khobragade, argued that federal court charges and arrest warrants against his client should be thrown out in papers filed Tuesday in Manhattan. Arshack claimed Khobragade is protected from prosecution by diplomatic immunity granted last week by the State Department.
Arshack told the New York Post that Khobragade would like to return to the U.S. to visit her husband and two daughters without fear of re-arrest and prosecution. The Post reported that Khobragade's husband, Aakash Singh Rathore, is a U.S. citizen who teaches philosophy at the University of Pennsylvania.
A spokesman for prosecutors has declined to comment.
Khobragade left the United States last week after she was indicted on charges she fraudulently obtained a work visa for her housekeeper and lied about the housekeeper's pay.
Prosecutors say that on official documents, Khobragade claimed she was paying the woman $4,500 a month when she was actually paying her $573 a month to work 100 or more hours per week.
Khobragade's arrest and strip search sparked a strong backlash from India's government, which claimed that its diplomat had been treated with a lack of respect.
The Indian government responded by asking Washington to withdraw a diplomat from the U.S. Embassy in New Delhi. The United States has complied.
The Associated Press contributed to this report.
Click for more from the New York Post