In Tight Midterm Races In Colorado, Latinos Could Be Key Swing Vote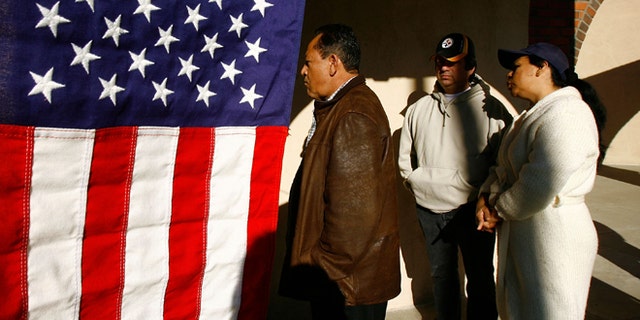 NEWYou can now listen to Fox News articles!
Since the last mid-term election, Colorado has been home to one of the fastest growing Latino electorates in the United States.
The number of Latino voters climbed more than 20,000 since 2010 – from 144,000 to 162,000, according to the National Association of Latino Elected and Appointed Officials (NALEO).
Colorado is also home to some the most closely watched mid-term elections in the country.
Races for the House, Senate and governor seem tight, and Latinos could very well be pivotal, said NALEO Executive Director Arturo Vargas.
"In mid-term elections, when less people vote overall, a mobilized electorate can have an important impact," Vargas said. "That is why there is a concerted effort by both parties to target the Latino vote."
Indeed, U.S. Sen. Mark Udall, a Democrat, is going all out to court Latinos as he battles a challenge from Republican Rep. Cory Gardner. Many believe this is one state where Republicans can snatch a Senate seat from Democrats and, if they can do it with at least six states, recapture control of that chamber.
Udall recently launched a million-dollar first round of Spanish-language television ads that are scheduled to run through Election Day.
The ad focuses on Gardner's support for a budget that cut housing vouchers for homeless veterans. The ad does not address immigration because, Udall's camp has said, Latinos are familiar with the congressman's support for a hard line on the issue.
But mid-term elections, especially those that take place when a president is in his second term, can go in favor of the opposing party, said Tom Cronin, a political scientist at Colorado College.
"There's the six-year push-back," Cronin said. "Every time a presidential administration has been in for six years, it's a good election for the opposing party up and down the line."
Cronin predicts, therefore, that the mid-term election "will be tough for the Democrats in the state."
One exception, he believes, is Gov. John Hickenlooper, a Democrat who was elected governor four years ago. Hickenlooper's Republican opponent is former congressman Bob Beauprez.
"He's widely liked," Cronin said of Hickenlooper. "He makes mistakes occasionally, but he's framed himself as more of an independent than a Democrat."
And with a state like Colorado, where the electorate is one third Democrat, one third Republican, and one third Independent, Hickenlooper's ability to avoid being a dogmatic Democrat is expected to win in his favor.
Others, however, think Hickenlooper can be in trouble.
Some polls have showed him ahead with 6 points, and one gave Beauprez a 1-point lead.
Another poll, by Quinnipiac University, showed Hickenlooper's job approval at 48 percent, from 52 percent in April. In 2012, his job approval rating was at 66 percent.
A race for a House seat, however, is more of a toss-up, at least so far.
U.S. Rep. Mike Coffman, a Republican, is considered to be in a tight fight against challenger Andrew Romanoff, a Democrat.
Both are scheduled to face off in a Spanish-language debate in October hosted by Univision.
Romanoff is a fluent Spanish-speaker, and Coffman has been studying the language with a tutor.
Coffman's district – in the central part of the state – was redrawn after the 2010 mid-term election, resulting in a constituency that includes about 150,000 Latinos, most of them of Mexican descent, his campaign said. Latinos account for about 20 percent of the voters in this district.
It also includes about 40,000 Asian-Americans, and another 40,000 African immigrants.
Immigration is a priority issue, the campaigns concede.
"Mike Coffman has worked hard to listen to and represent each community," said Tyler Sandberg, Coffman's campaign manager. "He has also worked with both parties to find a solution to our broken immigration system, which has earned him bipartisan praise, including from the author of the DREAM Act, Congressman Luis Gutierrez, who has called Mike a leader in Congress on the issue of immigration.'"
Coffman co-authored a bill to allow DREAMers a path to citizenship through military service.
But he also has supported hard line measures on immigration, including denying most public services to people who are not here legally, and favoring a system where people can report someone they believe is not in the country lawfully.
"The growth of the Latino electorate in Colorado has made the state one of the most electorally competitive in the nation, and the continued growth of Latino population will increase their influence on election outcomes well into the future," said Gabriel Sanchez, Director of Research for Latino Decisions and a political scientist at the University of New Mexico.
"Our polling in Colorado has found that immigration policy has become a major factor driving Latino voting behavior," said Sanchez in a statement, "which helps explain the surge in Democratic support among this key segment of the electorate."
America's Voice, a lobby group that favors more lenient immigration policies, said in a press release that 24 percent of Colorado Latino voters indicated they would be more inclined to support future Republican candidates if the GOP backed comprehensive immigration reform including a pathway to citizenship.
"That 24-point margin is enough to determine the outcome in some of the state's most competitive races, including Colorado's Senate and House races," the statement said.
Follow us on twitter.com/foxnewslatino
Like us at facebook.com/foxnewslatino