Immigration stalemate lingers in Senate, GOP to force new vote on DHS bill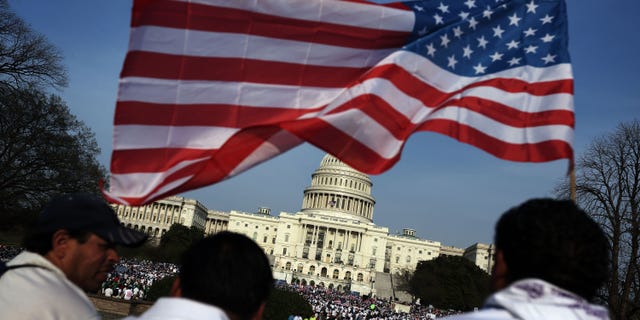 NEWYou can now listen to Fox News articles!
The third time was not the charm.
So for the fourth time, Senate Republicans are planning Monday to force a vote on a Homeland Security bill that the Democrats do not want because it includes amendments that seek to undo President Obama's executive order giving millions of undocumented immigrants a three-year reprieve from deportation.
Time is growing critical. Funding for the Homeland Security Department runs out Friday, Feb. 27.
The window for a thaw in the stalemate is narrowing just as a video purported to be by Somalia's al-Qaida-linked rebel group al-Shabab urged Muslims over the weekend to attack shopping malls in the U.S., Canada, Britain and other Western countries.
U.S. authorities said there was "no credible" evidence suggesting a U.S. mall attack was in the works.
The masked narrator concluded by calling on Muslims to attack shopping malls, specifically naming the Mall of America in the Minneapolis suburb of Bloomington, as well as the West Edmonton Mall in Canada and the Westfield mall in Stratford, England.
Meanwhile, Obama is going to step up pressure on the Senate to pass a so-called clean DHS spending bill.
On Monday, Obama was to speak to the nation's governors, who are gathered at the White House for a meeting with the president and other officials.
The president is telling the governors that if the DHS employees in their states don't get paid, they won't be able to spend money to help sustain local economies.
On Wednesday, Obama is scheduled to be in Miami an immigration-related event that is expected to press Republicans to drop the fight in the spending bill over the executive order, according to Politico.
Politico quoted an unidentified "Senate GOP insider" as saying that such action by the president would be akin to adding a "can of gasoline" on the fire.
The last three times the GOP has attempted to bring the House-passed DHS spending bill up for debate and a vote, the Democrats have blocked it.
Some Republicans worry about the repercussions on DHS, which would see a partial shut-down if a new spending bill fails to pass by Friday.
A federal judge's ruling last week that put Obama's immigration program on hold increased calls from a few Republican senators to pass a "clean" Homeland Security bill without the contested language on immigration.
"I hope my House colleagues will understand that our best bet is to challenge this in court, that if we don't fund the Department of Homeland Security, we'll get blamed as a party," Sen. Lindsey Graham, R-S.C., said Sunday on ABC's "This Week."
But House Republicans said they had no plans to revisit the issue after passing a $39.7 billion bill last month that funds the department through Sept. 30, the end of the current budget year, while also undoing Obama's actions on immigration.
"The House has acted to fund the Homeland Security Department," said Kevin Smith, a spokesman for House Speaker John Boehner. "Now it's time for Senate Democrats to stop blocking legislation that would do the same."
A short-term extension of current funding levels remained possible, but lawmakers had only a few days to come up with even that partial solution before the agency's funding expires Friday at midnight.
Homeland Security Secretary Jeh Johnson scheduled a news conference Monday afternoon to repeat his warnings about the harmful impacts of shutting down his agency, which would result in some 30,000 administrative and other workers getting furloughed. Some 200,000 others would fall into essential categories and stay on the job, though mostly without drawing a paycheck until the situation is resolved.
Johnson said the furloughs could harm the U.S. response to terrorist threats and warnings. Some 80 percent of Federal Emergency Management Agency workers would be furloughed even as that agency contends with two months of devastating snowfall and cold from New England to the Mountain States.
"If we are going to shut down, we are greatly compromised," Johnson said during a weekend briefing at the National Governors Association, an annual gathering attended by dozens of the nation's governors.
But some Republicans have argued that because the large majority of agency staff would keep working, albeit without getting paid, the harmful impacts of a shutdown were being exaggerated.
The Associated Press contributed to this report.
Follow us on twitter.com/foxnewslatino
Like us at facebook.com/foxnewslatino