Immigration Poll: Most Americans Regardless Of Religious Affiliation Support A Path To Citizenship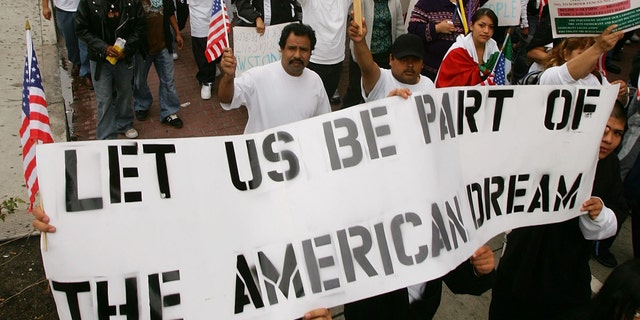 Most Americans regardless of their religious affiliation remain supportive of giving undocumented immigrants a pathway to citizenship, according to a new report by a non-partisan organization.
The report by the Public Religion Research Institute said that 63 percent of respondents to a survey are in favor of an immigration reform measure that would give undocumented immigrants a chance to legalize their status and ultimately become U.S. citizens.
About 14 percent support giving undocumented immigrants a chance to acquire a legal status, but not citizenship, the report said.
Some 20 percent prefer a hard line; they want to see the U.S. government track down and deport all undocumented immigrants.
The findings echo similar results from polls the organization conducted in March and in August, when 63 percent expressed the same views on immigration reform and path to citizenship.
The responses, the report said, cut cross religious and political party affiliations.
The report came out as immigration reform efforts have stalled in Congress. The Senate passed a sweeping bipartisan measure in June that included tightened border security and interior enforcement, but also a path to legal status.
But the effort came to halt in the House, where many Republicans, who have a majority in that chamber, oppose the legal status provision as well as parts that would expand work visas for foreigners.
People tend to be more supportive of giving immigrants a chance to correct their status when presented with conditions they must meet before they are allowed to pursue a legal status, the report noted.
"When there is no mention of requirements that immigrants living in the country illegally must meet, nearly 6-in-10 (59 percent) Americans support a path to citizenship," report authors wrote, adding: "When the question mentions 'certain requirements' that immigrants living in the country illegally must meet, nearly 7-in-10 (68 percent) American support a path to citizenship."
Indeed, mindful of the power of wording in making their arguments, political leaders and lobby groups who have pushed for a legal path for undocumented immigrants have stressed that they are referring to "earned citizenship," not amnesty.
Many people and organizations that oppose a path to legal status for the undocumented say they should not be rewarded with amnesty.
But those pushing for legal status say it is not amnesty, which they say is a pardon for illegal behavior. Instead, to qualify for a path to a legal status, such immigrants would have to pay a hefty fine, demonstrate basic English skills, not have a criminal background, and show they have paid taxes, among other requirements.
Follow us on twitter.com/foxnewslatino
Like us at facebook.com/foxnewslatino