Immigration: Leading Group Of Senators "Gang Of Eight" To Meet, Tour Border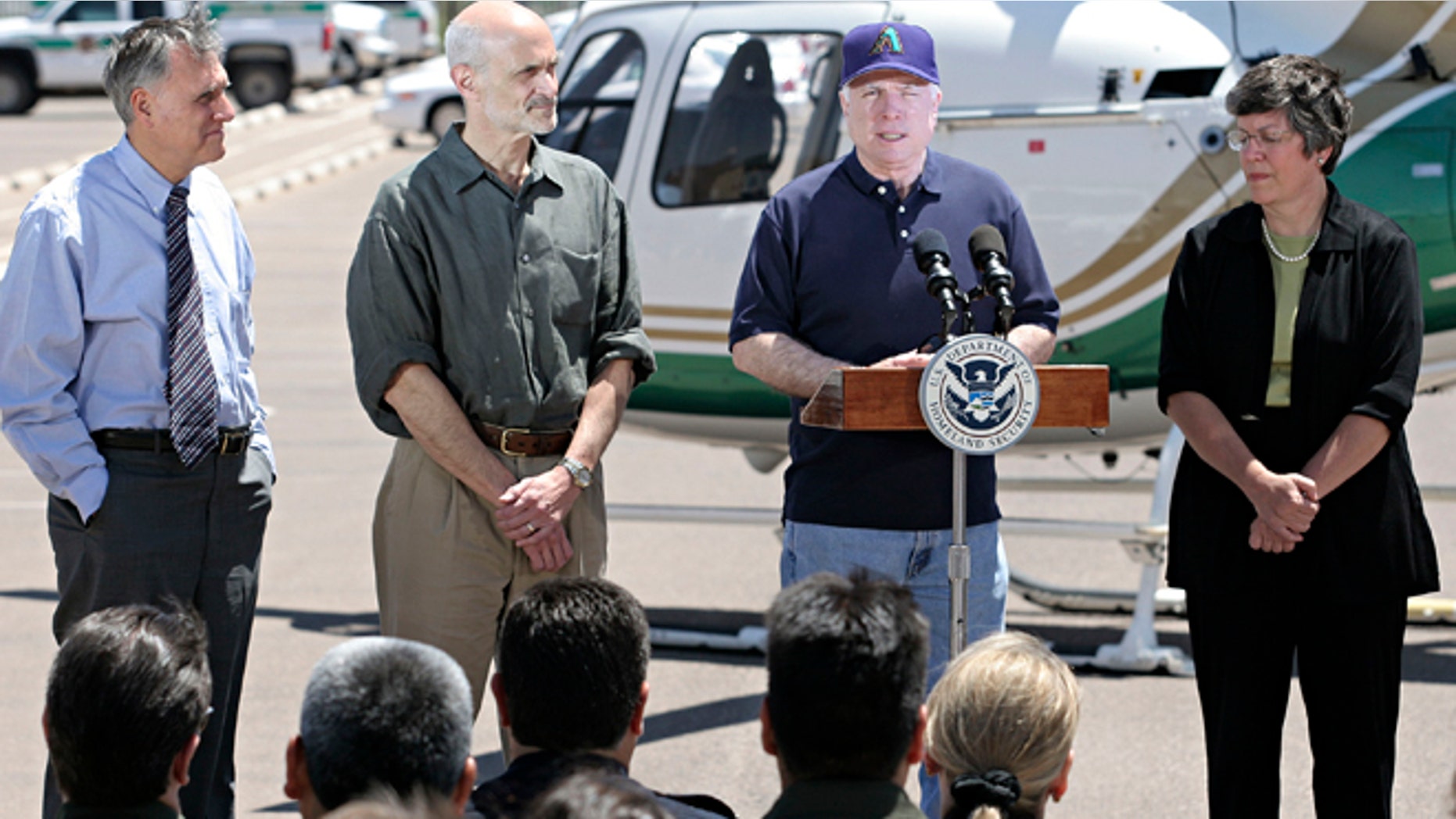 PHOENIX – Republican Sen. John McCain will lead a select group of fellow senators, influential in shaping and negotiating details of an immigration reform deal, on a tour of the U.S.-Mexico border in Arizona Wednesday to get a first-hand look at border security issues and discuss ongoing negotiations.
Republican Sens. McCain and Jeff Flake of Arizona were expected to tour the border Wednesday with Democratic Sens. Chuck Schumer of New York and Michael Bennet of Colorado. They are all members of the "Gang of Eight" — a bipartisan group taking charge of crafting a new major immigration reform bill.
Only when you can see the expanse, the difficulties and the challenges of the border, can you really appreciate the need for our border security.
The trip comes as Congress is in recess and as lawmakers wrap up a bill designed to secure the border and give the country's estimated 11 million undocumented immigrants a chance to gain legal status.
President Barack Obama has urged Congress to pass immigration reform this year, and border security is critical to McCain and other Republicans who contend that some areas along the border are far from secure. Obama said this week he wants debate on a new bill next month.
Negotiations are underway for a plan to legalize 11 million undocumented immigrants while beefing up security at the border.
"I wish every member of the United States Senate and Congress could see the border," McCain told reporters in Phoenix on Monday. "Only when you can see the expanse, the difficulties and the challenges of the border, can you really appreciate the need for our border security."
With top Republicans and Democrats focused on the issue, immigration reform faces its best odds in years. The proposed legislation will likely put undocumented immigrants on a 13-year path to citizenship and would install new criteria for border security, allow more high- and low-skilled workers to come to the U.S. and hold businesses to tougher standards on verifying their workers are in the country legally.
McCain sought to lower expectations for the bill Monday during a town hall in Phoenix. He told immigration activists they wouldn't be completely happy with the measure and warned that the group must overcome difficult disagreements.
"We've made progress in a number of areas that I am encouraged by, but there are still areas that we are not in agreement," he said.
McCain said the lawmakers had reached an agreement on protections for young undocumented immigrants brought to the country as children -- so-called "Dreamers" -- and on visas for workers, but declined to provide specifics.
Reports indicate that the U.S. Chamber of Commerce and the AFL-CIO, negotiating through the Gang of Eight senators, had reached significant agreement Friday on a new visa program to bring up to 200,000 lower-skilled workers a year to the country. The groups did not reach consensus on how much the workers would be paid.
The bill is expected to be lengthy and cover numerous issues, including limiting family-based immigration to put a greater emphasis on skills and employment ties instead.
The legislation was initially promised in March, but the lawmakers have since said they won't be done until at least April. .
The Gang of Eight has run into a number of stumbling blocks including the future flow of immigration, limiting visas for families and a possible guest worker program.
Immigration proponents have said the group needs to introduce legislation soon, while some Republican lawmakers complain the process has moved too quickly. And the president of the union representing the nation's immigration enforcement agents has written Congress and the White House asking to take his concerns into account before moving forward.
If passed, the legislation could usher in the most sweeping changes in immigration law in nearly 30 years.
Based on reporting by the Associated Press and EFE news agency.
Follow us on twitter.com/foxnewslatino
Like us at facebook.com/foxnewslatino