Illinois governor race pits Bruce Rauner against JB Pritzker: What to know about the election
The race for Illinois governor is shaping up to be brutal – and possibly the most expensive one in U.S. history.
Republican incumbent Bruce Rauner will face off against Democrat J.B. Pritzker, an investor and heir to the Hyatt hotel fortune.
Before the primaries were even finished, and Rauner and Pritzker emerged as their parties' nominees, the pair had already spent millions to attack one another.
Dr. Brian Gaines, a political science professor at the University of Illinois, told Fox News that the Pritzker-Rauner matchup could lead to a "really negative campaign."
"It will be a good experiment in just how negative you have to go before you drive voters away from the polls," he said.
Read on for a look at the candidates, and the race.
Bruce Rauner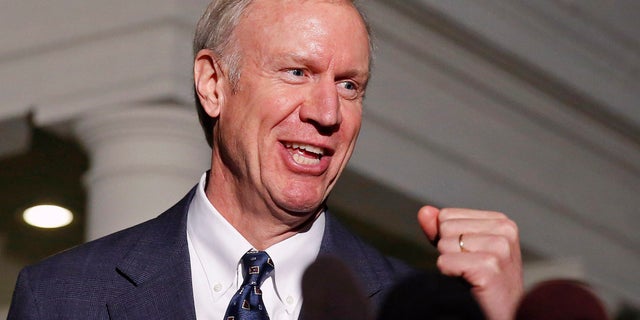 Republican incumbent Bruce Rauner, 61, took advantage of a national GOP wave four years ago to pull off a surprising victory in a state otherwise dominated by Democrats. The governorship is the first political office he's held.
When he was first elected, Rauner promised to "shake up" Springfield with a pro-business, anti-union agenda that included lowering property taxes and places term limits on office holders. But Rauner has had an ongoing spat with state House Speaker Michael Madigan and other Democrats that left the state without a budget for two years while billions of dollars of debt piled up.
During the primary, Rauner sought to distance himself from President Trump. He's also pushed through controversial legislation – including an abortion bill – that has drawn criticism from those in his party but could make him more favorable to moderate voters in the general election.
"We are in a critical time, a critical turning point in Illinois," Rauner said after he won the primary. "I am humbled by this victory. You have given me a chance to win the battle against corruption that plagues Illinois."
Rauner amassed his wealth as a businessman, working as a partner at private equity firm GTCR and creating R8 Capital Partners. He stepped down from GTCR in 2012, according to the Chicago Sun-Times.
Throughout his career, Rauner has supported community organizations like the YMCA, scholarship programs and charter schools, according to his campaign website. Despite his wealth, Rauner explained on his website that he's "still the same man" who stays in cheap hotels, wears an $18 watch and drives an old van.
Rauner graduated from Dartmouth College and Harvard. Along with his wife, Rauner has six children.
Evelyn Sanguinetti is his lieutenant governor.
J.B. Pritzker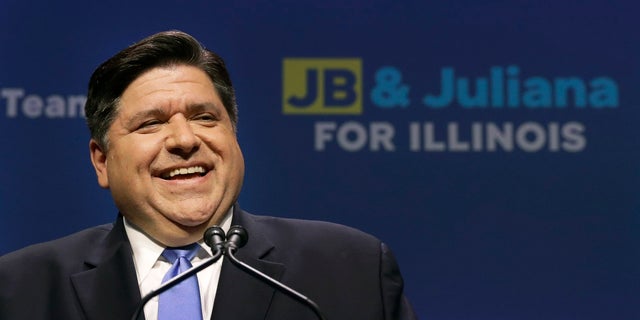 Heir to the Hyatt Hotels fortune and a Gold Coast investor, J.B. Pritzker won a March primary to become the Democrats' gubernatorial nominee.
If elected, Pritzker, 53, has said he wants to focus on community development and social services.
"This campaign is not just about the failed policies of a failed governor who thinks that lifting up the people of Illinois is a government expense rather than an investment in the future," Pritzker said after he won the primary. "No, this campaign is about a fight for economic security about jobs and wages, health care, education and human services for working families in Illinois."
During the primary, Pritzker faced questions about his controversial connections to imprisoned ex-Gov. Rod Blagojevich. Last year, The Chicago Tribune obtained FBI wiretaps that captured Pritzker asking Blagojevich for an appointment as Illinois treasurer. The then-governor, who was convicted of corruption, was also heard on the recordings asking Pritzker for campaign donations.
In the calls, Pritzker was also recorded suggesting the governor appoint Illinois Secretary of State Jesse White to a Senate seat, calling him the "least offensive" African-American. Pritzker has apologized for the remarks, and White has continued to back him.
The subject of the calls have been used by Rauner in attack ads.
Pritzker's opponents also have attacked his connections with overseas trusts in low-tax countries, though he maintains they're focused on charitable giving and that he has no control over them.
Along with his siblings, Pritzker grew up in California. His father died at a young age of a heart attack, and his mother eventually passed away due to her struggles with alcoholism.
He told the Chicago Sun-Times in a 2017 interview that his mother is a "hero" to him. Pritzker would eventually move to Chicago to live with a relative.
He founded the Pritzker Group, a private investment firm. Pritzker Group Venture Capital, according to his biography, is the largest technology venture investor in the Midwest. Additionally, Pritzker founded 1871, a non-profit that serves digital startups in Chicago.
On his campaign website, Pritzker addressed the complaint that his wealth makes him similar to President Trump and Rauner. The difference, he said, is that "it's a matter of values," adding that "Trump and Rauner are trying to destroy many of the things I've spent my life fighting for."
He said his great-grandfather moved to Chicago without wealth and was helped by a social service agency and the public school system.
"You can't pull yourself up by your bootstraps if you don't have any, and this state gave my great-grandfather his bootstraps," his website said.
Pritzker graduated from Duke University with a political science degree and Northwestern University School of Law.
Along with his wife, M.K., Pritzker has two children.
State Rep. Juliana Stratton is his running mate.
Battle of billionaires
Rauner's personal wealth is just shy of $1 billion, but Pritzker's family is included in the 2017 list of Forbes' 400 richest people in the U.S. Pritzker himself has an estimated net worth of $3.4 billion.
But Rauner also has some additional financial help. His top outside contributor, Ken Griffin, has an estimated net worth of $8.5 billion – making him the wealthiest person in Illinois.
Pritzker has already spent $70 million to bankroll his campaign; Rauner has put in $50 million for his.
This race is on track to surpass the 2010 California gubernatorial election as the most expensive governor's race.
The Associated Press contributed to this report.