If elections come down to Clinton-Trump matchup, Latinos could decide the victor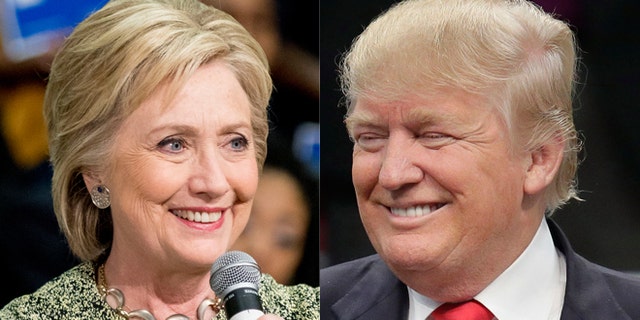 Both Hillary Clinton and Donald Trump had big nights on Tuesday, with a series of primary wins that have fast-tracked their effort to win their parties' nominations.
But if it comes down to a general election between Clinton and Trump, the results from Super Tuesday 2.0 – especially among Latinos – could prove decisive in who wins the White House come November.
Exit polls conducted by Fox News on Tuesday found that Clinton won 72 percent of the Latino vote in the crucial swing state of Florida, compared to rival Vermont Sen. Bernie Sanders' 28 percent. On the opposite end of the spectrum, while Trump was able to win the Sunshine state overall by almost 20 points, he only won 26 percent of the Latino vote.
In comparison, candidate Florida Sen. Marco Rubio – who suspended his campaign that same night – won 51 percent of Hispanic voters.
"Hillary Clinton has made some concrete promises to the Latino community," Evelyn Pérez-Verdia, an analyst in Florida with Political Pasión told Fox News Latino. "Trump has alienated himself with saying things like Mexicans are rapists."
Trump's rhetoric on issues like immigration and his proposal to build a border wall between the U.S. and Mexico have stoked anger among many Latinos and caused concern among Republican insiders still fretting over the party's huge loss with Hispanic voters in the 2012 election, when President Barack Obama won 71 percent of the Hispanic vote and Mitt Romney got 27 percent.
And while Trump has touted that he won the Latino vote in last month's Nevada Caucus, national polls show that 8 in 10 Hispanic voters have an unfavorable view of Trump (and more than 7 in 10 who have a "very unfavorable" impression of the business mogul).
Clinton, on the other hand, seems to be solidifying her support among Hispanic voters over Sanders. Her large margin of victory among the demographic in Florida was an almost mirror image of her result in the Latino-heavy state of Texas, where the former secretary of state won 71 percent of the Hispanic vote compared to Sanders' 29 percent.
While the Latino electorate will play a crucial role in who wins the presidency in November, some analysts wonder how much of it Trump – or any other Republican candidate – needs to win to claim victory.
"It's more than likely that many more Latinos will vote for Hillary Clinton because of what Donald Trump says," Pérez-Verdia said. "But the question is how much of the Latino vote does he need."
Answering this question comes down to voter turnout across the board.
Trump has energized a prospective new base of native-born, white voters with a message that he will "make America great again" and it is this base that Trump is hoping will carry him to the Republican nomination and the White House.
Past figures and an increasingly diverse electorate, however, indicate that even with that base of support Trump has a long road ahead, especially in swing states with large Latino populations like Florida, Nevada, Colorado and New Mexico.
Loren Collingwood, an assistant professor of political science at the University of California in Riverside, laid out in Fortune magazine what he called a "highly unlikely, best-case scenario" for Trump, in which the real estate mogul wins over 60 percent of white voters and also steals slight margins of the Latino and African-American vote. Even with those numbers, Collingwood argued, Trump would still lose.
"In reality, we are far more likely to see a more diverse electorate that is hostile to Trump," he wrote. "America's changing demographic landscape simply does not bode well for Donald Trump or his Republican party."