ICE removal key goal of Democrats in 2020 election
The Democrats mulling a run for the White House in 2020 are facing intense pressure from liberals to campaign on abolishing the agency that enforces federal immigration laws, a proposal that was once relegated to the far-left fringe.
In protesting the Trump administration's policies toward illegal immigration, liberal commentators and writers have been embracing the idea of gutting the U.S. Immigration and Customs Enforcement agency, which identifies, arrests and deports illegal immigrants inside the United States.
"This is a growing position on the left, and I imagine 2020 Democratic presidential aspirants will have to grapple with it," liberal writer and MSNBC host Chris Hayes tweeted.
In January, the idea was endorsed by Brian Fallon, a former top aide to 2016 Democratic nominee Hillary Clinton, and Eric Holder, President Barack Obama's attorney general. The Daily Caller first drew attention to the calls.
"ICE operates as an unaccountable deportation force," Fallon tweeted. "Dems running in 2020 should campaign on ending the agency in its current form."
Thomas Homan, the acting director of ICE, has reacted to these calls by Democrats by saying they should speak to victims of illegal immigrant crime.
"These politicians, they need to talk to the victims of alien crime, talk to the parents that I talk to that lost children at the hands of criminal aliens," Homan said Thursday on Fox News' "Tucker Carlson Tonight."
But the idea has picked up steam in recent days after Hayes, the MSNBC host, asked Democratic California Sen. Kamala Harris if she believes ICE should exist.
"ICE has a purpose, ICE has a role, ICE should exist," Harris, a potential 2020 candidate, responded. "But let's not abuse the power."
Since then, Harris, the former attorney general of California, has faced a backlash from liberal publications.
"Kamala Harris is very likely running for president in 2020," Jack Mirkinson of the liberal Splinter website wrote. "It should be a political problem for her that she is not willing to take her criticisms of ICE to their logical conclusion and call for its abolition."
He added: "She should be asked, over and over again, why exactly she is willing to uphold the legitimacy of such a racist, corrupt, and thuggish organization."
Mirkinson wrote that other potential candidates -- like Vermont Sen. Bernie Sanders, New York Sen. Kirsten Gillibrand, Massachusetts Sen. Elizabeth Warren and Los Angeles Mayor Eric Garcetti -- "should be asked the same question."
PELOSI SLAMS CALIFORNIA ICE RAID AS 'UNJUST AND CRUEL'
The Nation, a liberal magazine, last week also published an article titled "It's Time to Abolish ICE." The writer accused the agency of being part of an "unbridled white-supremacist surveillance state" and called it "an unaccountable strike force executing a campaign of ethnic cleansing."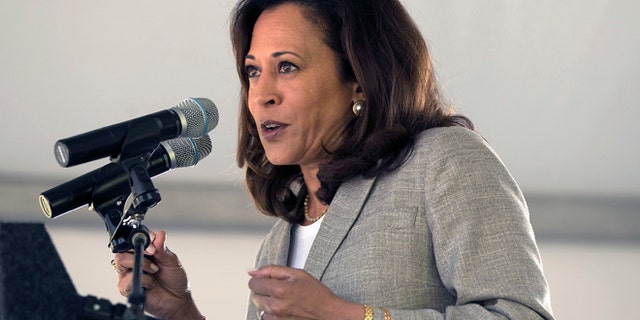 "Though the party has moved left on core issues -- from reproductive rights to single-payer health care -- it's time for progressives to put forward a demand that deportation be taken not as the norm, but rather as a disturbing indicator of authoritarianism," McElwee wrote.
Democratic officeholders also have been openly rebelling against ICE, including Oakland Mayor Libby Schaaf, who recently tipped off the public to an immigration raid in the San Francisco Bay Area.
House Minority Leader Nancy Pelosi, D-Calif., last week slammed that raid as "unjust and cruel."
Attorney General Jeff Sessions, in a speech in California last week, said as many as 800 illegal immigrants may have evaded capture and said Schaff's tip-off put both residents and law enforcement at risk.
SESSIONS UNLOADS ON CALIFORNIA DEMS FOR 'RADICAL, OPEN BORDERS AGENDA'
Sessions called California's "open borders" policies a "radical, irrational idea that cannot be accepted."
"It cannot be the policy of a great nation to reward those who unlawfully enter its country with legal status, Social Security, welfare, food stamps, and work permits and so forth," he said. "How can this be a sound policy?"