Huntsman Building Big N.H. Team, Changing Campaign Tone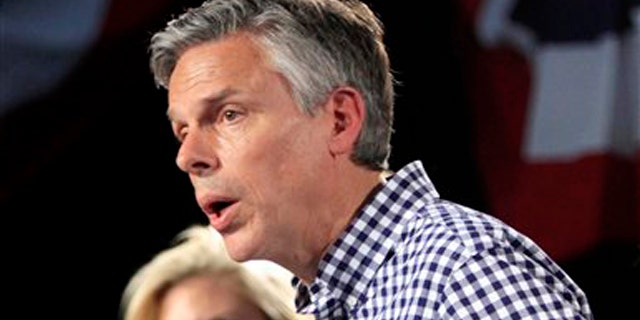 NEWYou can now listen to Fox News articles!
Republican presidential candidate Jon Huntsman wants to go head to head with Mitt Romney in the former Massachusetts governor's own backyard.
With a laser focus on New Hampshire, President Barack Obama's recently departed ambassador to China is quietly assembling what may end up being the largest paid GOP primary effort in the state's history. He's also taking a sharper tone as he fights to overcome a staff shakeup and low popularly among the relatively few Republican voters who know him.
"We're going to be aggressive," Huntsman state director Ethan Eilon said on the eve of Huntsman's latest New Hampshire appearance Tuesday. Eilon said Huntsman has "a lot of ground to make up" because others have been running for president for years. It was thinly veiled criticism of Romney, who ran for president in 2008 and lost the first-in-the-nation primary state and the nomination to John McCain.
There is little doubt that New Hampshire has become the priority in Huntsman's uphill battle to capture the 2012 nomination.
The former Utah governor, whose record features some moderate positions on issues the GOP's conservative base cares about deeply, has said he won't compete in the Iowa caucuses that kick off the voting early next year. However, Huntsman's campaign is careful not to overplay expectations in New Hampshire, a state where Romney enjoys near-unanimous name recognition and has a summer home on Lake Winnipesaukee. Romney leads the GOP field in statewide and national polls as well as in fundraising, with $18 million raised in the first few months of his campaign.
Conversely, recent polling suggests that a significant bloc of likely GOP primary voters in New Hampshire and elsewhere do not know Huntsman. And some who do -- nearly 20 percent in a recent Suffolk University poll in New Hampshire -- have an unfavorable view of him. He was the first choice of just 4 percent of respondents in the late June survey.
When pressed, Huntsman's campaign didn't offer any internal polling to suggest his standing is stronger. He's raised roughly $4 million, with about half of it coming from his personal wealth.
"Although he's got some staff presence, I'm not seeing any opinion leaders in New Hampshire circling around his campaign and committing to it," said New Hampshire conservative leader Ovide Lamontagne, who has yet to endorse in the presidential contest. "It seems like there's a lot of groundwork being laid, but not a lot of progress, at least not publicly."
Huntsman opened a Manchester headquarters in early July, and Eilon said plans call for offices in Concord, Nashua and the populous seacoast region by the end of August. Three or four more offices are expected to open by the end of September in this state of 1.3 million people.
The candidate added two New Hampshire employees this week, bringing to 21 the size of his paid staff in the state. That's almost triple the size of any other presidential contender, including Romney.
If the campaign follows through with its plans, "it would be the biggest paid operation for a Republican campaign in New Hampshire primary history," said Jamie Burnett, a political veteran who was Romney's state political director in 2008. "It also underscores the fact that Huntsman, like Romney, must win New Hampshire in order to compete successfully in later contests."
Huntsman's team says the nascent operation needs time to take hold, and upcoming visits will help Huntsman improve his standing.
His Tuesday visit to Dartmouth College will be his 10th day of public events with New Hampshire voters since late May, and he's scheduled to return to New Hampshire again for several days in early August.
The planned appearances come on the heels of internal campaign upheaval that raised fresh questions about Huntsman's prospects in a crowded GOP field. His campaign manager, Susie Wiles, resigned last week only a month after Huntsman entered the race. Matt David, his communications director, took over and aides signaled that Huntsman would more aggressively go after his opponents, Romney in particular, although he pledged earlier to run a civil campaign.
The new aggression has already surfaced in rhetoric from aides in recent days, and the candidate himself criticized Romney in an email to reporters Monday titled "The Romney-Obama budget plan: Raise Taxes."
Huntsman was not expected to assail Romney at Dartmouth, but aides say that doesn't suggest that Huntsman is shying away from contrasting himself with his rivals, and one in particular.
"He's said numerous times that he's running on his record, not away from his record. Some other candidates -- Mitt Romney -- are running away from their record," said New Hampshire spokesman Michael Levoff. "We're going to communicate that message."
Romney's team, for now at least, declined to take the bait.