House Republicans expand push to undo Obama immigration actions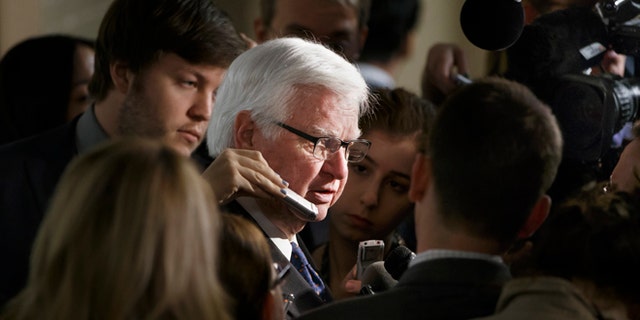 NEWYou can now listen to Fox News articles!
House Republicans are expanding their push to take on President Obama's immigration policies, looking to block not only his recently announced executive actions but also a 2012 program shielding immigrants brought illegally to this country as children.
GOP lawmakers crafted their game-plan on Friday in the hopes of putting related budget legislation to a House vote next week. Under the recently struck budget deal, the Department of Homeland Security is only funded through Feb. 27 -- and Republicans want to use the deadline as leverage to block the president's immigration policies.
But the working plan goes further than the approach initially discussed by some House Republicans. That approach would have taken aim just at executive actions Obama announced in November that provided deportation protections for millions of immigrants in the country illegally -- mostly the illegal immigrant parents of legal residents.
Conservatives in the GOP caucus pressed leadership to go further, and shut down an earlier 2012 program that has granted work permits to more than 500,000 immigrants brought here illegally as kids.
Other changes would undo Obama directives to immigration agents that had sought to limit deportations of people with no significant criminal record.
Conservative lawmakers said their plan would combat the president's "lawlessness."
Rep. Robert Aderholt, R-Ala., predicted the approach would "garner a lot of support among our colleagues when the leadership brings this bill forward."
The outcome won't have the support of a handful of moderates in the caucus, including lawmakers representing heavily Latino districts.
"Just picking on the children that came here through no fault of the own I think is the wrong way to start," said Rep. Jeff Denham, R-Calif. "I know that there are a number that feel the same concerns that I do. ... I am certainly not happy with the current status of the bill."
But several influential Republicans appeared to be on board. While some lawmakers are warning Congress not to jeopardize DHS funding -- particularly in the wake of the Paris terror attacks -- others put the onus on the president.
"I would wonder if the president would have deep misgivings about signing a bill to fund the Department of Homeland Security," House Appropriations Committee Chairman Hal Rogers, R-Ky., said.
Rogers' committee released the DHS funding bill on Friday afternoon. The bill provides $40 billion in discretionary funding, an increase of $400 million from fiscal 2014.
Lawmakers said the goal is to keep the agency running on full funding, while at the same time blocking Obama's administrative moves on immigration. Rogers' office said it is expected that the immigration policies will be addressed in an amendment to the bill.
Obama's directives in November gave temporary relief from deportation to about 4 million immigrants in the country illegally, along with permits allowing them to work legally in the U.S. They applied mostly to immigrants who'd been in the country more than five years and have kids who are citizens or legal permanent residents.
The earlier program, called Deferred Action for Childhood Arrivals, applied to immigrants brought here illegally as kids. Ending the program would eventually expose those young people to deportation.
The developments come in the first week that Congress was back in session under full Republican control. Yet there's no guarantee that the Senate, where minority Democrats still exercise considerable sway, would accept the House legislation. And Obama could threaten to veto it.
Fox News' Chad Pergram and The Associated Press contributed to this report.