House GOP Pledging Weekly Spending Cut Votes -- But Is It Enough?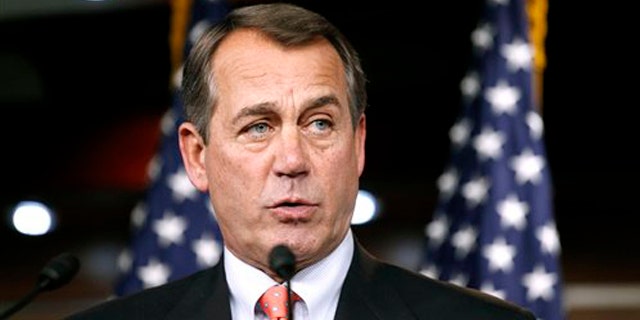 Just weeks away from seizing control of the House, Republican leaders are promising a slew of votes on spending cuts ranging from the elimination of Amtrak subsidies to a reduction in congressional budgets.
But taxpayer watchdogs say Congress is going to have to ax a lot deeper than that if it wants to make a measurable dent in the deficit. Many of the proposals coming out of the House GOP would save millions, at a time when millions are barely measurable on the budget scale. The deficit is projected to run north of $1 trillion for the third straight year, the national debt is about to hit its $14.2 trillion ceiling and Congress is poised to pass a $900 billion package of tax cuts and new spending.
The latest wave of fiscal gestures, promised by GOP leaders in response to the small-government demands that fed the Tea Party movement, is seen as a start -- but only a start.
"If they're trying to just grab the low-hanging fruit, then I think ... more support for them," said Andrew Roth, vice president for government affairs at the conservative Club for Growth. "Eventually they're going to have to tackle some really big spending items."
House Republican Leader John Boehner acknowledged as much when he described his first spending cut proposal during an interview with CBS' "60 Minutes." Boehner estimated he could save between $25 million and $30 million by cutting 5 percent off leadership budgets, committee budgets and budgets for members' allowances.
"You've got to start somewhere. And we're going to start there," Boehner said.
Thomas Schatz, president of Citizens Against Government Waste, hopes it doesn't end there.
"Five percent, I think, is the least they should do. We think it should be 10 percent," he said, adding that the cuts should apply to the Executive Branch as well.
Schatz praised Republicans for proposing the cost-saving measures but predicted that pressure from Tea Party-backed freshmen will eventually lead to votes on more dramatic cuts.
"They need to start eliminating entire programs," he said. "The new members ... they're not wedded to these programs."
Whether or not those cuts can gain the bipartisan political support necessary to pass is another matter. President Obama has stressed the need to rein in the budget deficit during his term, but his bipartisan deficit commission could not muster enough votes earlier this month to send its sweeping fiscal plan to Congress.
In the absence of a long-term plan, lawmakers continue to pitch individual cuts to chip away at the federal budget. Obama has proposed a two-year pay freeze for federal civilian workers.
Beyond that, House Republicans' "YouCut" program is pushing a host of these kinds of proposals. The online project allows Americans to choose the spending cuts they want - in turn, the House GOP is pledging to vote on one of them every week.
One of the proposals would eliminate the mandatory printing of papers copies for every bill or resolution introduced by Congress. The potential savings, as identified on Majority Leader-Elect Eric Cantor's website, is $35 million over 10 years.
Another proposal to sell excess federal property could save $15 billion, according to YouCut. A proposal to halt subsidies to Amtrak for first-class travelers could save $1.2 billion over 10 years. A proposal to stop and recover stimulus funding for promotional signs would save "tens of millions."
Roth said he hopes these cuts, while relatively small, will eventually build momentum toward more significant budgetary changes. He stressed it will take bipartisan cooperation.
"I think Republicans will be anxious to cut wherever Democrats are willing to cut," he said.