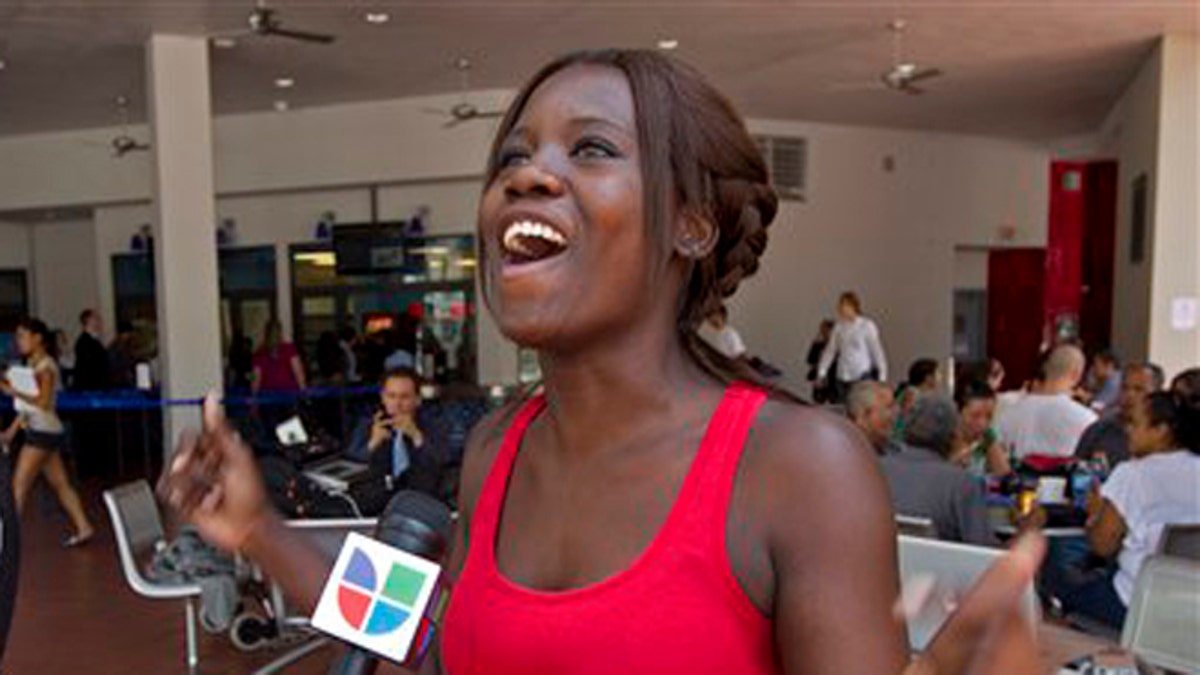 A group of House Republicans is rejecting President Obama's call for members to pass comprehensive immigration reform.
In a letter to the White House, the group calls the legislation, already passed by the Senate, an "awful deal" for American workers and questions how Obama could champion higher wages for them while backing a law that allows millions of low-skilled workers into the U.S. labor force.
"We write to you today on behalf of the 21 million Americans who can't find a full-time job," writes Alabama GOP Rep. Mo Brooks and 15 other largely conservative House members. "Comprehensive immigration reform may be a good deal for big businesses that want to reduce labor costs. And it may be a good deal for progressive labor unions seeking new workers from abroad. But it's an awful deal for U.S. workers."
The letter essentially lays out the larger, multi-faceted debate in Washington and across the country on immigration that has been a top priority for Obama.
All sides largely agree that the country must fix a federal immigration system under which roughly 11 million people are living illegally in the United States.
But supporters and critics mostly disagree on whether reform will improve the economy and if it should include a path to citizenship.
Although the leaders of the GOP-led House appear willing to pass some form of immigration legislation, they face increasing pressure from a powerful coalition -- including Big Business and Big Labor -- to agree to a comprehensive deal.
"We're determined to make 2014 the year that immigration reform is finally enacted," U.S. Chamber of Commerce President and CEO Thomas Donohue said Wednesday, outlining the influential group's agenda for the year. "The chamber will pull out all the stops -- through grassroots lobbying, communications, politics, and partnerships with unions, faith organizations, law enforcement, and others -- to get it done … Immigration reform is important to expanding (economic) opportunity as well."
Meanwhile, Obama critics argue the White House is pushing for an immigration policy that would flood the labor market.
The president, through much of last year, said he was okay with the House taking a piece-by-piece approach, "as long as all … pieces get done."
However, before departing for winter vacation, the president appeared to push the lower chamber toward the more comprehensive plan.
"There are a few differences here and there, but the truth of the matter is that the Senate bill has the main components of comprehensive immigration reform that would boost our economy, give us an opportunity to attract more investment and high-skilled workers who are doing great things in places like Silicon Valley and around the country," he said. "So let's go ahead and get that done."
The letter to Obama argues "the White House has entertained a parade of high-powered business executives to discuss immigration policy, all while shutting out the concerns of everyday wage-earners who overwhelmingly oppose these measures."
Opponents of comprehensive reform have also pointed to House Speaker John Boehner last month hiring a former director for the Bipartisan Policy Center, a pro-immigration group, as a sign of his desire to pass a comprehensive bill.
"Job number one for Congress should be to reduce the unemployment rolls, get families and communities out of poverty and government dependency, rebuild our deteriorating communities and collapsing middle class, and increase wages for American citizens," the letter concludes. "Your immigration proposals do the exact opposite on every count."