Homeless people defecating on LA streets fuels horror hepatitis outbreak, as city faulted
An outbreak of hepatitis A is spreading through Los Angeles County after leaping from a large homeless contingent in San Diego, threatening thousands of people and fueling criticism that local officials have not done enough to contain the deadly liver disease.
Hundreds of cases have turned up in southern California as well as Michigan -- but conditions in Los Angeles, where roughly 50,000 people live on the streets, have prompted deeper concerns.
Reports compiled by volunteer organizations have faulted city officials for not providing enough accessible toilets as the homeless population sharply increased by 23 percent this year.
In a prescient warning, a June 2017 report by a collection of nonprofits called the LA Central Providers Collaborative sounded the alarm about crowding and living conditions on Skid Row, citing the city's own predictions about the increased risk for hepatitis A and other diseases.
"One would think that Los Angeles, one of the greatest cities in the world, would exceed these minimal standards. However, this Audit finds that in Skid Row, Los Angeles fails to meet even the standards for a refugee camp," the report said. "During overnight hours, there are only nine public toilets available for 1,777 unsheltered homeless people on Skid Row, and these toilets are largely inaccessible."
The report noted that United Nations' refugee camp standards are one toilet for every 20 people.
Fast-forward to September, and the county declared an outbreak affecting homeless people and illicit drug users. The disease also is rising among gay and bisexual men, the Los Angeles County Department of Public Health noted in a Nov. 2 advisory.
Los Angeles currently has 31 hepatitis cases – 15 among the homeless and 16 gay men.
Toilet access is a chief concern, as the disease can be contracted by ingesting or touching anything contaminated with infected feces. Homeless individuals without bathroom access defecating on the streets spreads the disease.
STATE OF EMERGENCY CLEARS WAY TO PURCHASE HEPATITIS A VACCINES
Seventeen miles away is the community of Venice, a trendy beachside haven made famous by a young Arnold Schwarzenegger who once lifted weights in a makeshift gym set up along a boardwalk. The homeless liked the area, too, and the population has grown to about 1,000.
The area has nine toilet stalls, none which are open at night.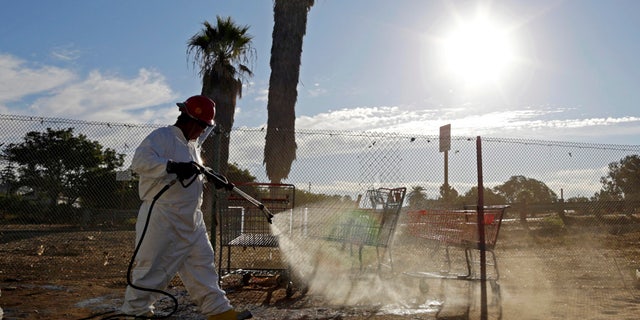 Los Angeles County, meanwhile, has 42,828 homeless living on the streets, which swells to more than 50,000 during the day when many leave overnight shelters. Most are within the city of Los Angeles, which has a total of 2,800 toilets and 800 urinals located in parks that are open during daylight hours.
In the past, county and city officials have not made a push for increasing the number of toilets; rather, preferring to use their budgeted resources for housing, job training, medical services and cash benefits.
The county is moving to add more restrooms in a bid to alleviate the situation, which should be open within a few months.
But so far, Los Angeles has tried to tackle the homelessness conditions by turning to a familiar California tactic: tax hikes.
Within the past year, two different elections were held where voters enacted two measures – a quarter-cent tax increase to fund homeless programs and a $1.2-billion bond to build housing for the homeless. Critics say it's just another excuse for elected officials to siphon off money for other pet projects – some say money spent on illegal immigrant programs could be going toward fixing this problem.
"You have all these government programs going to illegals, they should be using existing funds [for the homeless]," said former Los Angeles County Supervisor Michael Antonovich. "We don't need new taxes, it's already at a breaking point."
High-profile Los Angeles radio host John Kobylt has been criticizing lawmakers for years over what he says is a do-nothing attitude toward the homeless.
"Most of the local politicians are a bunch of phonies, they're not interested in helping the homeless or they would've done it by now," he said. "… They use the homeless to get more money for tax programs."
This year, the city spent $3 million to fund an Office of Immigrant Affairs to provide legal services for residents facing deportation. Over the past two years, the county spent $1.3 billion in illegal immigrant welfare payments.
City officials, however, say they have been working hard to combat homelessness and deal with the filth problem and have dedicated millions of dollars every year on programs and housing. New methods of dealing with the fecal and disease issue are underway.
For example, the streets in Venice are power-washed with bleach every few days while a new hygiene center will open soon on Skid Row. When fully completed, the center will include 14 restrooms with several hand-washing stations and showers. It will be open 12 hours daily and staffed by outreach workers and security. Additional mobile restrooms with attendants to service large encampments are on the horizon.
"Mayor Garcetti is committed to improving health and safety for Angelenos affected by the homelessness crisis, and the City is dedicating new resources to expanding access to restroom and shower facilities, as well as keeping our streets and sidewalks clean," Eric Garcetti's Press Secretary Alex Comisar said in a statement.
"This year's budget included $1.4 million for the maintenance and expansion of toilets on Skid Row, and the City is working to create new facilities in other areas of Los Angeles -- because no one should be forced to live in unhealthy, dangerous, or unclean conditions while they are waiting to move into new permanent supportive housing," Comisar added.
Even the state is on high alert.
After the county declared a hepatitis outbreak, California Democratic Gov. Jerry Brown in October declared a state of emergency because nearly 600 people had the disease statewide and 18 had died.
Now, the California Department of Public Health is reporting 649 cases statewide with 546 of those coming from San Diego. Of the 649, 417 required hospitalization and 21 resulted in death.
San Diego has had the majority of the deaths and has been taking aggressive steps to quell the spread of disease. Downtown sidewalks are hosed off with bleach and an effort is underway to vaccinate all food service workers and first responders within the city.
The battle for adequate restrooms has been going on for years. Back In 2012, the Los Angeles Community Action Network predicted that Skid Row was ripe for disease in a report similar to the one earlier this year. Then, just as now, restrooms often lacked soap, water, toilet paper and trash cans.
"The City of Los Angeles has failed miserably when it comes to providing accessible and clean public restrooms, thereby creating and maintaining the human rights violations cited in this report and others," the report said. "It is an obvious fact that human beings simply must relieve themselves regularly. All residents face the need for public restrooms, it's just that homeless residents are entirely reliant on public options."