Homeland Security Chief Vows To Review Ways To Make Deportations More Humane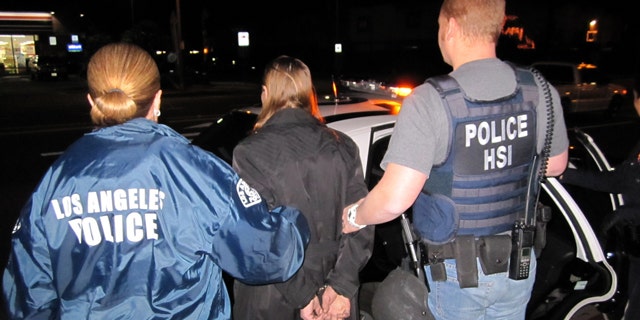 As frustration over the United States' broken immigration system has focused increasingly on President Obama, Homeland Security Secretary Jeh Johnson said Wednesday that he will make sure that deportation efforts are aimed chiefly at those who pose a danger to public safety and national security.
Johnson, who was sworn in as the fourth Homeland Security secretary late last year, made the promise in a closed-door meeting with Latino members of Congress who've been pressuring the administration to scale back the roughly 2 million deportations – a record – since Obama took office.
Activists contend many people deported pose no threat.
Members of the Congressional Hispanic Caucus, who met in recent weeks with Obama to demand an end to the deportation of undocumented immigrants who did not pose a threat to public safety, submitted recommendations to Johnson regarding overhauling the removal process.
The recommendations, according to Politico, included suspending the deportation of people who would be eligible for a path to legalization under a bipartisan Senate bill that passed in June.
That part of the bill called for allowing undocumented immigrants to legalize as long as they meet a strict set of criteria, including not having a criminal record, and paying taxes and fines.
The immigration overhaul effort has stalled, however, in the House, where many Republicans say they will not support a measure that gives a break to undocumented immigrants. That, they say, would be tantamount to rewarding lawbreakers.
Politico reported that about 8 million of the estimated 11 million undocumented people in the country could qualify for a path to legalization under the Senate criteria.
"I think it is fair to say that I have learned a lot from the submissions that they have made," Johnson told reporters following the meeting with the members of Congress, according to Politico. "I appreciate their leadership in the area of immigration reform. I have an open mind about a lot of this."
With comprehensive immigration legislation stalled in the House, Obama announced last month that Johnson would be conducting a review to see if deportation practices can be more humane.
A New York Times story in recent days noted that since the beginning of Obama's tenure, in 2008, two-thirds of the nearly 2 million people who have been deported had no criminal record or had committed minor offenses, such as traffic violations.
One out of five, or about 394,000, had committed serious crimes, the Times found.
Shortly after assuming his post, Johnson said that an earned path to citizenship for the roughly 11 million immigrants living in the United States illegally is a matter of national security.
He said that offering a path to citizenship would encourage such immigrants "to come out of the shadow, to be accountable, to participate in the American experience."
Obama and congressional Democrats have long pushed for a sweeping immigration bill that would, among other things, create a path to citizenship for immigrants living in the country illegally who don't pose a threat to national security or public safety.
Last month, Janet Murguia, head of the National Council of La Raza, or NCLR, said in a way more pointed than the group ever has regarding the president that he is responsible for separation of many families and that he has become the "Deporter-in-Chief."
Her assertion – that while Congress has failed to act to reform immigration, the President has many tools at his disposal to address certain problems undocumented immigrants face – is one that lenient-immigration-policy advocates have made since at least two years after he moved to 1600 Pennsylvania Avenue.
Last year, the bipartisan comprehensive immigration reform bill that passed in the Democratic-controlled Senate also included a provision to nearly double the size of the Border Patrol.
Some Republicans have objected to allowing immigrants to gain citizenship before the border is secured.
On Wednesday, Johnson said his review of the Obama administration's deportation process would be completed soon, but did not get more specific.
"I am dedicated and committed to ensuring that our removal priorities are focused on threats to national security, public safety and border security," Johnson said, according to Politico. "I have heard a number of cases that lead me to want to reevaluate our priorities to make sure we're getting this right, and that's what I'm doing right now."
The Associated Press contributed to this report.
Follow us on twitter.com/foxnewslatino
Like us at facebook.com/foxnewslatino