Holder warns DOJ employees against soliciting prostitutes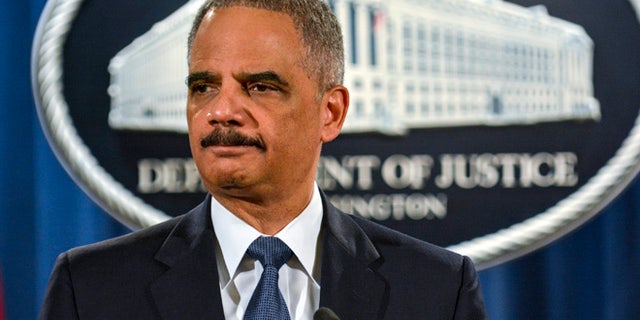 NEWYou can now listen to Fox News articles!
Attorney General Eric Holder sent a memo to employees of the Department of Justice Friday, reminding them that soliciting prostitutes is against agency rules and that violation of those rules could lead to suspension or termination.
"The solicitation of prostitution threatens the core mission of the Department, not simply because it invites extortion, blackmail, and leaks of sensitive or classified information, but also because it undermines the Department's efforts to eradicate the scourge of human trafficking," the memo said.
The memo was sent weeks after a Justice Department watchdog report alleged several Drug Enforcement Administration agents attended "sex parties" with prostitutes in an unnamed "host country" paid for by local drug cartels.
The alleged parties took place over a period of several years. According to the report by the Justice Department inspector general, the parties were even held in agents' U.S. government-leased quarters.
The IG report found such allegations often went unreported or underreported, or were not pursued properly.
Holder said in the memo Friday that the prohibition on soliciting prostitutes also applies when employees are off duty, or in a foreign country where prostitution is legal.
The Department of Justice is in the process of reviewing security clearances of the DEA employees who attended the parties, and is investigating the disciplinary process following the accusations of sexual misconduct, a senior law enforcement official told Fox News.
"Department leadership takes very seriously the allegations laid out in the IG's report and acted quickly to remind all employees that they are prohibited from participating in commercial sex acts and will be suspended or terminated for violating the policy," a Justice Department spokeswoman said in a statement Friday.
The Associated Press and Fox News' Matt Dean contributed to this report.