Holder on a 2020 showdown with Trump: 'Two guys from Queens. That would be interesting'
MANCHESTER, N.H. – Eric Holder's visit Friday to the state that holds the first primary along the road to the White House sparked further speculation that the former attorney general is seriously mulling a Democratic presidential bid in 2020.
In a speech and question-and-answer session at "Politics and Eggs" at the New Hampshire Institute of Politics – a must-stop for potential presidential candidates – Holder said only that a run is "something that I'm considering."
But he openly entertained what a matchup would look like between him and President Trump, both Queens natives.
"Two guys from Queens. That would be interesting. New Yorkers know how to talk to other New Yorkers," Holder said with a smile.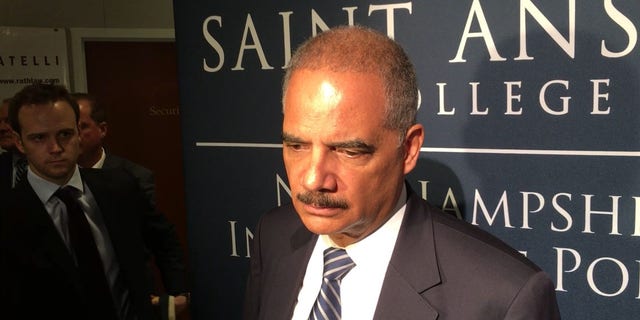 "The idea of a challenge, yeah that kind of appeals to me," he offered.
Holder repeated his often-used line that he'll decide on any Democratic presidential run by early next year.
"I think the decision I make will be one that will be personal, whether or not I think I could contribute, whether I thought I could be a positive force. And I think it would really be something that I decide in a vacuum," he said when asked by Fox News if a potential candidacy by former Vice President Joe Biden would weigh on his decision.
But he wondered if his style would play on the campaign trail, adding, "I'm a person who's known as a guy who speaks his mind, and I wonder how that would resonate."
Holder, who ran the Justice Department from 2009 until 2015 under then-President Barack Obama, joked that "there are some assumptions about why I'm here in New Hampshire."
Still, he maintained that the real reason he was in the state was in his capacity as chairman of the National Democratic Redistricting Committee – which aims to end the practice of partisan gerrymandering. Holder warned that "our democracy is under attack," adding "we're up here to try to have an influence on state legislative races."
In a separate interview on the eve of his New Hampshire visit, the nation's first black attorney general said he wouldn't label Trump a racist.
But he added, "The president and other members of his administration have tried to use race as a wedge issue to divide the American people, and it is something that I think is reprehensible. It is inconsistent with who we say we are as a people and it is not what we expect from somebody who is supposed to be the leader of the entire nation."
At the event in New Hampshire, Holder was asked to weigh in on the president's pardon this week of conservative author and filmmaker Dinesh D'Souza and Trump's comment that he may commute the sentence of former Illinois Gov. Rod Blagojevich.
"I'm a little concerned about what's going on," Holder said. "I think the president is trying to send a message to some people who might be involved in the Russia investigation."
Trump and his allies, though, stand by the latest pardons. The White House said D'Souza was "a victim of selective prosecution for violations of campaign finance law."
John Dowd, former lead attorney for the president on the Russia probe, said, "I think the president's use of his pardon power to right the ship and correct eight years of despicable injustice is brilliant and just what our founding fathers had in mind to check rogue prosecutions and agents and rigged prosecutions."
During his speech, Holder focused on his redistricting mission. He urged that the process be taken "out of the hands of the politicians, because the reality that we have now is that politicians are picking their voters as opposed to citizens choosing who their representatives are going to be."
Following his "Politics and Eggs" appearance, Holder headlined a roundtable discussion on gerrymandering at the New Hampshire Democratic Party's headquarters in Concord.
Holder, who played basketball in high school and college, also weighed in on Game One of the NBA Finals, where the Cleveland Cavaliers' JR Smith Thursday night made one of the costliest mistakes in pro-basketball history.
"JR Smith, hang your head in shame," he said.
Later, Holder told reporters "if you're a pro, [you're] supposed to remember what the score is."
"He's a good player and we all make mistakes, but that was painful to watch," Holder added.
Fox News' Catherine Herridge contributed to this report.