Hillary Clinton lashes out at GOP candidates, says she's 'very disappointed' in Trump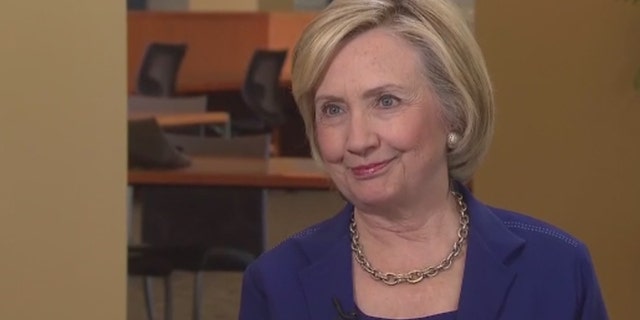 NEWYou can now listen to Fox News articles!
IOWA CITY, Iowa (AP) – Presidential candidate Hillary Clinton stepped up her attacks on her political opponents Tuesday night during an interview with CNN.
In a wide-ranging interview with the cable channel, Clinton sought to distance herself with the Republican candidates by presenting herself as the presidential contender most sympathetic to immigrant causes.
Even when asked about Jeb Bush, seen as the most moderate Republican candidate on immigration issues, Clinton shot back that the former governor of Florida and the 2016 GOP frontrunner "doesn't believe in a path to citizenship. If he did at one time, he no longer does."
Bush, in his 2013 book "Immigration Wars," called for a process that would allow people living in the U.S. illegally to remain, as long as they take a series of steps. He wrote that withholding citizenship is a suitable penalty for those who have broken the law.
Spokeswoman Emily Benavides said in a statement that Bush "believes in a conservative legislative solution to fix our broken immigration system that includes earned legal status for those currently in the country after they pay fines and taxes, learn English and commit no substantial crimes while securing our border."
Campaigning in one of the most liberal pockets of Iowa, Clinton offered herself up during the interview as a Democratic standard-bearer at a time when her main Democratic rival, Sen. Bernie Sanders of Vermont, has generated big crowds and stoked interest among progressives.
Clinton has said any immigration legislation needs to include a path to "full and equal citizenship." She has defended Obama's use of executive actions to shield millions of immigrants living in the U.S. illegally from deportation.
In the interview, Clinton said she was "very disappointed" in Republican candidate Donald Trump for his disparaging comments about Mexican immigrants along "with the Republican Party for not responding immediately and saying, 'Enough. Stop it.'"
But she railed against one Mexican – saying that San Francisco officials were wrong to release the undocumented immigrant now at the center of a national immigration controversy.
Juan Francisco López Sánchez, a Mexican national, is charged with first-degree murder in last week's shooting of Kathryn Steinle while she was walking with her father on a popular San Francisco pier.
López Sánchez had been deported five times, and immigration officials asked the San Francisco sheriff to keep him in custody after a drug charge was dismissed so they could try to deport him a sixth time.
Clinton said the sheriff ignored "strong evidence" that López Sánchez should have been turned over to immigration officials and deported. The sheriff says a city law required him to release López Sánchez after local charges were dropped.
During the CNN interview, Clinton defended her decision to delete some of her emails as secretary of state from her private email server, saying, "Everything I did was permitted by law and regulation." She said she used one device for email, although an email message obtained by the Associated Press earlier this year showed Clinton used an iPad for email, in addition to her BlackBerry, while she was secretary of state.
Rep. Trey Gowdy, chairman of the House Select Committee on Benghazi, responded Tuesday, saying, "The committee does not know why or when she chose to wipe clean her personal server, but we do know her way of doing things provided an incomplete public record." The committee sought Clinton's emails as part of its investigation into the 2012 attack on the U.S. diplomatic post in Benghazi, Libya.
Asked about Sanders, Clinton said she welcomed a contested race. "This is going to be competitive — it should be competitive," Clinton said.
She told CNN she planned to outline some of her economic policies Monday.
Clinton cited her husband's eight years in office as a time of strong economic growth that helped not only the wealthy but the poor as well. She said Republicans afterward left President Barack Obama to tend to an economic crisis.
"Right now our country deserves to keep moving forward, not to do a big U-turn going back to where we came from," Clinton said. "That didn't work before. It won't work again."
Like us on Facebook