HHS chief 'unfamiliar' with reports that agency can't contact 85,000 unaccompanied migrant kids
Becerra said he doubted the 85,000 number was realistic
Health and Human Services (HHS) Secretary Xavier Becerra on Wednesday told lawmakers he was "unfamiliar with reported statistics that the agency had been unable to make contact with over 85,000 unaccompanied child migrants who had been released to sponsors after being encountered at the southern border.
Secretary Xavier Becerra was asked at a Senate Finance Committee hearing by Sen. James Lankford, R-Okla., about details in a New York Times report on migrant children who had been released to sponsors.
The Times reported that while HHS checks on all minors by calling them a month after being released to sponsors, data showed that over the last two years that the agency couldn't reach more than 85,000 minors -- and lost immediate contact with a third of migrant children.
DHS REMOVED JUST 409 OF 345,000 UNACCOMPANIED CHILD MIGRANTS SINCE FY 2021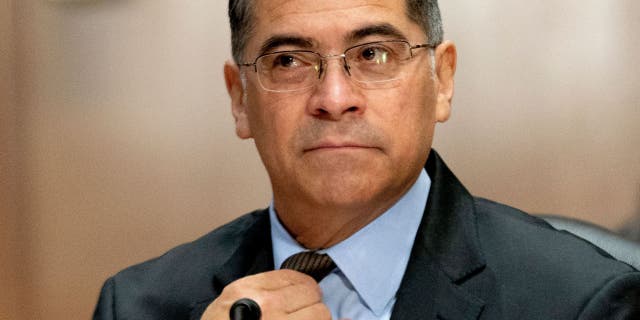 Becerra told Lankford that he is briefed regularly by his staff on the issue of unaccompanied migrant children, but that he had not heard of that number.
"I have never heard that number of 85,000, I don't know where it comes from and …so I would say it doesn't sound at all to be realistic, and what we do is we try and follow up as best we can with these kids," he said.
"Congress has given us certain authorities. Our authorities end when we have found a suitable sponsor to place that child with. We try and do some follow up but neither the child or the sponsor is actually obligated to follow up with us," he said.
When unaccompanied children come to the border, they are currently turned over by Border Patrol to Health and Human Services (HHS) who will attempt to find them a sponsor within the country -- typically a family member.
The Times had reported on how some of those children had been trafficked and ended up being forced to work in dangerous jobs.
FEDERAL JUDGE RULES BIDEN'S BORDER POLICIES UNLAWFUL, JUST A 'SPEEDBUMP' FOR ILLEGAL MIGRANTS
Sen. Marsha Blackburn, R-Tenn., followed up on Lankford's questioning, and asked what action HHS was taking to make sure children were located and not being trafficked -- again citing the 85,000 figure.
BIDEN ADMIN SCALING BACK DETENTION OF ILLEGAL IMMIGRANTS, EVEN AMID MIGRANT SURGE
"Those statistics you mentioned, as I said previously in regard to another question by one of your colleagues Those are unfamiliar to me," Becerra said. "I have no idea where those statistics come from, if they're based in reality or not. And we do everything we can to make sure any child, before we allow them to be released to a sponsor, that that sponsor has been vetted."
CLICK HERE TO GET THE FOX NEWS APP
"The vast majority of these children end up with an immediate family member as a placement so some of those statistics that have been thrown out don't seem to be based in fact and really would seem to be contrary to what we've done," he said.
According to Customs and Border Protection (CBP) statistics, the number of UACs who came to the border shot up from 33,239 in FY2020 to over 146,000 in FY 2021 and 152,000 in FY 2022. So far in FY 2023 there have been 57,673 encounters of unaccompanied children.