Hard-left UK pol who compared US to ISIS poised to be next Labor leader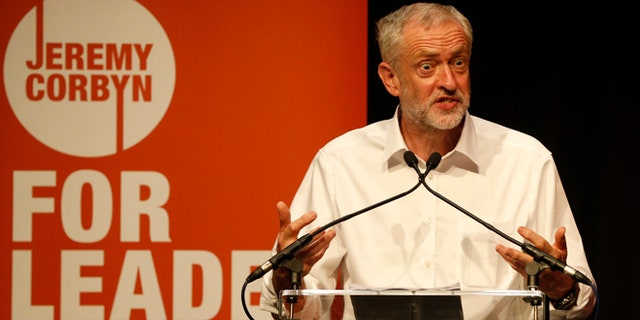 NEWYou can now listen to Fox News articles!
Hard-left British politician Jeremy Corbyn, who has sought warmer ties with Putin's Russia and compared U.S. troops to ISIS, appears to be leading the race to take over one of Britain's two major parties – a development that could have serious repercussions for the "special relationship" between the U.K. and U.S.
The Labor Party – one of two main parties along with Prime Minister David Cameron's Conservative Party – lost the general election in May under the leadership of the left-wing Ed Miliband, who resigned, triggering a vote for a new leader. Many analysts assumed the center-left party would move back to the center with a new leader in the mold of former Prime Minister Tony Blair.
The analysts appear to have been wrong.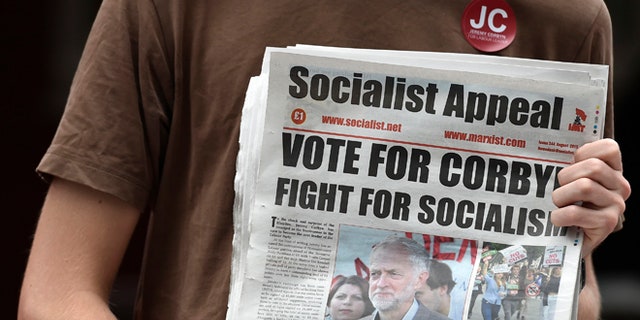 In a shock to the British political system, bearded vegetarian socialist Jeremy Corbyn – who has been part of the party's left fringe for decades – put his name forward and swiftly went from outsider to top contender. He's at the top of recent polls among registered Labor supporters, backed by a coalition of activists of all ages and trade unions.
The latest YouGov poll for the Times of London shows Corbyn with 53 percent, with his nearest rival polling at 21 percent. Some bookmakers already are paying out for those who gambled on the vote, saying it is a done deal.
Voting ends Sept. 10, with results expected Sept. 12. If Corbyn wins, he'd be leader of the opposition party in Parliament. Should Labor win a parliamentary majority in the next election, scheduled for 2020, he could immediately become prime minister.
Although YouGov and political analysts have urged caution in calling the race just yet, alarm bells are ringing on both sides of the Atlantic at the prospect of a Corbyn-led Labor Party.
"I think Americans should have the same concern as British audiences," Dan Hodges, a former Labor Party adviser, told FoxNews.com. "Jeremy Corbyn, if he does win, will become the most hard-left leader of a major political party in post-war British political history."
He warned, "Ideologically, he is someone who leans more toward Moscow than Washington."
Corbyn has written articles criticizing Presidents Obama and George W. Bush, and indeed has been far friendlier to Putin's Russia. Corbyn told Russian state television recently that he would rethink national security policy if elected prime minister and swiped at the U.S. role in the 2008 financial crisis.
"I don't blame the Labor government of Blair and Brown for that because it wasn't their fault that these banks were involved in frankly dodgy American investments," Corbyn told state-funded Russia Today.
In a 2014 interview with Russian television, Corbyn blamed strife in Iraq on "Western meddling" and compared U.S. troops to ISIS.
"Yes, [ISIS troops] are brutal, yes some of what they have done is quite appalling, likewise what Americans did in Fallujah and other places is appalling," Corbyn said.
Russian officials responded to Corbyn's outreach by saying they would welcome his election, The UK Daily Telegraph reported.
Corbyn did not respond to requests for comment to his campaign by FoxNews.com.
On domestic policy, Corbyn wants to hike taxes and domestic spending, and reintroduce Labor's Clause IV in its manifesto – removed by Blair in the '90's – that calls for state ownership of all industry.
On foreign policy, Corbyn opposed the wars in Afghanistan and Iraq, and told The Guardian last week that if elected leader he would apologize for Labor's role in the Iraq war. Corbyn also wants the U.K. to scrap its nuclear deterrent and withdraw from NATO. In 1984, he invited Sinn Fein leader Gerry Adams to Parliament, just two weeks after the Irish Republican Army (IRA) had committed a terrorist attack on a hotel where then-Prime Minister Margaret Thatcher was staying, killing five and injuring dozens.
The Washington Free Beacon reports that Corbyn also welcomed members of Hamas and Hezbollah to Parliament and referred to them as "my friends."
Former PM Blair put the issue in stark terms in a recent opinion piece: "The Labor Party is in danger more mortal today than at any point in the over 100 years of its existence."
Hodges, who believes Corbyn will win the nomination but won't become prime minister, said he was not surprised that Corbyn has been cozying up with Vladimir Putin.
"In terms of foreign policy, and domestic and economic policy, Jeremy Corbyn is ideologically opposed to what the United States has come to represent in the world in foreign policy and economic terms," Hodges said. "And were he to ever get into a position of political influence, there is no doubt he will use that influence to shift Britain away from its traditional relationship with the United States."
Some analysts in America agree. "It would be terrible for the U.S.-U.K. relationship," said Luke Coffey, a former Conservative Party adviser and now a Margaret Thatcher fellow at the Heritage Foundation in Washington.
While Coffey doubts Corbyn could become prime minister, he says even becoming leader of the opposition would have an impact.
"He would be so overtly anti-American that whoever steps into the White House, Republican or Democrat, would have to support the Conservative Party," he said.
Hodges added: "The election of a hard-left anti-NATO leader in the U.K. will send a signal to Britain and America's enemies throughout the globe."
With just weeks to go before the ballot closes, Labor leaders are scrambling to stop Corbyn.
The number of party members has risen from just more than 200,000 in May to 299,755, The BBC reported, with a further 121,295 people paying £3 ($4.73) to become registered supporters and 189,703 joining up through a trade union. However, the party has barred a number of new applicants from participating in the ballot on suspicion they're not true party members -- fearing an influx of hard-left groups and closet Conservatives seeking to hand the leadership to Corbyn.
Hodges said some are even "actively talking" about trying to "remove him as quickly as possible" should Corbyn win.