'Hanoi Jane' is Michelle Obama's role model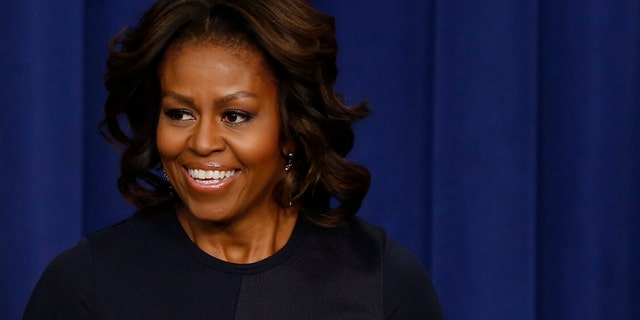 Talk about lighting up like a switchboard.
It took approximately .1 seconds for the Twitterverse to pounce on Michelle Obama's comments to People magazine that she considers actress and activist Jane Fonda -- once known as "Hanoi Jane" -- a role model.
PEOPLE: "And there are other role models you look at and think, 'When I'm 70 or 80, I want to look and live like her'?"
MRS. OBAMA: "I just went to see Cicely Tyson on Broadway. She is in her 80s and did a two-hour play with stamina and passion. I told her, 'I want to be you when I grow up!' [And] there's Jane Fonda, a beautiful, engaged, politically savvy, sharp woman."
It's been more than 40 years since Fonda visited North Vietnam during the war, but passions are still running high.
Even former presidential candidate Herman Cain took offense.
***
It was the battle of the hashtags as both sides of the abortion issue took to Twitter to debate the issue on the 41st anniversary of Roe v. Wade. Republican pols joined the thousands who descended on D.C. for the March for Life -- and must have frozen their fingers off tweeting about it.
Pat Toomey, Lindsey Graham, Roy Blunt, Reince Priebus, Rob Portman, Rick Santorum, and others glommed onto the hashtags #marchforlife and #whywemarch to decry abortion.
But conservative Media Research Center trumped them all with a tweet quoting the Gipper.
Democrats -- from the top down – adopted #Roe41 and #standwithwomen hashtags to praise the court ruling and its effects on women.
Missing from most of the pro-choice tweets? The word "abortion."
***
Here's where it pays to hire copy editors – even for tweets.
Newsweek tried to give a big thumbs down to Bob McDonnell for Tuesday's 14-count indictment accusing him of federal corruption charges while governor of Virginia.
Except, the magazine got its own shiner for calling him Mitch McConnell. That would be the minority leader in the Senate.
(h/t jimromenesko.com)
McDonnell, McConnell -- one wrong letter and you can end up on the wrong side of a libel suit.
Watch Lauren every Sunday on #MediaBuzz at 11 a.m. and 5 p.m. ET. If you'd like to recommend your favorite political tweets, email laurenashburnFNC@yahoo.com or send her a tweet @laurenashburn with the hashtag #TwitterTalk.