Gunman Opens Fire Inside Holocaust Museum, Kills Security Guard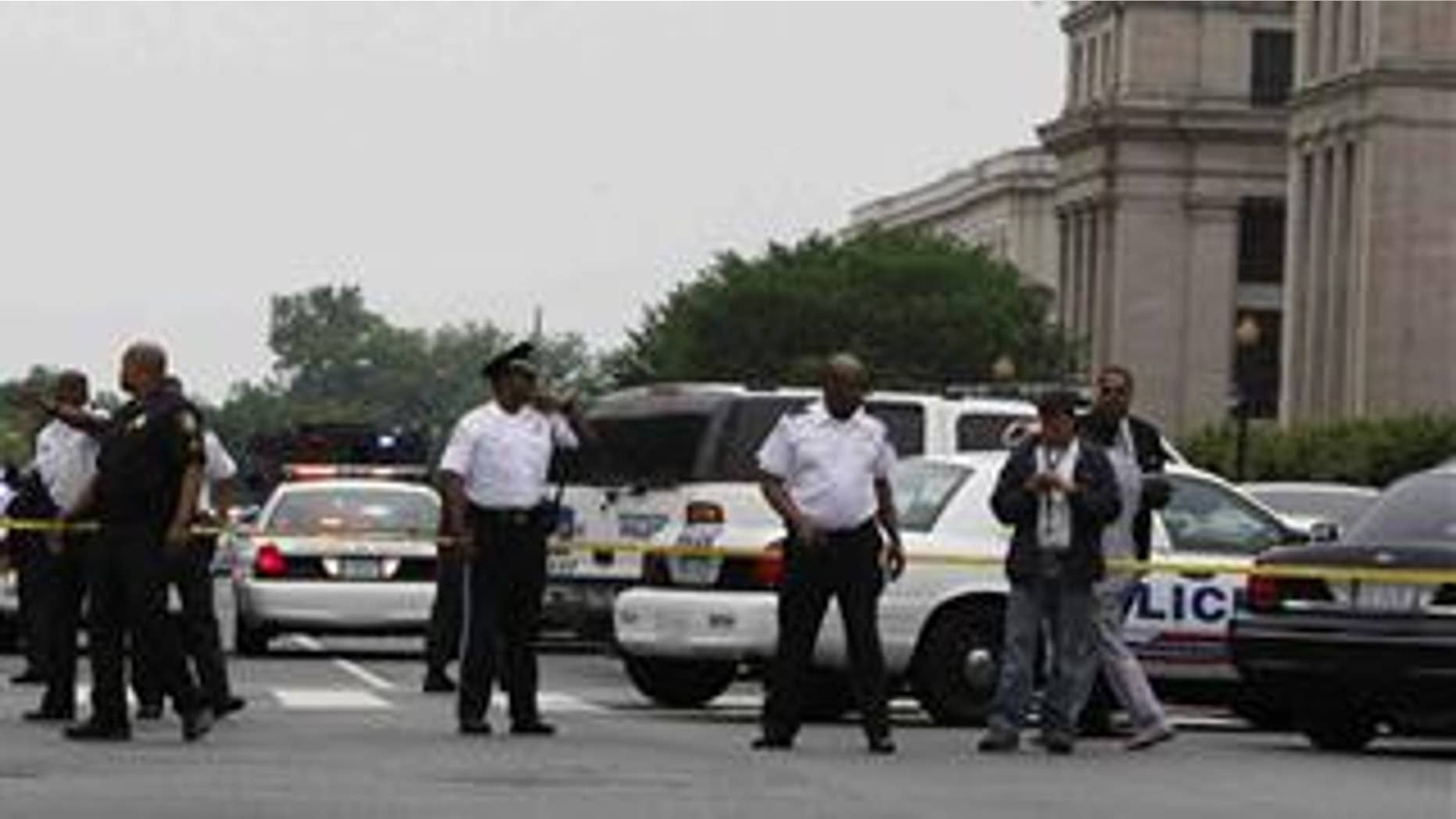 WASHINGTON -- A gunman opened fire inside the Holocaust Memorial Museum in the nation's capital Wednesday, shooting and killing a security guard before other officers returned fire and shot the assailant, officials said.
The museum released a statement late Wednesday afternoon confirming that 39-year-old Officer Stephen Tyrone Johns had died of his injuries. He had served on the museum's security staff for six years.
"There are no words to express our grief and shock over today's events," the statement said, adding that the museum would remain closed Thursday in his honor.
The museum confirmed that Johns was married but could not say whether he had any children.
Police are looking at an elderly man identified as James Von Brunn as the shooter, FOX News has learned -- though D.C. Police Chief Cathy Lanier would not confirm the identity of the suspect.
"We have been told that the museum was on a list in his car of places that he wanted to target," museum spokesman Joseph Rosboschil said.
The alleged shooter is the same James W. von Brunn who is a known white supremacist in his late 80s, MyFOXDC reported. He runs a Web site, Holy Western Empire, that carries several anti-Semitic statements.
Von Brunn was sentenced in 1983 to more than four years in prison for attempting to kidnap the Federal Reserve Board after a guard found him outside of a board meeting with a gun, knife and sawed-off shotgun.
Police said he wanted to take the board hostage because of high interest rates and the country's financial problems, MyFOXDC reported.
On his site, Von Brunn insists he was trying to place the board under "legal, non-violent citizens-arrest."
Law enforcement officials were searching a car believed to be Von Brunn's which was parked in front of the museum. They were also testing the vehicle for explosives, MyFOXDC reported.
Authorities were also raiding Von Brunn's home to check his computer and investigate the incident as a possible hate crime or domestic terrorism.
David Schlosser, a spokesman for the U.S. Park Police, said the gunman entered the museum shortly before 1 p.m. ET and shot the security guard, before two other security guards returned fire and wounded the shooter. Both the shooter and security guard, later identified as Johns, were then sent to a local hospital, he said.
Lanier said the gunman was carrying a rifle and used it immediately. "He raised the rifle and started shooting," she said. "The second he stepped into the building, he began firing."
Lanier told reporters the suspect appears to have been a "lone gunman," and that authorities received no prior threats.
Museum officials estimated the entire incident unfolded in approximately two minutes.
"Our hearts and thoughts go out to the security guard and his family," D.C. Mayor Adrian Fenty said at the press conference. Fenty said the gunman is in "critical condition" at the hospital.
President Obama was briefed and was "concerned" and "saddened" by the shooting, White House Press Secretary Robert Gibbs said.
There were conflicting reports about how many people were wounded. Another law enforcement official earlier said three people had been shot.
Police and other law enforcement, including the FBI's Terrorism Task Force, had surrounded the museum site Wednesday afternoon.
Witnesses said they heard a series of gunshots, and did not immediately know what was happening.
"We heard a huge boom and we all kind of looked around," said a visitor from Chicago. After they heard more shots, she said, "We all hit the ground and definitely knew it was gunshots."
Kimberly Frank, also from Chicago, said she and her son Tyler were just finishing up their tour of the museum when she heard five shots, though she didn't initially know they were gunshots.
"I was terrified," her son said.
The Holocaust Museum is a popular tourist destination, located south of the National Mall and near the Washington Monument.
Click here to read more from MyFoxDC.
The Associated Press contributed to this report.