Guessing Game Begins Over Obama Pick for Stevens' Supreme Court Seat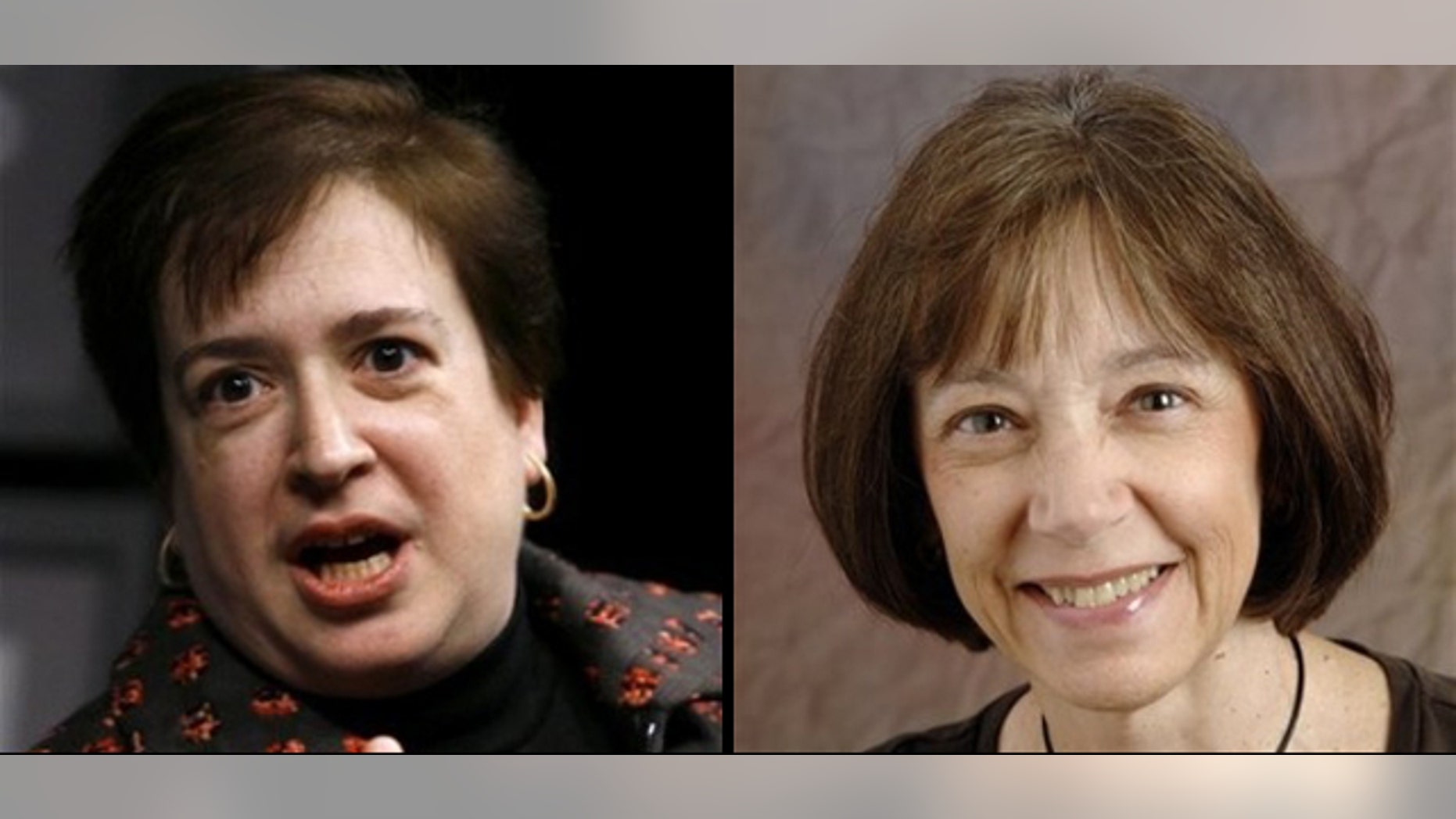 Elena Kagan and Diane Wood are hardly household names but in the days ahead reports will invariably come out about "short lists" and names of people most Americans have never heard of as possible replacements for retiring Supreme Court Justice John Paul Stevens.
Even before President Obama announces his selection, Kagan, Wood and several others will undoubtedly be given an in-depth and very public biographical examination.
Friday's announcement that Stevens will soon retire is merely the official announcement of a decision most Supreme Court observers expected. Otherwise obscure prognostication efforts by journalists and other court-watchers now turn to identifying his replacement. Obama is said to have about 10 names on his short list.
 
The top parlor game questions include whether Obama will nominate a fire-brand, hard core liberal who will energize the left and further enrage conservatives. Or maybe he will select someone perceived as a moderate who will breeze through the confirmation process.
 
"The timing, if it's going to be next summer, that may put the president in a position where he can't do somebody quite as controversial as he might otherwise have done because of the elections in the fall," lawyer Maureen Mahoney told an audience at the Smithsonian late last year. "He may have to moderate just a little bit more."
The timeline for selecting a new candidate is weeks, say White House aides. The confirmation team will work largely the same as it did when Sotomayor was nominated last year. White House Counsel Bob Bauer, who called Obama to inform the president of Stevens' decision, and the nominations team that includes Ron Klain and Cynthia Hogan, who have many years of experience working on both sides of Supreme Court nominations, will run the nomination process.
As he said when he nominated Sotomayor, Obama on Friday vowed to select a jurist with a "keen understanding of how the law affects the daily lives of the American people."
"It will also be someone who, like Justice Stevens, knows that in a democracy, powerful interests must not be allowed to drown out the voices of ordinary citizens," he said.
The speculation on who will replace Stevens was going on long before the justice sent his resignation letter to Obama. The topic of Obama's second high court nomination came up during the battle over his first.

"It wouldn't at all surprise me if some of the very same people were back in the Oval Office," White House Chief of Staff David Axelrod said at the time Sotomayor beat out several also-rans.
Some of those people would include Appellate Court Judge Diane Wood, Solicitor General Elena Kagan and Homeland Security Secretary Janet Napolitano. In recent months most attention has been focused on Wood and Kagan.
 
Wood is well known in legal circles for her strong opinions on the Chicago-based Seventh Circuit U.S. Court of Appeals. She was also part of the faculty at Chicago Law School when Obama taught constitutional law.  She is very familiar to Stevens who is responsible for overseeing the Seventh Circuit and is a Chicago native, though that connection would unlikely be a decisive factor into her selection.
 
If Wood is the pick -- or perhaps one of the many law professors perceived as liberals like Pam Karlan or Kathleen Sullivan --then the summer confirmation fight will be as explosive as ever, especially when the abortion issue enters the discussion. Wood has dissented against bans on partial-birth abortion.
Kagan is the former dean of the Harvard Law School and is well-regarded for her performance there in controlling a fractious faculty and reaching out to conservatives. She has already successfully navigated through the Senate confirmation process to become solicitor general.
But Kagan is also something of an unknown entity because she has never been a judge and as a result has a thin paper trail of past positions. She was also faulted by the group "Americans United for Life" for having criticized a high court ruling restricting federal funds on family planning.
 
In his Rose Garden remarks Friday, Obama said President Gerald Ford picked Stevens because he was "brilliant, non-ideological, pragmatic, and committed above all to justice, integrity and the rule of law."
The selection after the Watergate scandal was Ford's attempt to stay away from a divisive fight.
 
The most likely "consensus" pick that Obama could make in the Ford-Stevens model is Judge Merrick Garland of the D.C. Circuit Court of Appeals. He was appointed to the appellate court by President Bill Clinton and is well-regarded for reaching out to his conservative colleagues to reach rulings.
It also doesn't hurt that two of Garland's former clerks now work in the Office of White House Counsel.
Of course, the president is free to select anyone he wants and speculation will likely run rampant in the weeks to come.
Here is Fox News' assessment of the possible selections: 
 
TIER ONE:
 
Diane Wood, 7th Circuit Court judge  
 
Elena Kagan, U.S. solicitor general
 
TIER TWO:
 
Merrick Garland, Judge, D.C. Circuit Court of Appeals
 
Leah Ward Sears, former Chief Justice of Georgia Supreme Court.   
 
Kathleen Sullivan, professor and former dean of Stanford Law School 
 
Cass Sunstein, Former Chicago and Harvard Law Professor, leads Obama administration's Office of Information and Regulatory Affairs
 
Pam Karlan, Stanford Law professor 
 
Janet Napolitano, Homeland Security secretary
Jennifer Granholm, Michigan governor
 
TIER THREE:
 
Rosemary Barkett, 11th Circuit Court judge   
 
Fortunato Benavides,  5th Circuit Court judge
 
Christine Arguello, U.S. District Court judge, Denver
 
Ruben Castillo, Judge U. District Court judge for the Northern District of Illinois
 
Karen Nelson Moore, 6th Circuit Court judge
 
Jose Cabranes, 2nd Circuit Court judge 
 
David Tatel, D.C. Circuit Court judge
Deval Patrick, Massachusetts governor
 
Marsha Berzon, 9th Circuit Court judge
 
Eric Holder, U.S. attorney general
 
Charles Ogletree, Harvard Law School professor 
 
Kim Wardlaw, 9th Circuit Court judge
 
Seth Waxman, former solicitor general, lawyer at Wilmer Hale
 
Harold Koh, former dean of Yale Law School, State Department Counsel   
 
Ken Salazar, interior secretary
 
OBAMA'S COURT OF APPEALS NOMINEES
 
Judge David Hamilton,  6th Circuit
 
Judge Andre Davis, 4th Circuit
 
Judge Gerard Lynch, 2nd Circuit
 
Judge Joseph A. Greenaway, Jr., 3rd Circuit
 
Judge Beverly B. Martin, 11th Circuit 
 
Jane Branstetter Stranch, 6th Circuit
 
Judge Thomas Vanaskie, 3rd Circuit
 
Justice Barbara Milano Keenan, 4th Circuit
 
Judge Danny Chin, 2nd Circuit
 
Judge O. Rogeriee Thompson, 1st Circuit
 
Judge Albert Diaz, 4th Circuit
 
Judge James Wynn, 4th Circuit
 
Judge Robert N. Chatigny, 2nd Circuit
Goodwin Liu: 9th Circuit
 
Scott M. Matheson, Jr., 10th Circuit