Groups Consider Renaming 'Helen Thomas' Awards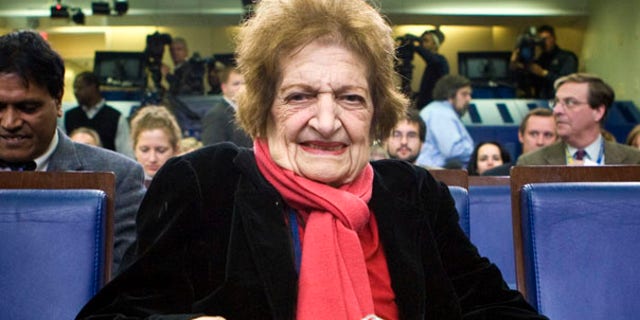 The fallout over longtime White House correspondent Helen Thomas' comments about Jews and Israel has led at least two organizations to reconsider whether their prestigious awards should bear her name.
Thomas' alma mater, Wayne State University, has already made its decision. The school announced Wednesday that it will keep the Helen Thomas Spirit of Diversity in the Media award, despite what it described as her "wholly inappropriate comments."
But the Society of Professional Journalists has not decided what to do with its Helen Thomas Award for Lifetime Achievement. President Kevin Smith said board members will likely consider whether to strip her name at their July meeting.
He said it would not be an easy decision.
"I think we're going to deliberate it very carefully," he told FoxNews.com on Thursday. "I don't think this is something we're going to have a discussion on and take a vote and get it done in a matter of an hour."
Thomas, 89, who covered the White House for half a century, retired abruptly Monday, days after a New York rabbi posted a video he shot last month of her telling him that Jews should "get the hell out of Palestine" and go back to Germany, Poland or the United States.
Thomas apologized for the remark Friday, but retired after criticism mounted over the weekend.
The dean of the White House press corps had covered 10 presidents -- as a correspondent for United Press International and later as a columnist for Hearst Newspapers.
Smith said Thomas' remarks were "offensive" and "inexcusable." One concern he heard from a member was that the name could cause problems for any Jewish recipients of the award.
On the other hand, he said, the Society of Professional Journalists stands for First Amendment rights and "even offensive hate speech is protected."
Smith said he hasn't heard a ton of feedback from the society's 8,000 members and is not sure where the discussion will go in July -- or earlier, if the situation "escalates." Past recipients of the award include NBC's Tom Brokaw and Thomas herself.
At Wayne State University, journalism program director Ben Burns told The Detroit News earlier in the week that "it may be time to retire" the diversity award named after Thomas, though he said the scholarship named after her would remain.
The university later released a statement saying the award stands.
"Wayne State seeks to preserve the integrity of this important award while making it clear that the university strongly condemns the wholly inappropriate comments recently expressed by Thomas. However, Wayne State also believes that this serious lapse of judgment, for which she has apologized, should not diminish her many years of exemplary service to her profession, and the pioneering spirit she demonstrated in closing the gender gap in journalism. For this reason, the university will continue to offer the existing award to deserving journalists who meet the criteria for excellence and media diversity."
The White House Correspondents Association board also plans to consider Thursday whether to change its policies that allowed Thomas, an opinion columnist, to have a front row seat in the White House briefing room. Some questioned whether that privileged spot was appropriate for a columnist in the wake of Thomas' comments.
While the controversy has led groups to reconsider their Thomas namesake awards, parody awards have popped up in Thomas' name in the same vein as the Razzies -- which honors the worst of Hollywood. The blog Verum Serum, for instance, announced that it was instituting the "Helen Thomas Award" to bestow on journalists "who have displayed the most egregious anti-Israel bias over the previous year."