Group of Dealers Launch Private Auto Stimulus Program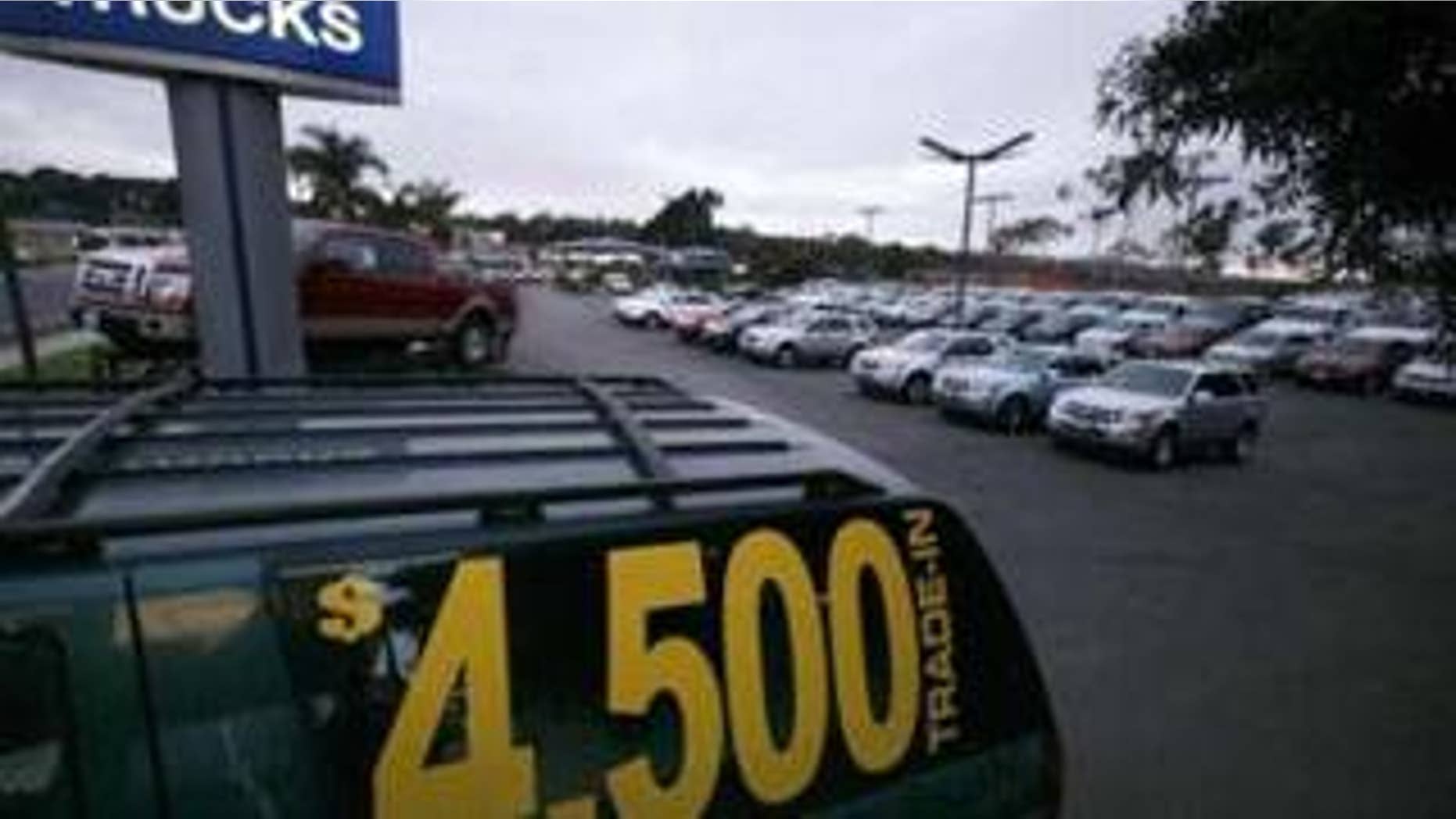 As senators get ready to vote on whether to add $2 billion to the ballyhooed "Cash for Clunkers" program, some of the nation's largest dealerships have created a private stimulus package of their own, offering prospective car-buyers from $500 to $4,500 in incentives on top of the federal program.
The dealers' package begs the question: Do taxpayers really need to kick in an additional $2 billion for the federal program now that private dealers are offering a similar -- or even better -- deal?
"If the auto industry can afford their own $4,500 per car auto stimulus, why are taxpayers being forced to foot the $3 billion bill on clunkers?" Sen. Jim DeMint, R-S.C., told FOXNews.com.
The dealers' program, dubbed the Automotive Stimulus Plan, was slated to start on Aug. 14 but was launched early due to instability in the Cash for Clunkers program. But unlike the federally-funded program, the dealers are declaring all vehicles older than 2007 models to be eligible for trade-ins, and they are allowing the money to be used to buy or lease both new and used cars.
Brian Benstock, vice president and general manager of the Paragon Auto Group in New York City, one of roughly 50 participating dealers nationwide, said the private push is designed to fill "gaps" in the federal program, including the exclusion of used cars from the Cash for Clunkers plan.
"So you left out nearly half of the potential market," Benstock told FOXNews.com. "We wanted to come up with a program in that no car would be left behind."
Many would-be participants in the federal program didn't qualify because a large number of consumers tried to trade in imported vehicles that are 10 to 15 years old, most of which get good mileage and are therefore ineligible, Benstock said.
Other would-be buyers found themselves priced out of new cars and shopping for used models, again making them ineligible under the federal plan. And some found themselves on the outside looking in due to fuel efficiency ratings that just missed the federal guidelines.
Under the private plan, which promises easier paperwork for dealers and no down payment for qualified buyers, trade-in vehicles must be a 2006 model or older; in working condition; be owned, registered and insured for a minimum of six months; and must be less fuel efficient by 2 miles per gallon than their replacement vehicle. Incentives, which vary on make and models, are also subject to all state laws relating to automotive advertising and promotion.
"The MPG requirements are lower because our primary goal is to help consumers that don't qualify for the government's program and to stimulate the economy through improved sales, jobs and spending," Courtesy Chrevolet's Scott Grunwell said in a press release announcing the program. "As a result, the environmental benefits will not be as big as the government program but it will help more customers purchase more fuel efficient vehicles."
"This is exactly what the private sector does better than the government, which is to establish a program that benefits everyone and doesn't cost the taxpayers a dime," Tom Schatz, president of Citizens Against Government Waste, told FOXNews.com.
"Members of Congress can't resist looking like they are trying to help, so I doubt this will change the Senate's vote … it's unlikely this program will have any impact on the Senate vote," he said.
Patricia Swift-Oladeinde, a spokeswoman for the Department of Transportation, said the National Highway Transportation Safety Administration, which is overseeing Cash for Clunkers, declined to comment on the private plan.
Several senators who have indicated concerns with the federal program, including Sen. John Thune, R-S.D., did not immediately respond for comment for this story. Thune has called Cash for Clunkers an example of "Congress choosing winners and losers among industries," but he told the Associated Press he expects the Senate to pass the additional funding.
If the $2 billion is added to the federal program, as is expected, administration officials think that could fund an additional 500,000 new vehicle sales and give buyers until Labor Day to trade in their gas-guzzlers.
The private plan is scheduled to end on Nov. 1, regardless of the government program.
"Our plan is not an environmental stimulus plan, it's an economic stimulus plan," Benstock said. "This is the private sector taking over. We're going to take the baton from the federal government and run with it."