Greene's Unlikely Political Rise Likely to End Tuesday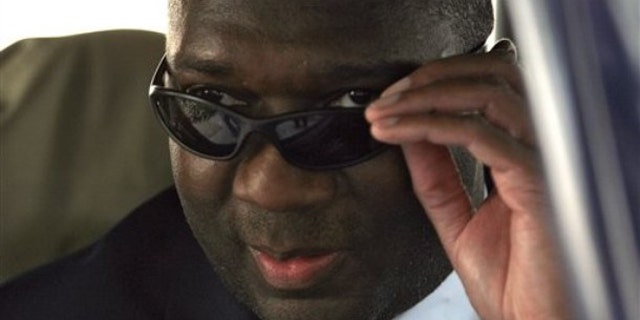 Alvin Greene's quixotic rise to fame will likely come to an end Tuesday. He is expected to lose the South Carolina Senate race to Republican Sen. Jim DeMint, and that has Greene, who surprised the political world in June by capturing the Democratic nomination, lamenting on a few what-ifs.
Greene considers what could have happened if he'd only gone negative on DeMint earlier, explaining to South Carolinians that DeMint started the recession. Then, he might have gotten his message across better. Or perhaps things would have picked up if he'd been a better messenger.
Whatever the post-mortem lessons, the whirlwind ride brought the unemployed military veteran notoriety but little money or support.
In an exclusive interview with FoxNews.com this week, Greene said he has spent thousands of dollars for his campaign, none of which has been reported.
According to review of Federal Election Commission records, Greene has not raised any money. When asked how much he has raised, Greene said, "That doesn't matter."
In contrast, Green Party candidate Tom Clements has raised more than $45,000 and had nearly $25,000 on hand in mid-October.
DeMint has raised $6.9 million and spent $4.7 million, most of it donated to state Republican Parties across the country. Surprisingly, however, the Club for Growth laid out $3,159 this election year in mailings against Greene.
But Greene is nothing if not on-message.
Throughout the nearly 30-minute telephone interview on Thursday, Greene kept returning to his favorite talking point, one that he has been hammering home for the past month: DeMint started the recession and should be fired.
When asked what his strategy is for the final days of the race, Greene said, "To remind everyone that DeMint started the recession. That's the bottom line."
Asked whether he's received any coaching, Greene said "a little," and added, "But what matters is DeMint started the recession."
Asked what his favorite moment on the campaign was, he said, "Informing everyone that DeMint started the recession."
Asked what his least favorite moment was, Greene laughed as he searched for an answer. "Not informing everyone that DeMint started the recession."
It's a message that Greene says he wish he would have started delivering right after his upset primary victory over former state legislator and judge Vic Rawls. But Greene said he believes it's not too late get his message across.
"It still has time to make a difference," he said. "And most people haven't voted yet, so it's still good."
DeMint's re-election campaign declined to comment.
Greene, whose awkward TV interviews and legal woes has made him a reliable butt of late-night jokes and an embarrassment to the Democratic Party, wouldn't say what he'll do next if he loses or whether he'll run for another office.
"I'm not going into hypotheticals like that," he said. "We just know we should win."
For the finals days of the campaign, Greene said he would go to fairs across the state, then specified he planned to head to one near Charleston on the weekend.
On Tuesday, Greene said he will host an election party starting at 7 p.m. at the Matrix Center, a banquet hall in Manning, South Carolina, where he lives with his father. Greene wasn't sure how many guests would attend but said for now it looks like half will be members of the press and the rest will be family and friends.
Greene said he believes he still has a chance to pull off what would have to be considered the biggest upset in U.S. political history – a victory over a conservative kingmaker. But he understands the odds are against him.
"It shouldn't be that way," he said about the Rasmussen Reports that have consistently shown DeMint leading by at least 37 percentage points and by as much as 44 percentage points.
When asked why he was trailing, why his message wasn't resonating Greene said, "Maybe they have trouble with the messenger. Maybe they don't like the profile of the messenger."
Greene's improbable rise has led to embarrassing revelations about his legal troubles and his subpar military record.
In November, Greene was arrested after a University of South Carolina student accused him of showing her obscene photos online in a computer lab and inviting himself to her dorm room . In August, a South Carolina grand jury indicted him on two charges, including a felony charge of showing pornography.
Details of Greene's military service came to light over the summer. Greene served in the U.S. Air Force and later in the U.S. Army.
Records of his service in the Air Force obtained by The Associated Press in July show that Greene was considered a lackluster service member at best and was denied two promotions before he left in 2005. The records cited mistakes as serious as uploading sensitive information improperly, and as basic as an overall inability to clearly express his thoughts and perform basic tasks.
Greene has blamed discrimination for his low marks. Greene's Army records have not been released.
But Greene said in Thursday's interview that overall, his campaign experience has been "positive."
"This is my dream," he said. "This is what I always wanted to do: be a voice for the people."
But his voice has not found support within the Democratic Party, which tried in vain to get him to drop out of the race over the summer.
Carol Fowler, head of the state party, noted in an e-mail to FoxNews.com that neither Greene nor DeMint "has bothered to campaign in South Carolina."
But she added, "The South Carolina Democratic Party continues to encourage Democrats to vote a straight party ticket."
When asked how he would describe his campaign, Greene called it "straightforward" and "traditional." Then after a pause, he came up with an even better description.
"The campaign has been unique," he said.