Greene's South Carolina Primary Win Defies Odds, Leaves Democrats Perplexed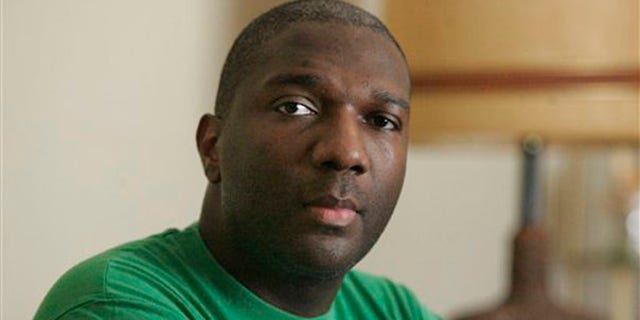 Alvin Greene is the proverbial enigma wrapped in a riddle surrounded by mystery.
He's also the new Democratic candidate for Senate in South Carolina.
Greene admits he had no campaign headquarters, no party support, no contributions, no job, no computer and no cell phone.
Yet, somehow, he managed to pull off the most unlikely of victories, and -- unless state Democratic Party officials have their way -- will face incumbent Republican Sen. Jim DeMint in November.
Greene's improbable victory over Democratic candidate Vic Rawl, a former state legislator who officials expected would win, has unleashed a flood of questions, including how the unemployed Army veteran managed to pay $10,400 to get on the ballot before running a "low budget" campaign with no ads, website or fundraising.
Voters also are wondering how the 32-year-old Greene, facing a felony charge for allegedly showing pornographic images to a college student last October, managed to capture 59 percent of the primary vote.
In an interview Thursday with FoxNews.com, Greene said he won by "simple, old-fashioned campaigning" that included traveling the state and speaking to voters "wherever I could find them."
Greene said his "self-managed" campaign was personally funded and cost well under $2,000. He said he held no "formal events" and employed the help of family and friends to promote his platform: job creation, better education and "justice in the judicial system."
Among his proposals, Greene said he wants to create jobs through Department of Transportation projects, like widening and repairing major interstate highways in South Carolina. He also said he supports President Obama's massive health care overhaul because "the best minds are behind it."
The Democratic candidate said he got no help from the South Carolina Democratic Party.
"From day one, they just didn't have confidence in my campaign," he said, adding that the state party wrote him off as a serious candidate because he had no funds and was unknown.
In fact, the South Carolina Democratic Party is so dumbfounded, one leading elected official is wondering if Greene is one of theirs at all.
U.S. House Majority Whip James Clyburn, D-S.C., called Greene a "plant" and has demanded an investigation into his candidacy.
"There were some real shenanigans going on in the South Carolina primary," Clyburn told the Bill Press radio show on Thursday. "I don't know if he was a Republican plant. He was someone's plant."
The South Carolina Board of Elections told FoxNews.com that it has no plans to investigate how Greene pulled off the upset, even though the South Carolina Democratic Party now wants him off the ballot because of a pending felony charge that he allegedly showed obscene Internet photos to a 19-year-old college student.
Camille McCoy, a chemistry student from Summerville, said she told police that a man, whom she later identified as Greene, approached her last October in an on-campus computer lab at the University of South Carolina and showed her dozens of pornographic images from a computer.
"He just sat down next to me and asked if I liked football," McCoy told FoxNews.com. "He then said 'well look at my computer' and it was porn."
McCoy said after she told Greene that the images were "offensive," he said, "Let's go back to your room."
Greene, who received a degree in political science from USC in 2000, refused to comment on the incident to FoxNews.com, saying only, "I'm innocent until proven guilty."
"Right now I am innocent," he said. "The people of South Carolina have spoken. They've chosen me as their nominee and we have to be pro-South Carolina -- not anti-Greene."
The candidate, who lives with his father in Manning, S.C., and has been receiving unemployment benefits for nine months since leaving a 13-year career with the U.S. Army, said he's not quitting the race.
Under South Carolina law, convicted felons are prohibited from holding state office, but they can serve in federal office -- though the U.S. House or Senate can vote to expel or not seat him if he wins election in November.
Like Clyburn, McCoy's mother said she wonders how Greene qualified to be on the ballot.
"It's ridiculous and a mockery of the voting process," Susan McCoy said in an interview with FoxNews.com. "He was given a public defender and certainly didn't have $10,400 at his bond hearing."
Among the few requirements for candidates to get on the ballot is a $10,400 registration fee collected by the parties and a statement of an intention to run. The South Carolina Democratic Party also requires candidates to pledge that they are Democrats.
Greene told FoxNews.com that he got the registration fee from his personal funds and he was not given the cash.
"That was my money," he said, adding that no one paid him or approached him about entering the race.
South Carolina Democratic Party Communications Director Keina Page said Greene told the party when he filed that "it was his personal money -- that he had been saving it." She said he originally brought a personal check but was told by party officials that he needed to file using a campaign check. He left and returned with a campaign check.
Party officials said Thursday that if Greene stays in the race, he will be on his own. They will not provide assistance.
Greene's history is also little known. He was discharged from the Army in August 2009 after being promoted to specialist. He signed up for the Army for a three-year stint in February 2007, and his discharge came six months short of his military obligation.
"It was an honorable discharge, but it was involuntary," Greene said. He declined to elaborate, saying, "Things weren't working out ... it's a long story."
The Army did not disclose the reason for his discharge because of Privacy Act rules. It confirmed that Greene was awarded several service medals and ribbons, including an Air Force Good Conduct Medal, National Defense Service Medal, Global War on Terrorism Service Medal, Non-Commissioned Officer Professional Development Ribbon and Army Service Ribbon.
Greene, who was last stationed with the 1st Infantry Division at Fort Riley, Kan., served with the South Carolina Air National Guard from July 1995 to June 2002 and in the South Carolina Army National Guard from July 2006 to February 2007.
On Wednesday, South Carolina Democratic Party Chairwoman Carol Fowler cited the pending court case in calling for the candidate to withdraw from the race.
"Today, I spoke with Alvin Greene, the presumptive Democratic nominee for the U.S. Senate, and asked him to withdraw from the race," Fowler said in a statement. "I did not do this lightly, as I believe strongly that the Democratic voters of this state have the right to select our nominee. But this new information about Mr. Greene would certainly have affected the decisions of many of those voters."