Green Party candidate crashes debate in Maryland Senate race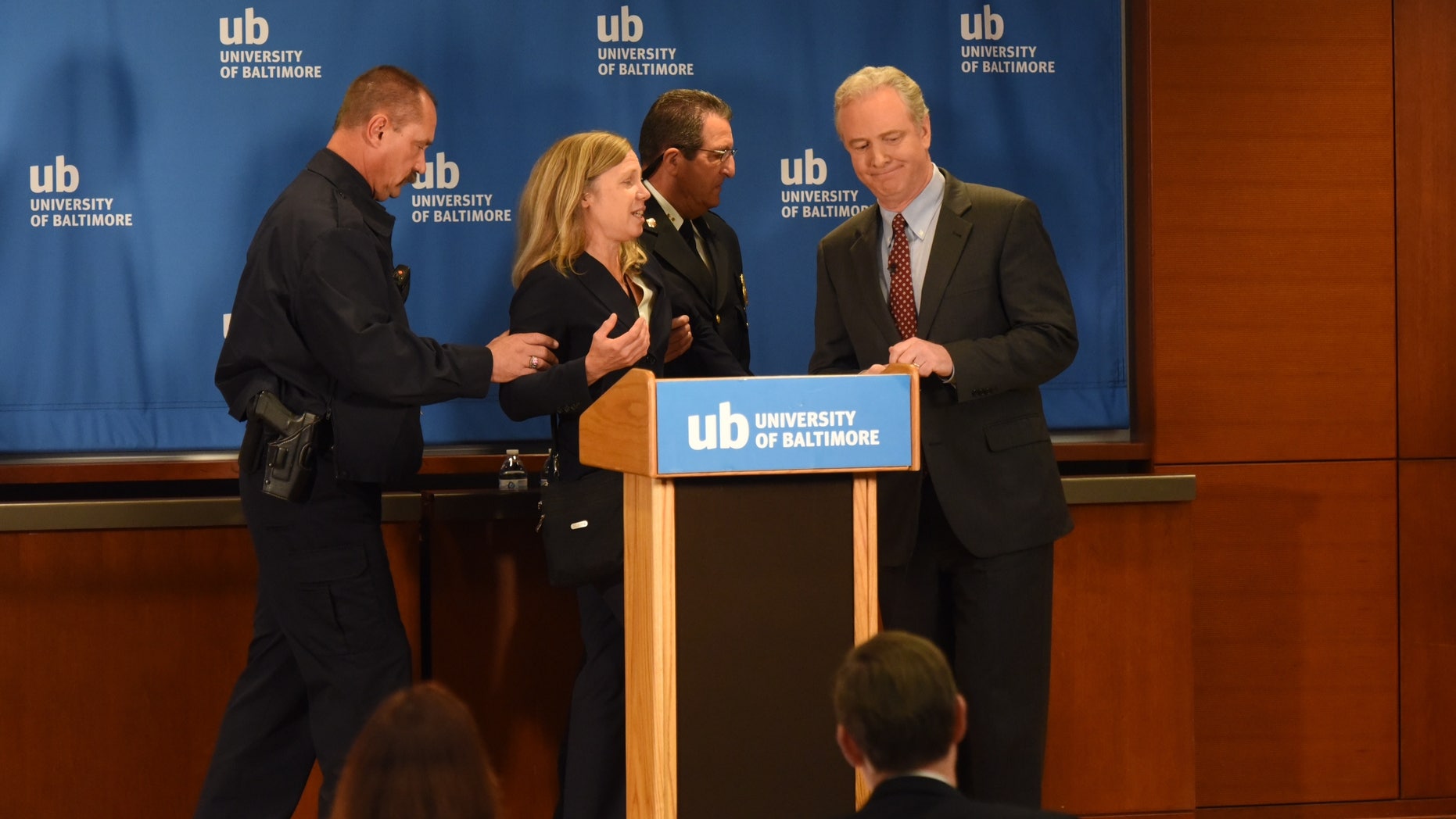 BALTIMORE – Green Party candidate Margaret Flowers wasn't invited to a U.S. Senate debate in Maryland on Wednesday, but she took center stage there anyway. When she tried to participate, security at the University of Baltimore grabbed her by the arm and escorted her away from where Rep. Chris Van Hollen and Del. Kathy Szeliga stood waiting to begin.
The debate got off to a shaky start, when audience members asked for Flowers to be included. Then Flowers suddenly got up out of her seat in the audience and walked on stage. She shook hands with the two other candidates before standing in the middle of the stage, where she said she should be able to debate.
"I think it's important for voters to understand the differences between myself and Congressman Van Hollen and Del. Szeliga," Flowers said. "Otherwise, they don't really know. I mean, you say you're a public university and you want to educate the public, but without having a full public discussion that doesn't actually happen."
As Flowers made her case, both Szeliga and Van Hollen said they would agree for her to participate, but debate organizers said only candidates polling at 15 percent or higher were allowed.
"And this is how you're treating a candidate," Flowers shouted, as she was led away.
The debate was taped in the early afternoon. It was to be shown on WJZ-TV at 7 p.m. The debate was sponsored by The Baltimore Sun, the League of Women Voters and the University of Baltimore.
It began after about a 10-minute delay. Van Hollen was interrupted in his opening remarks by an audience member who supported Flowers' participation, prompting him to say: "I'm not sure it makes sense to continue."
Still, the debate went forward, after Flowers was escorted to a sidewalk by the university. Sam Tress, the university's chief of police, said she was cooperative.
Van Hollen is a seven-term Democrat in the U.S. House of Representatives. Szeliga, a Republican, is the minority whip in the Maryland House of Delegates. They are running for the seat that's opening up with the retirement of Sen. Barbara Mikulski, who is leaving office after 30 years.