Gowdy: Former UN Ambassador Samantha Power claims others unmasked in her name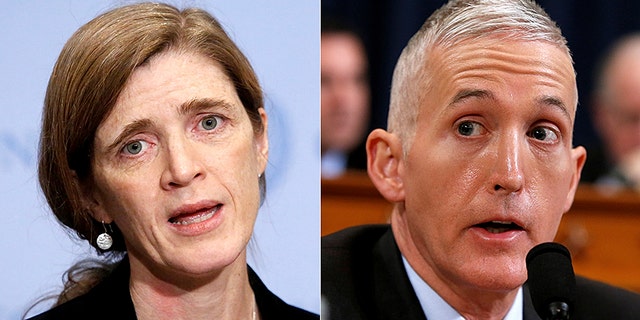 Former President Barack Obama's ambassador to the United Nations has testified that others made so-called unmasking requests in her name, House Oversight Committee Chairman Trey Gowdy said Tuesday.
"Her testimony is they may be under my name, but I did not make those requests," Gowdy said of former Ambassador Samantha Power during an interview with Fox News' Bret Baier on "Special Report with Bret Baier."
Power is among the Obama administration figures who made requests to identify Americans whose names surfaced in foreign intelligence reporting, known as unmasking.
Last month, Fox News reported that Power was unmasking at such a rapid pace in the final months of the Obama administration that she averaged more than one request for every working day in 2016 – and even sought information in the days leading up to President Trump's inauguration.
SAMANTHA POWER SOUGHT TO UNMASK AMERICANS ON ALMOST DAILY BASIS
"I think if she were on your show, she would say those requests to unmask may have been attributed to her, but they greatly exceed by an exponential factor the requests she actually made," Gowdy said. "So, that's her testimony, and she was pretty emphatic in it."
The South Carolina Republican added, "So, we've got to get to the bottom of that. If there is someone else making requests on behalf of a principal in the intelligence community, we need to know that because we're getting ready to reauthorize a program that's really important to the country, but also has a masking component to it."
Power visited Capitol Hill on Friday for a closed-door interview with House investigators looking into the 'unmasking' of Trump associates under the Obama administration.
The questioning involved House Intelligence Committee investigators.
Fox News' Bret Baier and Catherine Herridge contributed to this report.