GOP senators hold back support for tax bill over child tax credit
Two Republican senators indicated Thursday they were holding back support for the final $1.5 trillion GOP tax reform bill unless a larger child tax credit is included.
The strongest statement came from the office of Florida Republican Sen. Marco Rubio.
"Senator Rubio has consistently communicated to the Senate tax negotiators that his vote on final passage would depend on whether the refundability of the child tax credit was increased in a meaningful way," said Rubio spokeswoman Olivia Perez-Cubas.
Conn Carroll, a spokesman for Utah GOP Sen. Mike Lee, also said Lee is "undecided" on the bill in its current form.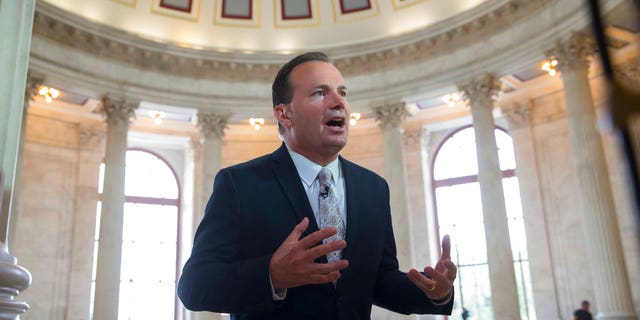 "Sen. Lee continues to work to make the [child tax credit] as beneficial as possible to American working families," Carroll said.
Rubio and Lee have advocated for a $3,000 tax credit per child in the bill.
"My requests have been reasonable and direct," Rubio told Fox News on Thursday, saying the Republican leadership is aware of his demands.
TRUMP ANNOUNCES AMERICANS WILL SEE TAX CUTS BY FEBRUARY, IF PLAN PASSES ON SCHEDULE
Tennessee Sen. Bob Corker, the only Republican to vote against the original version of the tax bill passed by the Senate, also told Fox News he is undecided on whether he will vote for the final version of the bill.
The House and Senate have passed separate tax bills, but they now have to blend them into a final piece of legislation. Senior Congressional aides told Fox News late Thursday that the final bill leaves in place a deduction for the interest on student loans and would not start taxing graduate school tuition waivers.
Rep. Kevin Brady, R-Texas, the chairman of the House Ways and Means Committee, also confirmed Thursday that the final legislation would reduce the top tax rate to 37 percent from 39.6 percent.
During the White House press briefing Thursday, Press Secretary Sarah Sanders suggested the president will negotiate with these senators.
"Look, we are really proud of the work that we have done already up until this point with Senator Rubio, already doubling the child tax credit, taking it to $2,000 per child," she said. "We are going to continue working with a senator."
Republicans, with a 52-48 majority in the Senate, can only afford to lose two votes in the Senate. Vice President Mike Pence would have to break a tie in that case.
Fox News' Mike Emanuel, Chad Pergram and Serafin Gomez and Fox Business' Adam Shapiro contributed to this report.