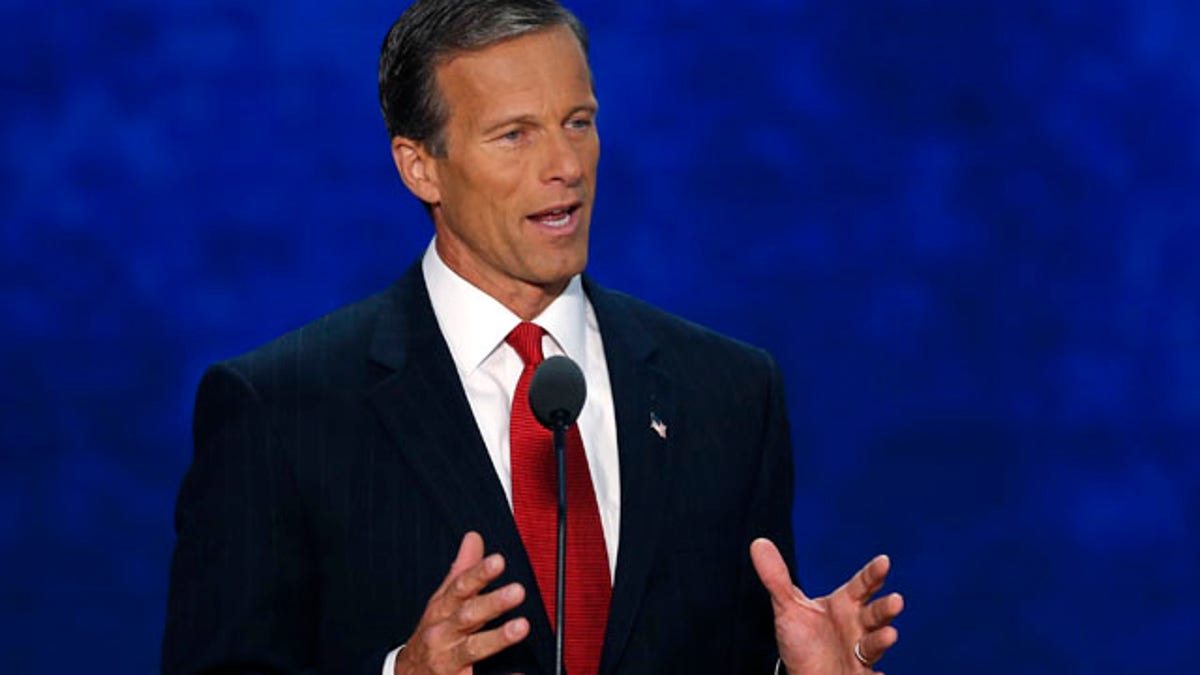 A Republican senator is pushing a curious alternative to extending aid for the long-term unemployed -- entice companies to hire them by letting those businesses off the hook on ObamaCare.
Sen. John Thune, R-S.D., is one of several Republicans offering up amendments to a Senate bill that would extend long-term jobless benefits for three months, at a cost of more than $6 billion.
The bill narrowly advanced Tuesday, teeing up a debate over possible changes. The central plank of Thune's amendment would create an incentive program for businesses to hire those who have been unemployed 27 weeks or more.
"Without addressing the reasons people are seeking additional unemployment benefits, we will be having this same discussion again when this latest emergency, short-term legislation expires," Thune said in a statement.
His plan would allow those businesses that hire a long-term unemployed person to get out of ObamaCare requirements to provide them insurance coverage.
The so-called employer mandate has been delayed by a year, but would eventually require businesses with 50 or more full-time workers to provide insurance or pay a fine. The Thune amendment would ensure that any long-term unemployed person hired by a company would not count toward the 50-worker threshold.
The amendment would also give such employers a six-month reprieve from their share of the payroll tax. Plus it would give long-term unemployed individuals a low-interest loan up to $10,000 to help them relocate in search of a new job.
It's not clear whether Senate Majority Leader Harry Reid, D-Nev., will allow amendments to the aid bill. Though Thune's amendment might be a long shot, other Republican senators are floating ideas to simply pay for the $6 billion cost of the benefits extension.
In its current form, the extension is not paid for. GOP co-sponsor Sen. Dean Heller, R-Nev., predicted Tuesday that the bill would pass "easily" if that spending were offset elsewhere in the budget.
Sen. Kelly Ayotte, R-N.H., one of a half-dozen Republicans who voted Tuesday to advance the bill, is offering an amendment that would pay for the benefits by ending a loophole that allows illegal immigrants to claim what's known as the additional child tax credit. Ayotte also wants to use those savings to undo a recent cut in military retiree benefits.
Sen. Tom Coburn, R-Okla., put forward two amendments. One would pay for the extension by ending unemployment payments to "jobless millionaires and billionaires." The other would pay for it by eliminating "overlapping unemployment and disability benefits."
Obama administration officials, though, are calling for a jobless benefits extension with "no strings attached."