GOP Rep. Collins calls Democrat Slaughter 'despicable human being' over ethics charges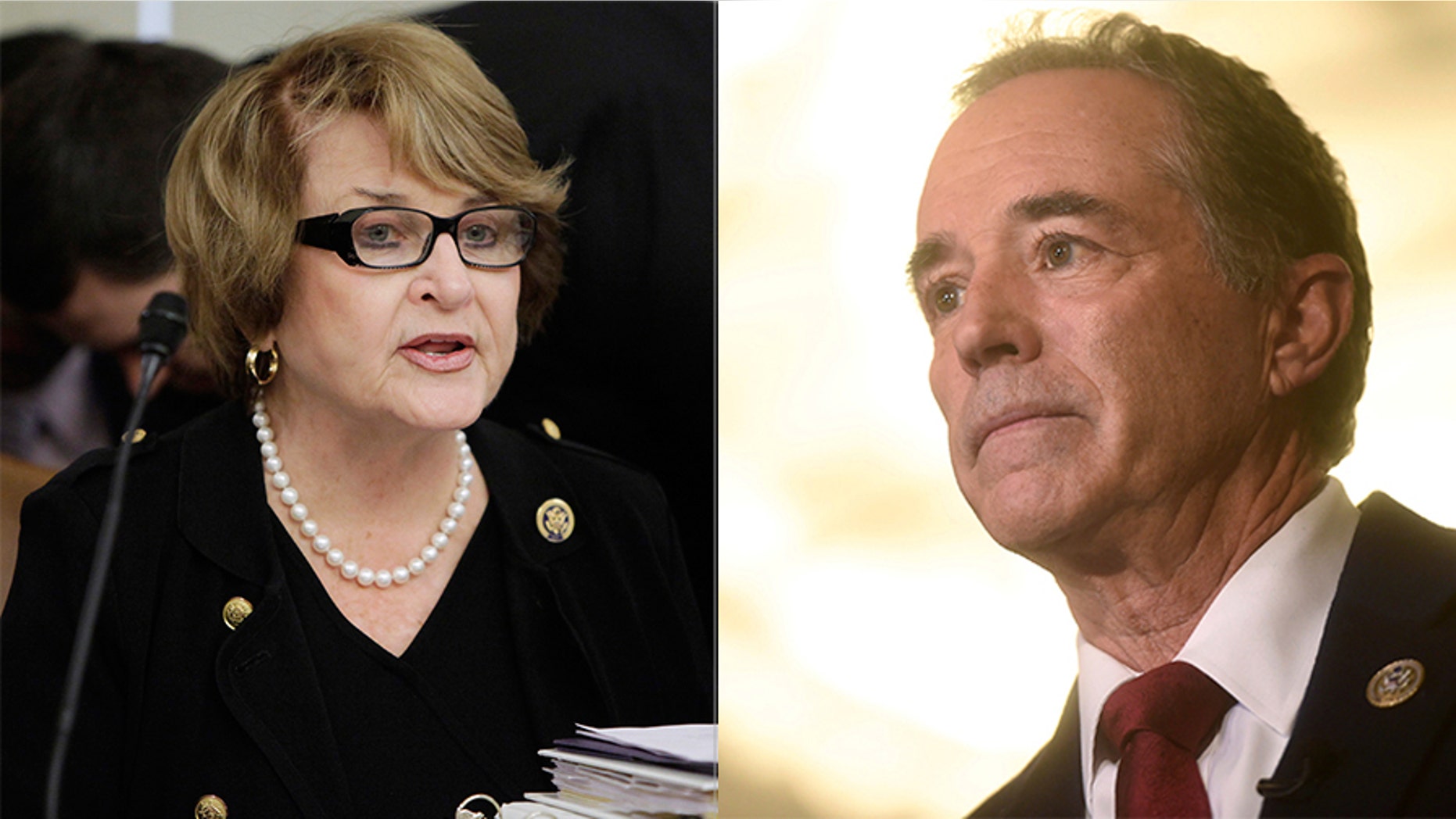 Following continued scrutiny by the House Ethics Committee over alleged "insider" stock trading, Rep. Chris Collins, R-N.Y., called the congresswoman who filed ethics charges against him "a despicable human being," a rare moment of course language used by a U.S. congressman to describe a colleague.
Rep. Louise Slaughter, D-N.Y., filed ethics charges against Collins with the Office of Congressional Ethics (OCE), an independent watchdog group – a move that Collins labeled a "witch-hunt."
A 29-page report from the OCE was submitted to the House Ethics Committee, which determined there is a "substantial reason to believe" Collins shared non-public information about Australian biotech company Innate Immunotherapeutics Limited.
UPROAR AS CAPITOL HILL PHARMACIST DISHES ON ALZHEIMER'S PRESCRIPTIONS FOR THE POWERFUL
The OCE recommended the Ethics Committee further review two allegations against Collins: that he shared non-public information that may have been important to investors deciding whether to purchase company stock, and that he used his official role to assist Innate by discussing the company with National Institutes of Health employees. Collins allegedly requested that a government researcher meet with the company's chief scientific offer.
Collins disputed the findings, and said he has "always followed ethics." When asked about the allegations against him, he said: "Nothing of substance is there at all."
The congressman said he's "disappointed" in the Ethics Committee, and said he believes the OCE has "no authority."
Slaughter, who authored the 2012 STOCK Act which deals with lawmakers using special information for financial gain on the markets, filed charges against Collins to the OCE in response to a June story from The Hill. It was reported Collins bragged he helped other members of Congress make money by tipping them off about Innate stocks.
HOUSE APPROVES $36.5B DISASTER AID BILL AFTER TRUMP TWEETS ON PUERTO RICO
"She's on a witch-hunt, she's a despicable human being," Collins said of Slaughter. "You don't go after another member" of the House.
A representative for Slaughter told Fox News that the congresswoman "doesn't need to defend herself."
"She wrote the STOCK Act and led the six year fight to get it signed into law to ban insider trading by federal officials, including members of Congress," Slaughter's office said. "The Office of Congressional Ethics report released today is pretty clear about what Congressman Collins has done."
Fox News' Chad Pergram, Nicole Darrah and the Associated Press contributed to this report.