GOP presidential hopefuls launch united front vs. Dem challenger Hillary Clinton
NEWYou can now listen to Fox News articles!
Republican 2016 presidential hopefuls wasted no time attacking Hillary Clinton after she announced her White House bid -- using the opportunity to rough up the Democratic front-runner while delaying the riskier business of attacking fellow primary challengers.
Kentucky Sen. Rand Paul, one of three Republicans who have so far declared a 2016 White House candidacy, launched a preemptive strike, releasing a video critical of Clinton hours before she officially declared her candidacy Sunday.
In the ad, a narrator says Clinton "represents the worst of the Washington machine, the arrogance of power, corruption and cover-up" before highlighting Paul's platform, which includes balancing the federal budget and implementing term limits.
The 60-second spot will run in four early-primary states, including Iowa, where Clinton on Tuesday will make her first official campaign stops.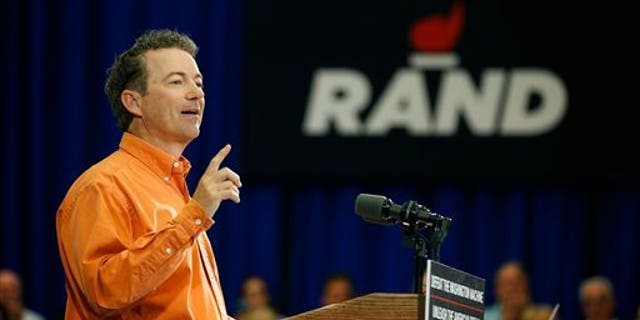 "Clinton will be the Democratic nominee. [And] GOP candidates must demonstrate they provide the best contrast to her dangerously liberal agenda and offer Republican primary voters the best chance to achieve victory," Joe Desilets, managing partner at the D.C.-based political consulting firm 21st & Main, said Monday.
Texas Sen. Ted Cruz, another official 2016 GOP candidate, also responded Sunday -- as did essentially every major Republican hopeful.
"Hillary Clinton represents the failed policies of the past," Cruz said in questioning her success as secretary of state and suggesting that a vote for Clinton would result in essentially a third Obama administration term.
"We know that a Hillary Clinton administration would be no different," Cruz said.
Cruz and Paul have already taken a few swipes at each other, to be sure, all the while observing former President Reagan's so-called 11th Commandment: "Thou shalt not speak ill of any fellow Republican."
"Hillary Clinton represents the failed policies of the past."
Paul appears to be taking a more direct approach, saying his and Cruz's mutual base is indeed conservative voters, but questioning whether Cruz's message is broad enough to win.
"Ted Cruz is a conservative; but it also goes to win-ability," Paul said after Cruz officially announced his bid in late March.
Cruz, meanwhile, appears to be taking the higher road, repeatedly saying he's a "big fan" of Paul and that he considers him a friend, despite disagreeing on foreign policy.
Still, Paul, Cruz and fellow 2016 presidential contender Fla. Sen. Marco Rubio are likely headed for a showdown, considering they are competing for that conservative base en route to the nomination.
"The GOP field is in development, with support spread among a dozen announced and potential candidates," Desilets said. "Attacking any fellow Republicans at this stage is all downside, zero upside. … Right now, there is no benefit to attacking anyone other than the one candidate you know you will square off against: Hillary Clinton."
Former Hewlett-Packard chief executive Carly Fiorina is among the deep field of Republican hopefuls seizing on the Clinton announcement. But she appears to be uniquely positioning herself to be in direct competition with the former first lady and U.S. senator from New York.
"Hillary Clinton's a highly intelligent woman, hard-working, she's dedicated her life to public service," Fiorina, the only major female GOP hopeful, says in a video that she posted on Facebook. "But unfortunately, she does not have a track record of accomplishment or transparency. … She's not the woman for the White House."
Other potential Republican candidates taking early jabs at Clinton include Wisconsin Gov. Scott Walker, who fired off several tweets -- including one stating Clinton "has the same Washington-knows-best mentality that people around the country are looking to move beyond."
Former Florida Gov. Jeb Bush turned the Clinton debut into a fundraising opportunity.
"Moments ago Hillary Clinton officially announced her White House bid -- and it's up to us to stop her," Bush said in an email from the political action group RightToRise.org. "Hillary plans to raise $1.7 billion to win the White House … which is why I'm asking you to give $5 right now."
Mike Huckabee, who, like Clinton's husband, former President Bill Clinton, is a former Arkansas governor, offered perhaps the most congratulatory response to the Clinton announcement.
"Congrats," he said on Twitter. "Your announcement makes me nostalgic for our days doing political battle in Arkansas."