GOP leaders look for way to make Obama stay in the fight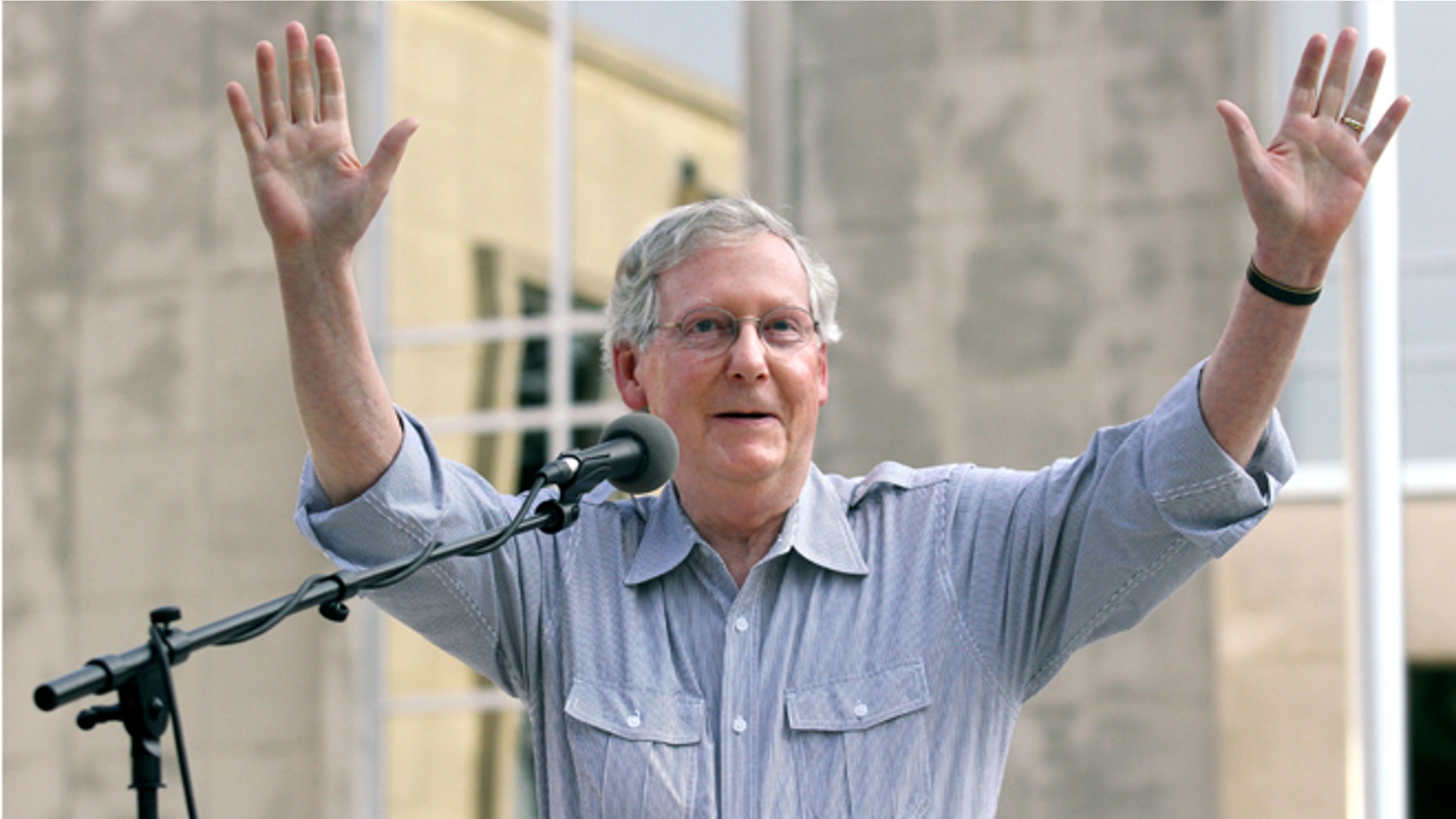 Want FOX News First in your inbox every day? Sign up here.
Buzz Cut:
• GOP leaders look for way to make Obama stay in the fight
• Baier Tracks: What we mourn and what we treasure
• M.O. moves into Iowa
• Cruz continues to staff up
• Act now and we'll throw in two chickens and a goat
GOP LEADERS LOOK FOR WAY TO MAKE OBAMA STAY IN THE FIGHT
Atop a tuned-up version of his 2012 campaign stump speech, President Obama on Wednesday announced another escalation of his month-old air war against Islamist militants in Iraq and Syria. Obama said he was prepared to begin bombing targets in Syria, a flip from a year ago when he was warming up to bomb the other side in that country's hellish civil war. The president, speaking with the odd specificity of a realtor setting the price point on a fixer-upper, also said he would send 475 more troops to Iraq. That specificity made the vagueness of his other points – coalition members, war aims in Syria, etc. – seem all the more noticeable. But generally, we were told there would be some more bombing in another country, but not yet, a new flow of heavy weapons to other rebel groups and that some kind of a stable political order would be built on the ruins. He will get back to us on how.
[Mark it, Dude - Former President George W. Bush now has a more favorable public image than President Obama.]
Demands unnecessary item immediately - Some other things the president told us: He believes the Islamic State in Iraq and Syria is "not Islamic," he considers his ongoing, periodic airstrikes in Yemen and Somalia to be successful and apparently America's car companies are doing well and hiring continues to outpace layoffs. And oh, yeah: He would also like Congress to vote in support his plan. He doesn't need them to do it because he claims the power granted his predecessor to fight another rival Islamist group applies to this group, too. But he would like Congress to engage in this legally meaningless exercise anyway because it would look better, especially if things get sticky. Unsurprisingly, members of his own party were out with their opposition even before he had wiped off his makeup.
[The Judge's Ruling - Fox News Senior Judicial Analyst Judge Andrew Napolitano offers a primer on war powers: "Congress surely cannot give its war-making power to the president any more than it can give it to the courts."]
Same old song - Dissatisfied, anxious liberals abound and abound and abound. And the reviews from pro-administration outlets were ghastly. We've been here several times before. The president is unwilling or unable to get his own party on board, so he is relying on Republicans to carry his water on national security. Like Libya, Afghanistan, the Syria intervention prior to the new escalation and the power to kill enemy combatants and engage in domestic spying, it's Republicans who have kept Obama propped up on foreign policy. And just as in the times before, the president isn't helping them much at all. And this time it's much worse because the president brings not just a more dubious legal authority but also his prior history. The hawkish GOP position has been that Obama, having been dragged into a fight, can be made to stick it out. But with Libya and Afghanistan in shambles, it will be that much harder for hawks to make the case that somehow, this time, it will be different. But that's the task for Republican honchos today as they try to get their members to do what the president's own party won't.
["Any time we try to arm the people who we think are the friendlies over there… those arms are used against us." – Sen. Joe Manchin, D-W.Va., on "FOX &Friends" Watch]
New leverage for GOP -This comes as Congress is also trying to patch the ongoing budget gap (now in its seventh year) to gasp past Election Day. Democrats, who expect to lose the Senate amid a dire political atmosphere, want a short "continuing resolution" while Republicans want a longer one so as to minimize the potential mischief of a lame duck session and a lame duck president. Democrats want a quickie war resolution, too. But not so fast, says the GOP brass. With must-pass spending bills flying around, Republicans are hoping they can bind Obama to a more serious effort now that he has grudgingly escalated the war. Consider the remarks of Senate Minority Leader Mitch McConnell today about "this indefinite campaign, which we now know will include a multi-year air war of attrition." McConnell was expressing tentative support, but made it clear he wasn't into any slam dunks. The president was conjuring some Yemeni-style assassinations by drone, but Republicans are going to try to tie him down to stay in this fight.
["The Obama-Clinton foreign policy has been characterized by photo-op foreign policy – by focusing on a press release. And so, to date, there have been some air attacks. There's been a missile here, a bomb there. What has been missing is a concrete military objective to eliminate ISIS, to take them out." – Sen. Ted Cruz, R-Texas, on The Kelly File Watch]
'Vote as if your life depends on it' - Former U.N. Ambassador John Bolton's Super PAC is taking the airwaves with arresting ads on presidential leadership: "President Obama has been woefully blind to the threats we face. When it comes to defending America, reject leadership that is weak, indecisive, and apologetic. This November, vote as if your life depends on it."  The spots come ahead of state-specific ads in key Senate battlegrounds.
[Watch Fox: House Armed Services Committee Chairman Rep. Buck McKeon, R-Calif., discusses how to defeat ISIS in the 11 a.m. ET hour.]
BAIER TRACKS: WHAT WE MOURN AND WHAT WE TREASURE…
"Sept. 11 always comes with a visceral force for me. It evokes, even 13 years later, the feelings we all shared watching those horrific images and grieving for those families. For me, it also evokes searing memories of my first day on the job in Washington. I began reporting from the still-smoldering Pentagon on this night in 2001.
I receive a lot of emails and tweets and Facebook messages every day, and I try to read and respond to as many as I can. But this email about 9/11 this morning struck me: 'This day reminds us, more than any other, why we Americans treasure our God-given freedoms and of our gratefulness for our fellow countrymen who have given it all to keep us free... We can  never forget the numbness, the helplessness, the horror, the tears, the prayers or those horrendous terror acts that united us on this  day, 9/11,  as just  Americans, nothing else. There is nothing quite like a unified America, is there?' Very well said.
Now, we are beginning another chapter in our long war. We are still fighting because even as we eventually moved on and returned to our day-to-day lives, the enemy never did. The Islamist radicals who started this war desperately want another 9/11 every day. So as we remember, today is also a moment when we should all offer our thanks and prayers for the men and women who continue to defend us." – Bret Baier
WITH YOUR SECOND CUP OF COFFEE
The college freshmen who just started classes were in kindergarten when the Twin Towers came down. They are as far removed from the events of Sept. 11, 2001 as their parents were from the resignation of Richard Nixon. For the class of 2018 and for future generations to understand the significance of the events of 9/11, they will need to understand the world as it was before. That is the mission of filmmaker Erik Nelson in his work "9/10: The Final Hours." The New Yorker tells the haunting story of the discovery that made Nelson's work possible. Konstantin Petrov, an avid amateur photographer working overnights as an electrician in the Towers, posted his beauty shots from inside the eerily empty skyscrapers on a long-ago abandoned photo-sharing site in his native Estonia. Petrov's story and the record he left behind of that fateful dawn is certainly worth your time today.
Got a TIP from the RIGHT or LEFT? Email FoxNewsFirst@FOXNEWS.COM
POLL CHECK
Real Clear Politics Averages
Obama Job Approval: Approve – 41.4 percent//Disapprove – 54.4 percent
Direction of Country: Right Direction – 26.6 percent//Wrong Track – 65.3 percent 
Generic Congressional Ballot:  Democrats – 43.4 percent// Republicans – 45 percent
[Poll Watch: The latest batch of Fox News polls measuring likely voters' attitudes on the 2014 midterms, including the generic Congressional ballot and importance of key issues, as well as ObamaCare and views on the minimum wage, will be released in the 6 p.m. ET hour during "Special Report with Bret Baier"]
-- 54 days until Nov. 4 --
BRALEY HOPES FOR A BOOST AS M.O. MOVES INTO IOWA
Des Moines Register: "Michelle Obama will travel to Iowa next month for campaign events with U.S. Senate candidate Bruce Braley… The first lady's plans were confirmed by the White House and the Braley campaign, although dates, venues and the nature of the events have not been determined."
TEACHERS UNION THRASHES SULLIVAN OVER EDUCATION
The nation's largest teachers union has released an ad ripping Alaska Republican Senate candidate Dan Sullivan over the state's teacher retirement system. Philip Walters, a music teacher from Eagle River, Alaska, appears in the ad from the National Education Association saying, "the truth is Dan Sullivan sold Alaska's teachers out."
CAPITO DRAWS LINE ON OBAMACARE, COMMON CORE
West Virginia Republican Senate contender Shelley Moore Capito appears in new ad lamenting government overreach under ObamaCare saying, "We don't want government coming in and telling us how to pick our doctor, how to educate our children. We, as West Virginians, want to make those decisions for ourselves."
SHAHEEN PICKS SCANDALOUS SPOT FOR D.C. FUNDRAISER
The Concord Monitor reports that embattled Sen. Jeanne Shaheen, D-N.H., attended her first general-election fundraiser Wednesday night at the D.C. home of lobbyist Bill Broydrick. The Daily Caller observes this as a "curious choice" given "Broydrick's ties "to a number of scandals, including the so-called 'D.C. Madam' prostitution ring."
ROBERTS LIVIN' LACIVITA LOCA
Fox News: "[The campaign of Sen. Pat Roberts, R-Kan.] has since kicked into high gear. It hired veteran political consultant Chris LaCivita, who has frequently worked with and for the National Republican Senatorial Committee, and replaced Roberts' longtime campaign manager Leroy Towns… LaCivita told [Fox News] …'there's no doubt the race will be much more competitive since Taylor dropped out, but expressed confidence that Roberts' record will resonate with Kansas voters. 'Senator Roberts has been steadfast" in his convictions, LaCivita said. He said where Orman is concerned, 'if you stand for nothing you will fall for everything.'"
WARNER WALLOPING GILLESPIE IN NEW POLL 
According to a new survey from Christopher Newport University, Sen. Mark Warner, D-Va., leads Republican Ed Gillespie 53 percent to 31 percent, relatively unchanged from previous polling.
 
TIGHTER THAN THE SKIN ON A PEACH
The latest SurveyUSA poll shows a tightening in the Georgia Senate race with Republican David Perdue leading Democrat Michelle Nunn 47 percent to 44 percent.
PRESSLER'S PRESENCE A BOOST TO ROUNDS
A new SurveyUSA poll finds South Dakota Republican Senate candidate Mike Rounds getting 39 percent support to Democrat Rick Weiland's 28 percent and independent Larry Pressler's 25 percent. When Pressler and fellow independent Gordon Howie are removed from the equation, Rounds and Weiland are statistically tied with Rounds garnering 44 percent to Weiland's 42 percent.
PICK SIX:  SOUTH DAKOTA NOT SINGING THE BLUES
Republicans can capture the Senate with a net gain of six seats this cycle. Which six Democrat-held Senate seats are the most vulnerable in November? The current consensus among Fox News First readers, based off their tweets and e-mails: Arkansas (13.7%), Montana (12.9%), West Virginia (12%), Louisiana (11.6%), South Dakota (10%) and North Carolina (9.6%).  Reader Robert Johnson of South Dakota agrees with the consensus noting his state only goes "blue on special occasions." Could November be a special occasion for the blue team or is it a safe-bet?
Share your top six picks. Email them – just your top six, please – to FOXNEWSFIRST@FOXNEWS.COM or tweet @cstirewalt.
FOLEY GAINS MOMENTUM OVER MALLOY
A new Quinnipiac poll shows Republican Tom Foley besting Gov. Dannel Malloy, D-Conn., 49 percent to 43 percent. Foley stands to benefit from Malloy's 53 percent disapproval rating, with 40 percent saying they have a "strongly unfavorable" view of the incumbent Democrat due to his poor handling of the Nutmeg State's lagging economy. "Foley leads Malloy in large part because he is viewed by most voters as better able to handle pocketbook issues. Voters think Foley is better able than Malloy to handle their top issue - the economy and jobs. Foley also has big leads on taxes and government spending, while Malloy has small leads on gun policy and education," poll director Daniel Schwartz said. The Republican also leads among independent voters 48 percent to 35 percent.  WSJ: "Mr. Malloy kept up the theme Monday when he proposed spending an additional $100 million to help small businesses, $20 million in tax credits in each of the next two years for job creation and $15 million for a program to hire jobless residents."
BUSH TO STUMP FOR SNYDER
Detroit [Mich.] Free Press: "Former Florida Gov. Jeb Bush is planning to attend a Michigan Republican Party fund-raiser with Gov. Rick Snyder [Oct. 13] in a Detroit suburb. The 'Governor's Gala' is $500 a person, with breaks for young professionals and students. It's $5,000 per person or couple to attend a private round table, photo reception and the main event."
[The latest Detroit News survey finds Gov. Rick Snyder, R-Mich., essentially tied with Rep. Mark Schauer, D-Mich., in his re-election contest. Snyder leads Schauer 44 percent to 42 percent.]

CRUZ CONTINUES TO STAFF UP
The Hill: "Sen. Ted Cruz (R-Texas) is moving his chief of staff over to his political operation, a signal he could be preparing for a 2016 presidential bid. Cruz's office announced Wednesday that chief of staff Chip Roy will assume the title of senior adviser and will take a larger role with the senator's campaign arm… Paul Teller will take over as chief of staff. Teller was hired as Cruz's deputy chief of staff in January, after he was fired from the Republican Study Committee. Cruz also hired James Christoferson as deputy chief of staff for operations. He previously worked for former Sen. Kay Bailey Hutchison (R-Texas)."
Cruz clashes with anti-Israel hecklers - Daily Caller: "Sen. Ted Cruz [R-Texas] was booed offstage at a conference for Middle Eastern Christians Wednesday night after saying that 'Christians have no greater ally than Israel.'"
ACT NOW AND WE'LL THROW IN TWO CHICKENS AND A GOAT
Japan Today: "The tiny Japanese community of Mishima was desperate to reverse its shrinking population so officials came up with what they hoped would be a game-changing plan: free cows. Anyone willing to pack up and move to the remote southern village of 379 residents would get a no-cost calf or 500,000 yen in cash…The town's plucky bid to reverse its demographic drain may be unusual, but it is not alone. In an effort to lure newcomers, small communities across Japan are offering new arrivals everything from sacks of rice and school lunches to no-cost medical care and free entry at the local hot spring-a hugely popular pastime. But the mostly ineffective moves have proved no match for the twin threats of a rapidly aging population and one of the world's lowest birthrates…A whopping 40% of the population is expected to be over the age of 65 in the coming decades, up from around a quarter now."
AND NOW, A WORLD FROM CHARLES…
"If he [President Obama] were a prime minister in a parliament he would be out of office with a vote of no confidence. There is a way to try to tell America, as he said, 'America is safer.' Who believes that? … There are not a lot of Americans who believe that today with the speech and even after the speech." – Charles Krauthammer on "Special Report with Bret Baier"
Chris Stirewalt is digital politics editor for Fox News.  Want FOX News First in your inbox every day? Sign up here.