GOP gubernatorial candidate collapses during event, gets CPR from fellow candidate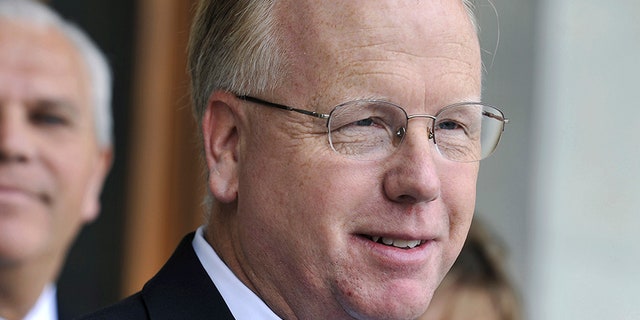 NEWYou can now listen to Fox News articles!
A Connecticut gubernatorial candidate collapsed during a campaign event Thursday night but a fellow candidate leapt to his rescue and applied CPR until he revived.
Mayor Mark Boughton, a Republican from Danbury, fell ill from an apparent seizure during a meet-and-greet in Avon, requiring instant CPR from another candidate and two other doctors who were in the room at the time.
"It was one of the scariest moments of my life because we were not in a hospital setting," Prasad Srinivasan, a physician and state representative who is also running for governor, told the Hartford Courant. "He looked paler than pale until the pulse came back. This was not a fainting spell. He was in tough shape."
He added: "He's a lucky man. He's lucky to be alive."
Srinivasan, who is an allergist, told the newspaper that 54-year-old Boughton's pulse was "very, very weak" while he administered CPR.
"He was in some form of cardiac arrest because he had a very, very feeble pulse," he added.
Brian Ladouceur Jr., chairman of the Avon Republican Town Committee, told the CT Post that Boughton was conscious and his color had returned as he was put on a stretcher before being taken to the hospital.
Boughton's campaign manager, Marc Dillion, told reporters he was taken to UConn Health Center in Farmington, where he spent the night.
According to local media, Boughton was released Friday morning.
Shelton Mayor Mark Lauretti, who is also in the governor's race, said it was tough to see Boughton collapse in front of him.
"It gives you pause when you see someone you've known for years like that," he told the CT Post.
Last summer, Boughton underwent brain surgery to remove a noncancerous tumor from behind his ear. His story was featured in a Super Bowl commercial by the Pittsburgh Medical Center, which performed his surgery.
Political allies and adversaries from across the state sent their prayers and thoughts to Boughton.
"We may not always agree, but our thoughts are with @MayorMark tonight," Connecticut Democrats tweeted.
Tim Herbst, a fellow Republican candidate, said on Facebook that he has known Boughton for two decades and hopes "everyone in Connecticut joins me in putting politics aside tonight to pray for him and his family and for a full and speedy recovery."
No further details were immediately available.