GOP governors' meeting an early 'dress rehearsal' for potential 2016 candidates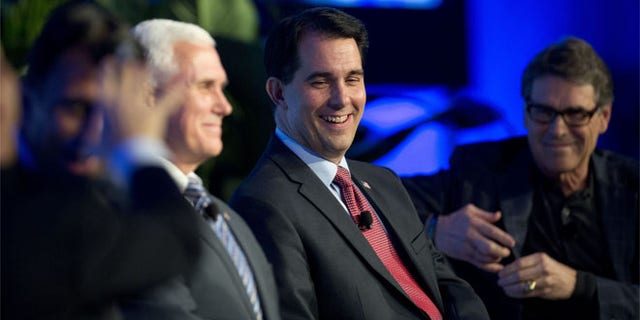 The annual meeting for Republican governors that concludes this weekend has been a showcase for the party's big midterm wins -- and the place for lots of behind-the-scenes jockeying by several of the party's top-tier, potential 2016 White House candidates.
Republicans governors are on a roll, winning a net total of two seats on Nov. 4 and pulling off four victories in heavily Democratic states, which has donors and strategists suggesting they have the early advantage over potential White House candidates off Capitol Hill.
They also used their success at the four-day event at the Boca Raton Resort & Club, in Florida, to tout the idea that governors are best suited for the White House because they already have experience in running a sizable government.
"We're better at it," New Jersey GOP Gov. Chris Christie told reporters, taking aim at President Obama, who won in 2008 as a first-term senator. "The American people are done with that experiment, of having somebody come out of a legislative body who's never run anything before."
The governors are also free of Congress' low approval rating, which poses a problem for such GOP Sens. as Marco Rubio, Florida; Rand Paul, Kentucky; Ted Cruz, Texas, and others should they chose to run.
Caleb Burns, a Republican strategist and partner in the Washington law firm Wiley Rein, thinks governors have a "built-in advantage" over candidates from the legislative branch because they can more easily "own" their records and campaign positions.
"They decide whether to sign a bill into law or veto it, which clearly and unequivocally stakes out their position on that issue," he told FoxNews.com on Wednesday. "Legislators don't have that same luxury. They often vote for bills at the insistence of their leadership. Bills get amended by the other chamber, and bills may or may not get signed into law."
Still, Burns says the next two years might change that dynamic because Republicans will control the Senate, giving congressional Republicans "an opportunity to go beyond simply being the anti-Obama party to developing and passing legislation that affirmatively articulates the Republican platform."
Christie was among the biggest winners at the Florida event, having led the Republican Governors Association this year.
He helped raised a record $106 million for the association. And his campaigning in key states helped Florida Gov. Rick Scott win a tough reelection fight and contributed to the spectacular, come-from-behind upset in deep-blue Maryland.
In addition, Christie's efforts helped put him in contact with the kind of big-time national donors he would need for a White House run.
The wins should also help him recover from last year's scandal in which rogue aides sought political revenge by unexpectedly closing some New Jersey bridge-access lanes to create massive gridlock.
However, Christie still faces several challenges including criticism that he has spent roughly 30 percent of his second term outside New Jersey, largely campaigning for GOP gubernatorial candidates, while the state economy continues to struggle.
Among the other hopefuls in Florida this week were Indiana Gov. Mike Pence, Texas Gov. Rick Perry, Louisiana Gov. Bobby Jindal, Ohio Gov. John Kasich and Michigan Gov. Rick Snyder.
"You can see them all profiling," Charles Breslin, a Philadelphia business consultant and gubernatorial adviser who attended the conference, told The Philadelphia Inquirer. "It's a rehearsal."
Walker, who won re-election this year, made clear he is exploring a presidential bid.
"It's pretty obvious at least it's something I should consider," he said.
Perry appeared to try to increase his national profile in Florida by suggesting Texas might sue Obama for his executive action this week on immigration.
While Hillary Clinton remains Democrats' overwhelming presumptive front-runner, the prospective Republican field is crowded and without a clear leader.
None of the Republican governors considering the presidency is particularly popular at home, however, according to interviews with voters after this month's midterm elections.
Just a quarter of Louisiana voters said Jindal would make a good president, while one-third of Texas voters said the same of Perry. For Walker, who just won his third gubernatorial election in four years, just over 4 in 10 of Wisconsin voters said he is presidential material.
The Associated Press contributed to this report.