GOP challenger Cory Gardner wins Senate seat as Latinos turn out in force in Colorado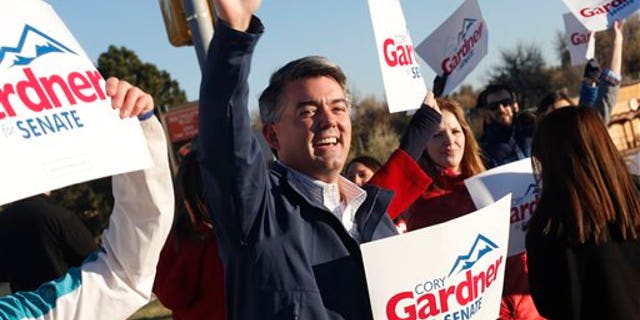 NEWYou can now listen to Fox News articles!
U.S. Rep. Cory Gardner, a conservative Republican, beat Democratic incumbent Sen. Mark Udall in one of the most closely watched races in the nation.
Gardner won 51 percent of the vote, and Udall got 43 percent with 71 percent of the precincts reporting.
Gardner's victory put Republicans closer to the six seats they needed to gain control of the Senate, which has had a Democrat majority.
Latinos had a strong turnout, according to Alfonso Aguilar, executive director of American Principles in Action's Latino Partnership, and a former official with the George W. Bush administration. Aguilar, who campaigned for Gardner, helping the candidate with Latino outreach, said that Latinos were about 13 percent of voters who turned out in Colorado.
They comprise about 14 percent of the state's electorate. Latino voters in Colorado have tended to lean Democratic in elections, but Republicans have been gaining.
"It's a good win," Alfonso said. "I do believe he'll be a force for good in the Senate, and be supportive of immigration reform. He supports a path to legal status, and expanding the guest worker program, he's told me this in private conversations."
Aguilar said that exit polls did not break down information on whom Latino voters supported.
"I think Gardner held his own with Latino voters," he said.
The Senate race in Colorado was seen as one of the tightest and most hotly contested. Both candidates vied for the state's Latino electorate, one of the fastest growing in the nation.
Colorado's general electorate tends to be split evenly between those who identify or lean toward Republican, and those who identify or lean Democrat.
Udall had sought to shake off the shadow of President Barack Obama, whose approval ratings have been low – not unusual for a president in his second term in the Oval Office.
Udall even passed up an opportunity to campaign with Obama, saying he had a scheduling conflict and could not be at a July fundraiser that was to feature the president.
The number of Latino voters in Colorado climbed to more than 20,000 since 2010 – from 144,000 to 162,000, according to the National Association of Latino Elected and Appointed Officials (NALEO).
Polls showed Udall trailing Gardner by a couple of points heading into Election Day. But the state has proven an unreliable one for pollsters in recent election cycles because of underrepresentation of Latino voters, and one poll a week before the election that attempted to correct for that gave Udall the slightest of overall margins.
The rivals accused each other during debates of being disingenuous in their immigration reform stances.
Udall balked at remarks in support of a path to legalization by Gardner, accusing him of flip-flopping from previous hard-line positions on the issue.
Gardner expressed support for the DREAM Act, a measure that would give conditional permanent residency for people brought to this country illegally as children.
The two also clashed on the new health care law, with Udall defending it and Gardner, like many Republicans, criticizing it.
Asked whether he'd vote again for the overhaul, Udall said he would.
As he has done in his campaign, Gardner sought to link Udall with Obama, saying that a vote for Udall is essentially a vote for Obama's policies.
Udall attempted to paint Gardner an extreme conservative.
Other key elections in the state included that of governor between Gov. John Hickenlooper, a Democrat and former U.S. Rep. Bob Beauprez, a Republican was too close to call as of press date. With 71 percent of the vote in, Beauprez was leading Hickenlooper by a 1.5 percent margin.
Another closely watched race in the 6th Congressional District saw the incumbent U.S. Rep. Mike Coffman, the GOP candidate, defeat Democratic challenger, Andrew Romanoff, by a 12-point margin with 68 percent of the precincts reporting.