GOP candidates tout conservative credentials at DC summit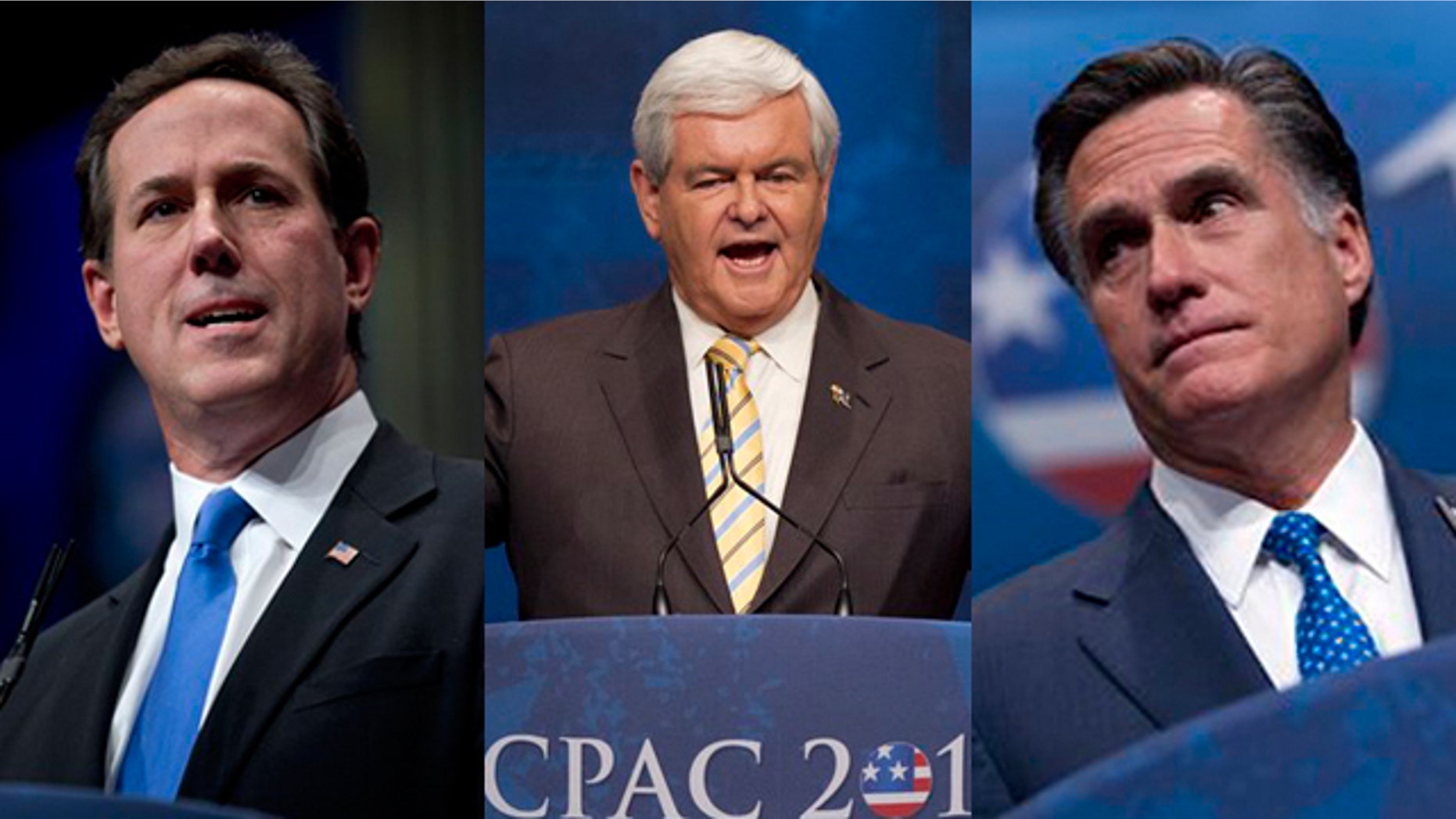 The Republican presidential candidates appealed Friday for the hearts and votes of conservatives at the movement's premier conference in Washington, with each trying to gain the edge as the race endures yet another shakeup.
Mitt Romney staunchly defended his GOP credentials, describing his term as Massachusetts governor as "severely conservative."
Rick Santorum took several swipes at Romney without referring to him by name. He urged the party not to pursue a "hollow victory" in November by compromising on their choice for GOP nominee.
Newt Gingrich, who spoke last at the Conservative Political Action Conference, cast his candidacy as a threat to the Washington establishment. But he said the party and the country need his "bold solutions," as he offered a hyper-specific forecast of what he would accomplish in the early hours and days of a Gingrich presidency.
The impassioned arguments came as the dynamic in the Republican race begins to turn.
Santorum, after winning three state contests Tuesday, is rising in national polls and catching up to Romney. Next up are the Maine caucuses on Saturday, followed by the Michigan and Arizona primaries later in the month.
Santorum is trying to build on his momentum -- a chance he missed after winning the Iowa caucuses in part because Romney was prematurely declared the victor. Gingrich is trying to maintain his claimed status as the conservative alternative to Romney. And Romney is trying retain his frontrunner status, and keep the competition at bay.
Ron Paul, who has not yet won a primary or caucus but has a loyal following, did not attend CPAC.
Addressing the conference last, Gingrich ascribed the attacks against his campaign to establishment fear.
"This campaign is a mortal threat to their grip on the establishment," he said of insiders, "because we intend to change Washington, not accommodate it. "
Gingrich said America needs "bold solutions" and not "timidity."
He devoted a chunk of his speech to describing his envisioned first day as president. It would involve abolishing all White House "czars," repealing the health care overhaul, and approving the Canada-to-Texas oil pipeline, among other changes. Gingrich claimed he could repudiate "at least 40 percent" of Obama's government on the opening day.
Romney devoted a significant portion of his speech Friday to explaining the roots and record of his conservatism -- on fiscal and social issues.
"I know conservatism because I have lived conservatism," Romney said.
He claimed he was a "severely conservative Republican governor" in Massachusetts and that if elected would lead a "pro-life presidency."
In Massachusetts, Romney said he fought to make sure gay couples from out of state could not get married in Massachusetts, though the state was still moving to allow gay marriage for in-state couples. "On my watch, we fought hard and prevented Massachusetts from becoming the Las Vegas of gay marriage," Romney said.
While defending his credentials, he also tried to distinguish himself from the remaining GOP contenders, all of whom served or are serving in Congress. As he has before, Romney said he's the only one "who has never worked a day in Washington."
Santorum earlier in the day argued that voters should want somebody with Washington experience to be the nominee.
Santorum, who bills himself as the race's pure conservative, used his speech to play down concerns that the GOP needs to attract moderates in November. He said the party should not "apologize" for its principles, and needs a candidate the base can get excited about. He said Republicans need somebody who can "draw contrasts" with President Obama.
"We need conservatives now to rally for a conservative -- to go into November to excite the conservative base," Santorum said.
He pitched what he described as an economic plan for "blue collar" Americans, vowed to balance the budget and went on to rail against alleged overreach by the Obama administration.
As several speakers did the day before, Santorum singled out the administration's proposal to require contraceptive coverage at religious organizations.
"It's about economic liberty. It's about freedom of speech," Santorum said. The administration announced a change to the policy on Friday in the face of the backlash, shifting the coverage burden to insurance companies.
A new Fox News poll on Friday showed Santorum creeping up on Romney following his wins in Colorado, Minnesota and Missouri.
In interviews conducted on Wednesday and Thursday nights -- after his wins -- Santorum's support nearly doubled, which put him tied at the top with Romney for those two days at 30 percent. Looking at the results from all four nights of this week's interviewing, Romney retained his front-runner spot with 33 percent, followed by Santorum at 23 percent, Gingrich at 22 percent and Paul at 15 percent.