GOP candidates blast China policies amid stock market chaos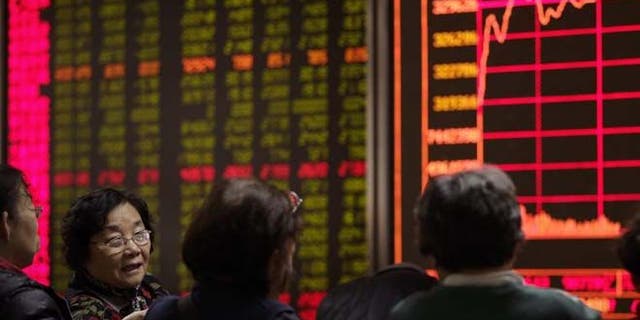 Republican presidential candidates placed the blame squarely on Beijing's economic policies for the volatility in the markets that sent U.S. stocks tumbling this week, accusing the Chinese government of devaluing its currency in order to manipulate global trade prices.
U.S.stocks took a hit again Thursday in reaction to a 7 percent drop in the Chinese stock market amid the yuan sinking to its lowest level against the dollar since 2011. This set off a chain reaction in the Asian and European markets, and sent the Dow Jones average skidding 392 points by the closing bell.
China has been criticized for devaluing its currency to keep exports cheap on the global market. A major devaluation in August rocked the world markets and, despite the International Monetary Fund's decision to add China's currency, known as the renminbi, to its group of reserve currencies alongside the dollar, the euro, the British pound, and the Japanese yen, the yuan has continued to depreciate thanks to constant fixing by Beijing.
GOP candidate Gov. John Kasich told Fox Business Network's Stuart Varney that the "world is paying the price," for a Chinese government "that never let the markets work."
If they want to be part of the IMF's "market basket" of the world's elite currencies, they must play by the rules, said Kasich. "This has got to settle down if the Chinese are participating in being part of the market basket," he said. "They have to come clean ...They can't keep manipulating things because it just doesn't work."
Chinese market regulators announced later Thursday that they are suspending the "circuit breakers" that cut off trading when their stocks fall too sharply and were triggered twice this week.
Republican presidential candidate Sen. Marco Rubio told Fox's Neil Cavuto that Thursday's market mayhem is a reflection of China's overall economy. "China's in a lot of trouble," he said.
"China has a significant crisis on their hands internally," he added."Every bubble they've had in their economy, they've compensated with a new bubble, and I think it's finally catching up with them.''
He said China has "badly mismanaged" its economy and suffered from its own lack of transparency.
One of the things China pledged to do when it was brought into the IMF fold in November was to cease the endless government manipulations in the market, including the devaluations.
White House spokesman Josh Earnest said the administration has pressed China on the pace of its reforms, including "an orderly transition to a transparent, market-based exchange rate."
Though he did not comment on this week's volatility, Sen. Chuck Schumer, D-N.Y., has been a chief critic of the Chinese currency manipulation and did not want them brought into the "market basket" until those reforms were instituted.
"It's not at all surprising to me that once they got what they wanted, the renminbi is sliding further downhill," said Schumer in mid-December. "We have to take much tougher action against the Chinese government if we're going to have success combating currency manipulation."
The Associated Press contributed to this report