GOP candidate in Maryland raffles off AR-15 in fundraiser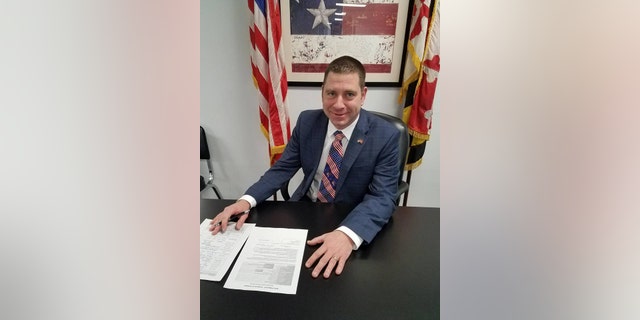 A Republican running for a Maryland legislative seat raffled off an AR-15 semiautomatic rifle at a Saturday night fundraiser — only days after the same type of weapon was used to kill 17 people at a Florida high school.
The Baltimore Sun reported that about 15 people held a peaceful vigil outside, reading off the names of the 17 victims, as well as others killed in American mass shootings, before the fundraiser for sheriff's deputy Aaron Penman, a Harford County Republican who is running for a seat in the Maryland House of Delegates.
The Sun said the sold-out "gun/cash bingo" event Saturday evening was held at the Jarrettsville Volunteer Fire Company.
Penman, a Christian and a former Marine, told Fox News on Sunday that the fundraiser "was months in the planning."
The Facebook posting for Penman's event said gun winners would have to complete background checks.
On his website, Penman said he is running for office because of his lifetime of service to family and community: "Standing up to do the 'right thing' is how I have lived my life and why I have chosen to run as Delegate for Maryland's 7th District."
He said his mission is "working together to keep our community and schools safe."
Penman, who said he is an ardent supporter of the Second Amendment, also told Fox News: "I believe law-abiding citizens have the constitutional right to own firearms, and I respect that some in the community might have a difference of opinion. I believe we must always ensure that all of our constitutional rights are upheld to ensure we continue to have a strong and free democracy. Accordingly, I support their First Amendment right to express their point of view, but making use of a planned fundraiser using the victims in Florida to push an anti-gun agenda by a few is distasteful."
Democrat Allison Berkowitz, also running to represent House District 7, took a turn sharing the stories of shooting victims over a megaphone at Saturday's vigil opposite Penman's fundraiser. She said: "We just want things to be safer for all of our children."
Last week in Florida, 19-year-old Nikolas Cruz was accused of opened fire inside Marjory Stoneman Douglas High School in Parkland, killing 17 people, Fox News previously reported. Cruz walked into the high school with an AR-15 rifle, and fired at students and faculty members while walking through the hallways, investigators said.
Cruz was caught later in the afternoon and was charged with 17 counts of premeditated murder in the deadly shooting. He made his first court appearance Thursday and was ordered held without bond.
He later confessed to the shooting, according to court documents.
The Associated Press contributed to this report.