GOP candidate Brown takes first poll lead in New Hampshire Senate race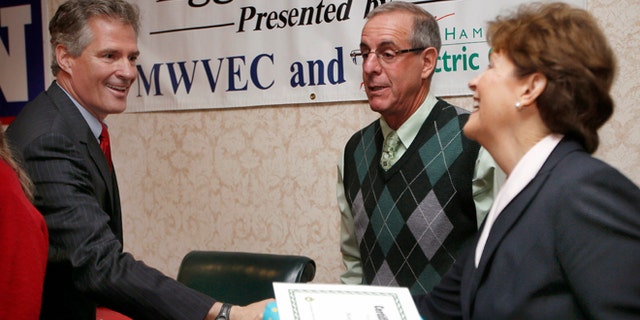 Republican candidate Scott Brown has taken his first lead in a poll against Democratic Sen. Jeanne Shaheen, although the results are statistically a dead heat.
Brown, a former Massachusetts senator, led Shaheen by 1 point in a New England College poll released Tuesday. However Dr. Wayne Lesperance, a professor at New England College, noted that the race was neck and neck.
"This week Republican Scott Brown leads Democrat Sen. Jeanne Shaheen 48 percent to 46.9 percent," he said in a press release. "However, this is well within the 2.98 percent margin of error. So the Senate race is just too close to call."
Shaheen is leading Brown by 3.5 points overall, according to a Real Clear Politics average. The Tuesday poll was the first time Brown has pulled ahead in a poll, according to Real Clear Politics. Shaheen has led in every other poll except for three, which were listed as ties.
Brown, 55, moved to New Hampshire to run for Senate after losing his 2012 re-election bid in Massachusetts. He was elected in 2010 to the seat once held by the late Democratic Sen. Edward M. Kennedy.
Shaheen, 67, previously served in the state legislature and for three terms as governor. She lost her 2002 Senate bid before being elected in 2008.
The Associated Press contributed to this report.