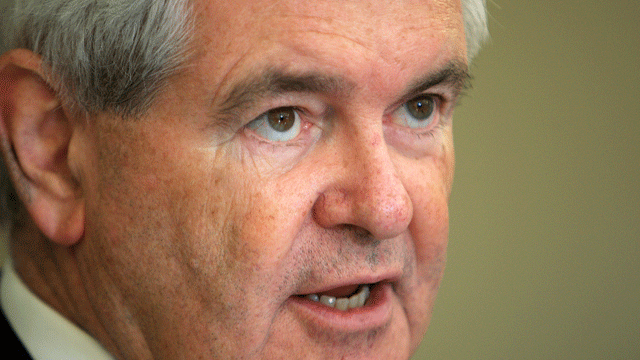 Newt Gingrich, who is trying to rebuild his 2012 presidential campaign after his senior staff departed en masse, is now pushing back against reports claiming that most of his 1.3 million followers on Twitter are fake and that he paid for them.
"At no time has the campaign or Gingrich Communications employed an outside group to inflate the number of followers of @newtgingrich," Gingrich spokesman R.C. Hammond said in a statement to FoxNews.com. "Any accusation of the kind is a lie, a smear and unsubstantiated."
Even though Gingrich is trailing most GOP contenders and potential hopefuls in the polls, he has by far the most Twitter followers at 1.3 million. Sarah Palin has more than 600,000, Mitt Romney, the presumed front-runner, has nearly 64,000
A social networking search firm called PeekYou, which says it began crunching the numbers for the 2012 candidates three weeks ago, confirmed that some 106,000 followers, about 8 percent, are real, according to the gossip website Gawker, which first reported the story.
"The huge majority of his followers are either completely anonymous people who have no other web presence, or they are spambots," Josh Mackey, PeekYou's general manager of business and product development, told Gawker.
PeekYou analyzed the numbers after a former Gingrich staffer told Gawker that the former House speaker paid numerous "follow agencies" to set up fake accounts to follow him.
"Newt employs a variety of agencies whose sole purpose is to procure Twitter followers for people who are shallow/insecure/unpopular enough to pay for them," the staffer said. "If you simply scroll through his list of followers you'll see that most of them have odd usernames and no profile photos, which has to do with the fact that they were mass generated."
But the Gingrich campaign denies the allegations.
"Twitter's addition of @newtgingrich to the Suggested User List is responsible for a large, but indeterminable amount of followers," Hammond said. "Twitter users follow Newt the same way they elect to follow Ashton Kutcher, Shaquille O'Neal or John McCain. Twitter alone is the authority on counting followers and policing their legitimacy."