Gillibrand Foe Tightens Senate Race in New York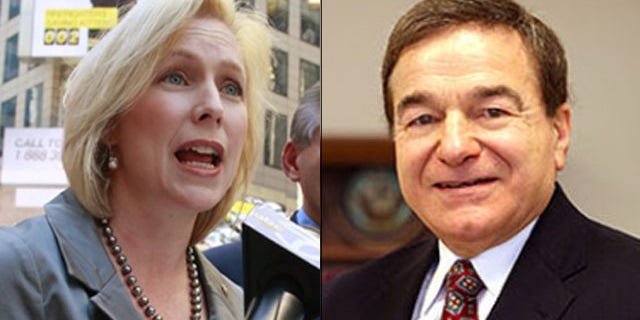 He may not be an "American Idol" but Republican Joe DioGuardi's star is on the rise as he gives Sen. Kirsten Gillibrand a run for her money in the New York Senate race -- boosting the GOP's chances of retaking Congress.
DioGuardi, the father of former "American Idol" judge Kara DioGuardi, is delivering a performance that would impress the cantankerous Simon Cowell.
While he's still largely unknown, DioGuardi, a certified public accountant who served in Congress from 1985 to 1988, is beginning to raise his profile. He launched his first TV ad Tuesday, saying his No. 1 priority in the Senate will be to stop "runaway spending."
But Gillibrand, who was appointed to fill out Hillary Clinton's term after Clinton joined the White House, has several advantages: She has more than $11 million in the bank, ample Democratic Party support and the precedence that no sitting Democratic senator in New York has ever lost.
She launched a series of TV advertisements the day after the Sept. 14 primaries, promoting herself as a fighter for government reform, upstate New York and veterans.
Yet the race is still tightening according to several polls.
Gillibrand is holding a 52 percent to 41 percent lead in a poll by Marist College Institute for Public Opinion. Other polls show a tighter race. Quinnipiac University has Gillibrand leading 48 to 42 percent among likely voters. And a SurveyUSA poll puts the race in a dead heat.
"There are a lot of things that never happened in politics before it happened," DioGuardi campaign spokesman Tom Kise told FoxNews.com about the prospect of beating a Democratic Senate incumbent in New York for the first time. "It's a new year with new candidates. A new atmosphere, a new playing field and it all tilts toward Joe DioGuardi continuing to close, winning this campaign, being the next senator from New York state."
Gillibrand's campaign responded by sending a link to its latest campaign ad and a press release from last month highlighting the money she has raked in for her campaign and the 26 percentage point lead she held in a Siena Research Institute poll. The press release also sought to paint DioGuari as an extremist, a strategy that Democrats have been using across the country against their opponents.
"With near zero percent name ID statewide, Congressman Joe DioGuardi is just beginning to introduce himself to voters," the press release said. "But the more voters learn about the congressman, the more they will that he is no American Idol."
DioGuardi, who's been labeled a more palatable Carl Paladino, has chops and is getting in several stinging blows with new ads as polls tighten. Election analysts note the city vs. up-country aspect of New York politics could marginalize Gillibrand as DioGuardi reaches out beyond NYC.
Jeffrey Stonecash, a political scientist at Syracuse University, told FoxNews.com that the race is tightening because of the anti-incumbent fervor in the nation and because Gillibrand "hasn't really done a knock out job" since she was appointed senator by the embattled Gov. David Paterson.
"She had a child in there. That really held her back," he said. "She lost some weight, all the things people nick at you about. And my impression is she's not a strong charismatic personality."
But Stonecash added that DioGuardi still faces an uphill battle.
"What he faces is this terrible dynamic. He's got to really jolt everyone and get people to say we ought to dump money on this guy," he said. "And given the closeness of races elsewhere…I can't imagine people will say let's run off and spend money on a Republican in New York. So he's probably going to be crippled by this."
But that hasn't stopped the campaigns from trading sharp attacks.
In her latest ad, the Gillibrand campaign calls DioGuardi a "big spending congressman turned lobbyist and tax cheating accountant."
DioGuardi has fired back by raising Gillibrand's past work as a lawyer representing tobacco giant Philip Morris.