Gibbs: If We'd Known About Conviction, Woman Wouldn't Have Stood With Obama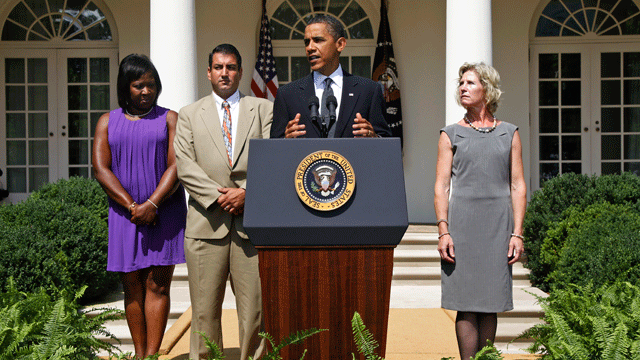 A Charlottesville, Va., resident who stood with President Obama would likely not have been asked to participate in a Rose Garden speech on unemployment if the White House had known she was convicted of prescription drug fraud charges in April 2009, Press Secretary Robert Gibbs said Thursday.
"Without knowing a lot, I would certainly say that had that type of information been known, I doubt seriously -- she would not have participated in the event here," Gibbs said at the daily press briefing.
"I don't think it should take away from the message the president had that day that as -- in the midst of the greatest economic calamity that we've seen since the Great Depression, that we ought not take steps together to extend unemployment insurance to those that are out of work," he said.
WCAV CBS-19 News first reported on Wednesday that Leslie Macko lost her job as an aesthetician at a local spa about one month after being convicted in March 2009 on fraud charges. She reportedly served a one year probationary sentence.
Macko stood by the president earlier this month when he called on Congress to extend unemployment insurance benefits that were passed into law last week.
"We need to extend unemployment compensation benefits for women like Leslie Macko, who lost her job at a fitness center last year, and has been looking for work ever since. Because she's eligible for only a few more weeks of unemployment, she's doing what she never thought she'd have to do. Not at this point, anyway. She's turning to her father for financial support," Obama said in his speech.
The spa owner Phil Wendel would not tell the WCAV if Macko was fired because of the conviction, and no claims are being made that she wrongly received unemployment benefits.
Macko would not speak about the conviction with the news service, saying she needs to speak with her attorney.
When asked whether there was a background check before her White House appearance, Gibbs said, "I don't know the specifics. Again, it's safe to say that had we known it, she wouldn't have been on stage."
The Secret Service suggested Macko was subjected to a background check but declined to offer specifics.
"We do not comment or confirm the existence of anyone's criminal history or lack thereof," agency spokesman Malcom Wiley said in a written statement. "Anyone who is granted access to the White House or any venue that we protect does so only after an assessment of dangerousness is made."