Germany Divided Over Renaming Street After Reagan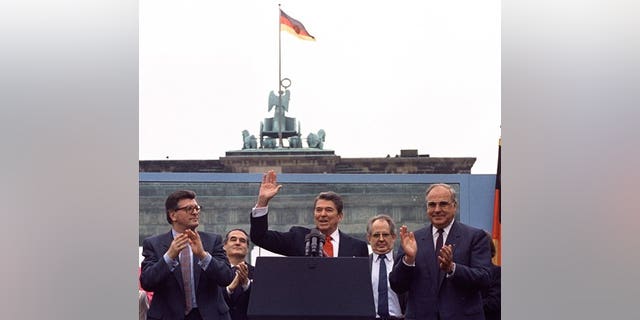 NEWYou can now listen to Fox News articles!
Two years before the Berlin Wall opened, paving the way for the end of the Cold War, President Ronald Reagan famously called on then-Soviet Union leader Mikhail Gorbachev in 1987 to "tear down this wall," in a speech he delivered at the Brandenburg Gate, which was then part of the East-West border.
But Reagan's role in bringing down the Iron Curtain and breaking the back of communism has touched off a national debate in Germany, where conservatives want to rename a street or square after him while liberals still hold a grudge over the Gipper's deployment of nuclear missiles on West German soil.
A poll for the German news magazine Focus found last month that a majority of Germans -- 52 percent -- would oppose a Reagan street in Berlin while 42 percent would support it.
While the debate over whether to honor Reagan isn't new, German Defense Minister Karl-Theodor zu Guttenberg renewed it in December when he called on Berlin to rename a street after Reagan, who died in 2004 of Alzheimer's disease.
"A street named after this great honorary citizen would be very welcome," he told the German newspaper Bild, adding that Rudi Dutschke, an icon among the country's liberals, had a street named after him in 2008. Berlin has also honored President John F. Kennedy by naming a school, a museum and a square after him.
But the city -- which has been governed since 2001 by an alliance of Social Democrats and the Left Party, successors to the Community Party that ruled East Germany -- has not heeded calls to honor Reagan. City officials point out that he was made an honorary citizen of Berlin in 1992 and has passed any decision to name a street after him to the city's 12 district councils. Half of them have already said no.
The only district to vote on the issue -- the western district of Charlottenburg-Wilmersdorf -- rejected it with Social Democrats and Green Party members blasting the proposed choice of Joachimstaler Platz, a commercial square.
"That choice of place is by far the worst idea if one really wants to honor Ronald Reagan because the biggest demonstrations against President Reagan and his government took place right in Joachimstaler Platz during his 1987 Berlin visit," Social Democrat Frederic Verrycken, who voted against the proposal, told The Washington Times for an article Monday. "It's really just senseless."
Gunter Kolodziej, a spokesman for the Berlin Senate, told The Washington Times that a Ronald Reagan street or square would make sense only if it were in proximity to the Brandenburg Gate. The only catch: all the streets, squares and plazas have all been dedicated to other historical events and figures.
"There's virtually no possibility there to rename a street or a square," Kolodziej told the newspaper.
Tensions over Reagan's legacy boiled over last month when the Gipper would have turned 100.
Conservatives criticized Berlin officials for not hosting a major ceremony to mark Reagan's 100th birthday. Instead, U.S. Ambassador to Germany Philip Murphy and Walter Momper, the president of the city's parliament, laid two wreaths under a portrait of Reagan in the city-state's parliament building, Der Speigel reported. The city had also sent a bouquet to the official commemorative ceremony in the U.S., a spokesperson for the Senate said.
"It is a disgrace that a Berlin city government staggering between stupidity and ideology didn't even see fit to celebrate 100 years of Ronald Reagan," Guttenberg said in a speech marking German-American relations, the National reported.
He renewed his call for a memorial plaque to be placed in Reagan's honor in front of the Brandenburg Gate, and said that Chancellor Angela Merkel also supports his plan and that she shares his "incomprehension" over the city's handling of the issue, the Frankfurter Allgemeine Zietung reported.
The perceived snuff has led conservatives to accuse the city of trying to block all attempts to honor Reagan -- accusations that the city has dismissed.
"That is total nonsense," city government spokesman Richard Meng told Der Spiegel last month. He told the German newspaper that the city administration had first received a written request in early January to start looking for suitable squares or streets that could be renamed after Reagan.